DBA - Doctor of Business Administration
Home ›
DBA ›
DBA - Doctor of Business Administration
Program Description

EU Business School's highly competitive Doctor of Business Administration (DBA) program is designed to be challenging, rigorous, and stimulating and to increase managerial, leadership, and academic competencies. The program develops students' independent- and critical-thinking skills, which enables them to master a specific field within the business. Students hone their research and analytical skills by completing an original, expert-level research project.
The EU DBA program is built on an effective combination of courses, seminars, professional residencies, research papers, and a final dissertation. Working with faculty members who have extensive academic and practical experience, students gain a comprehensive understanding of critical advanced theories and the ability to immediately apply creative solutions to existing, long-term problems.
"Prior to this, I finished a master's degree at Cambridge University. The reason I chose the EU to continue my study forward is that I genuinely believed that the EU has begun to have a great impact in the Asia-Pacific region. And the world is moving to the Asia-Pacific."
Ravi Fernando, DBA
Program
EU Business School's DBA program has a research-based curriculum, which uses practical business cases and consists of applied research as opposed to fundamental research. The DBA can be completed in as little as two years or in up to five years. The program consists of two major parts: The pre-dissertation phase takes a minimum of one year. Its objective is to provide students with the theoretical and practical information of their primary and supporting fields of study. The second phase determines whether students have correctly absorbed the knowledge of the pre-dissertation phase and are able to apply this knowledge toward the resolution of a substantial problem.
Who is the DBA for?
The DBA is designed for:
MBA or master's degree holders and practitioners with five or more years of post-graduate work experience.
Entrepreneurs and senior managers with alternative qualifications and successful careers.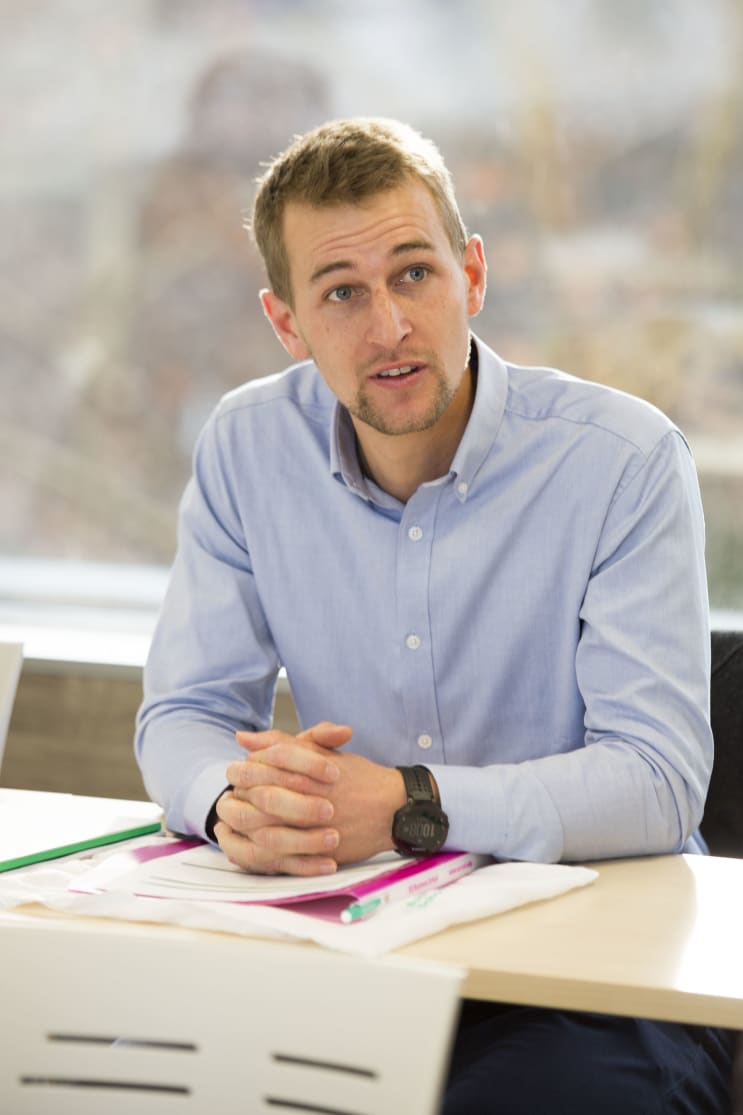 Learning Outcomes
The Doctor of Business Administration program educates managers, business leaders, executives, and scholar-practitioners so that they may:
| | | | |
| --- | --- | --- | --- |
| 1 | 2 | 3 | 4 |
| Apply new theoretical knowledge to contemporary business problems in an increasingly complex world through applied research, teaching, and analysis. | Explore a range of quantitative and qualitative methods frequently used in research to solve current business or management problems. | Identify and evaluate internal and external influences on organizations to develop strategic plans for change via transition management. | Demonstrate expertise in ethical standards and practices as well as responsibility and cultural/global diversity, to work collaboratively as a contributing leader within both business and society. |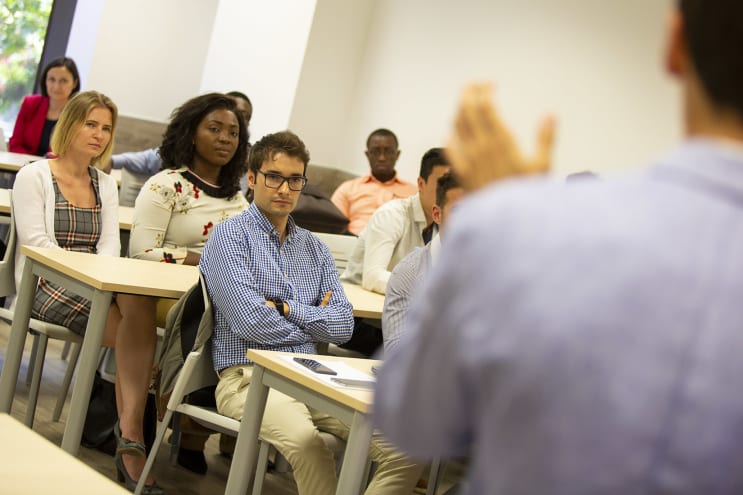 Faculty
EU's high-caliber faculty is made up of full-time academics with doctoral degrees, as well as part-time instructors who are also current members of the international business community. Our faculty members have current or previous experience as entrepreneurs, consultants, and business leaders. This merge of the academic and professional worlds supports a unique and exceptional quality of learning, reinforcing the EU's pragmatic approach to education.
Admissions
We understand that choosing a DBA program that fulfills your professional objectives while fitting your educational goals is a process that requires a lot of research and deliberation. Our admissions team is available to help you with any queries or questions you might have. We encourage you to find out more about us by visiting our campuses, meeting our students, attending classes and open day sessions.
Complete and send the application form
Receive further instructions
Send the additional documents
Receive confirmation of enrollment
Start your studies with the EU!
Requirements
Admission requirements*:
1 certified copy of your master's degree and transcripts.
Proof of English fluency: Minimum TOEFL score 110 (internet-based), 253 (computer-based); IELTS 7.0; CAE C1 with a minimum score of 185; PTE 68; English native or equivalent.
Candidates must also meet one of the following:
A GPA of 3.0 on a 4.0 scale.
A satisfactory score on the GMAT or GRE.
5+ years of professional work experience.
*Students who do not meet the criteria will be interviewed by the admission committee and will be considered on a merit basis. For more information please contact the relevant EU Switzerland admissions department.
Process
Online
Fill out the doctoral online application form.
Receive an email with instructions on how to submit further documentation.
E-mail
Download, print, and fill in the doctoral application form.
Scan and send the completed application form via email to the relevant EU Switzerland Admissions Department.
Receive an email with instructions on how to submit further documentation.
Submitting the application package:
The relevant EU Switzerland Admissions Department will contact you by email with instructions on how to submit your application package. Then, send your application package containing the requested documents by post or email. The admissions department will confirm receipt of this via email.
Documentation
All applicants should submit the following documents in order to complete the application process:
1 copy of the completed application form (if the application was not filled in online)
1 certified copy of master's degree and transcripts or equivalent*
Proof on English fluency: TOEFL score 110 (internet-based), 253 (computer-based); IELTS 7.0; CAE C1; PTE 68; English native or equivalent
1 copy of CV/résumé
2 letters of recommendation
1 research proposal stating your reasons for pursuing a DBA and your research interests; should be 3-5 pages in length
An electronic passport photo or 3 printed passport-size photos
1 copy of a valid passport or ID card
1 bank certificate or letter certifying the applicant's financial solvency
CHF 200 non-refundable application fee. Please attach a money order, check or receipt for a bank transfer payable to EU
Application and Document Details
Diploma*
Arrange to have your accredited college/university and transcripts sent to the relevant EU Switzerland Admissions Department. Transcripts are considered official if they bear an official university stamp and the signature of the dean. Academic transcripts should also include the university's contact information. Transcripts must list the subjects taken, grades earned, or examination results in each subject and include certificates or diplomas. If the documents are not in English, they must be sent with a certified English translation.
Recommendations
Submit two letters of recommendation from academic advisors who are familiar with your academic performance and potential for leadership. If you have been out of the academic world for a while, please submit two letters from employers and/or managers who are familiar with your work ethic, ability, and leadership skills. Any letter not written in English must be accompanied by a certified English translation.
The program takes a minimum of two years. Students have 4 possible intakes: October, February, June, August.
Last updated Nov 2020
About the School
The EU Group (EU) is a network of professionally-accredited, multicultural, high-ranking business schools established in 1973. We have campuses in Barcelona, Geneva, Montreux, Munich and online. In ad ... Read More
The EU Group (EU) is a network of professionally-accredited, multicultural, high-ranking business schools established in 1973. We have campuses in Barcelona, Geneva, Montreux, Munich and online. In addition to small, dynamic classes offered in English, EU students also enjoy a global environment while getting the best of both North American and European academic curricula.
Read less