Program Description
The Doctor of Philosophy (Ph.D.) in Creative Arts and Media is a program that provides students an opportunity to carry out research and contribute new understanding and insight into the discipline. By carrying out independent scholarly work within a specialist area of the creative arts and media, graduates will contribute to the advancement of their discipline.
Possible areas of investigation include a wide range of topics and approaches, from research about media, communication, and the arts to interpretations of existing artworks, as well as creative arts practice itself. We welcome historical, theoretical, or philosophical approaches as well as an analytical interpretative inquiry into the work and practices of the creative arts and media. Candidates may also incorporate creative arts practice and the creation of artworks or other artifacts as part of their research. Research topics in media include journalism, public relations, corporate communications, advertising, broadcasting, film, digital heritage, the internet, or media policy and regulation. Creative arts research topics could be in areas related to the disciplines of film, music, theatre, and other art, design, and media practices.
This list is not exhaustive, topics may combine, overlap, be interdisciplinary, and combine theory with practice. Potential candidates should contact the Programme Leader to discuss prospective research topics of interest in the area of creative arts and media. Acceptance of the Ph.D. proposal is subject to a panel review, interview session, and the supervisor's approval.
Intakes
January, March, June & September
Duration
Full-Time: 3 Years (Minimum), 6 Years (Maximum)
Part-Time: 4 Years (Minimum), 8 Years (Maximum)
Career Prospects
Identity Branding
Corporate Communications
Communication Design
New Media Design
Broadcasting
Film-making
Advertising
Virtual Reality Design
Program Structure
In addition to the thesis, the student is required to complete one taught module - Research Methods – before proceeding with the Proposal Defence. This core module introduces students to the fundamentals of academic research and methodologies at the postgraduate level in order to conduct an independent research project.
The student is also required to complete a thesis (which may include a research-creation component, if applicable) that demonstrates mastery of the advanced points, craft, and discipline of the area of research. With the assistance of the supervisor, the student will independently design and carry out an extensive research project, develop significant research outcomes that are of national and international significance, and publicly disseminate these results to engage with the scholarly community.
Areas of Research
Advertising, Broadcasting, Internet, Branding
Creative Arts and Media
Film Production
Journalism, Public Relations, Corporate Communication
Music and Theatre Performance
Visual Arts or New Media Creation
Entry Requirement
Master:
A master's degree as accepted by Sunway University's Academic Senate with a minimum GPA of 3.0
or
Other qualifications equivalent to a master's degree, as accepted by the Senate
Other Qualifications: Any other qualifications will be considered on a case-to-case basis
English Language Requirements
IELTS: 6.0 or equivalent
Application Procedure
Candidates are requested to send the completed application with the following supporting documents to cam@sunway.edu.my:
Sunway postgraduate application form
A copy of National Identity Card (Malaysians only) or Passport (all pages for international students)
Certified copies of transcripts of Master's and undergraduate degrees
Curriculum Vitae (CV)
IELTS score or its equivalent (if relevant)
Soft copy of thesis/written project and/or any appropriate supporting portfolio of materials/prior creative works, where applicable
Five (5) passport-sized photographs
Research proposal
The research proposal should comprise between 1,000 and 1,500 words (excluding references), and covers the following structure:
An appropriate title for the research project (designated supervisor if known)
Introduction and justification of the study, which includes:

Research background
Problem statement
Research objective(s)
Research question(s)/hypothesis

Literature review
Research methodology
Proposed research schedule
List of references
Last updated Jul 2020
About the School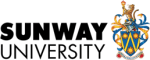 For almost 32 years Sunway University has established a reputation both in Malaysia and overseas, as an inspiring educational leader. Perfectly harnessing the highest quality of academic personnel and ... Read More
For almost 32 years Sunway University has established a reputation both in Malaysia and overseas, as an inspiring educational leader. Perfectly harnessing the highest quality of academic personnel and an exceptionally diverse range of programmes any global educational powerhouse would be proud of.
Read less