Read more about this program on the institution's website
Program Description
Name of the program: Doctorate in Engineering Sciences: Chemical Engineering
DGP key: 501602
Normal period to graduate: 8 semesters
Credits: 200
Degree conferring: Doctor of Science
Campus where it is offered: Hermosillo
Program description
General purpose
To train personnel of the highest academic and professional level in chemical engineering and their related fields, capable of carrying out research to generate new knowledge or technological developments that contribute to the solution of problems of national interest.
Specific objectives
Establish an adequate academic and infrastructure framework for engineering education.
Generate research projects for the development of basic knowledge and its applications.
Generate projects of innovative application of knowledge and technological development.
Actively participate in the dissemination of scientific and technological knowledge of chemical engineering.
Promote the link with the regional and national industry.
Promote quality professional practice in engineering and related fields.
What Will Your Competencies Be When You Finish The Program?
Egress Profile
The profile of the graduate of the Chemical Engineering disciplinary field should be in accordance with the development trends of this field of knowledge for the XXI century worldwide.
The development of technology-based industries derived from this new knowledge offers a field of development to the chemical engineer and his university training will allow him to participate in these developments seeking to raise the productivity of the country and the fair distribution of the generated wealth.
The areas in which the future development of Chemical Engineering is foreseen in the 21st century include, among others, the following:
Development of new materials.
Use of renewable energy and efficient use of energy.
Treatment and recovery of effluents.
Ecological control
Biotechnology.
Simulation and control of processes.
In order to contribute to the development of the aforementioned areas, graduates of this postgraduate course must be able to:
Manage the basic principles and application of engineering that allow you to develop in the field of analysis, creation and adaptation of technology.
Develop the capacity for analysis and identification of areas susceptible to innovation within technological processes.
Use the necessary technical-scientific language to communicate with the productive sector, social and with the scientific community to implement in a coordinated way research and development programs.
Collaborate with professionals from other disciplines in the development of projects and problem solving in an interdisciplinary way.
Develop efficiently in activities both research and application, teaching and dissemination of scientific knowledge. In particular, in each of these areas the graduate must be able to carry out the following activities:

Perform basic research to generate new knowledge.
Perform applied research to solve specific problems.
Design, analyze, control, modify and optimize processes.
Participate in the research and development of new processes.
Participate in the research and development of new materials.
Simulate and optimize the operation of processes.
Plan, control and evaluate the quality of materials, processes and products.
Develop, adapt and apply technologies to the process industry.
Participate in teaching activities.
Promote, coordinate and implement large engineering projects.
Curriculum
Curricular map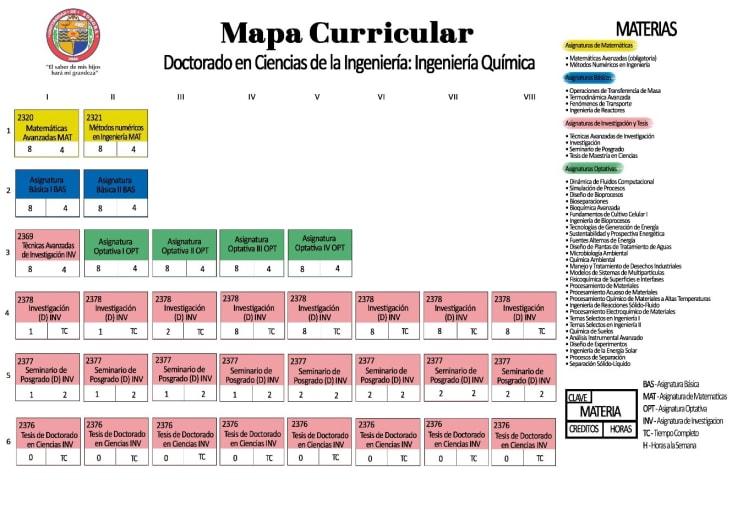 List of subjects
Mathematics subjects (8 credits per subject)
Advanced Mathematics (mandatory)
Numerical Methods in Engineering
Basic subjects (8 credits per subject)
Mass Transfer Operations
Advanced Thermodynamics
Transport Phenomena
Reactor Engineering
Optional subjects (8 credits per subject)
Computational Fluid Dynamics
Process Simulation
Bioprocess design
Bioseparations
Advanced Biochemistry
Fundamentals of Cell Culture I
Bioprocess Engineering
Energy Generation Technologies
Sustainability and Energy Prospective
Alternative Sources of Energy
Design of Water Treatment Plants
Environmental Microbiology
Enviromental chemistry
Industrial Waste Management and Treatment
Multiparticle Systems Models
Physical Chemistry of Surfaces and Interfaces
Processing of Materials
Aqueous Processing of Materials
Chemical Processing of Materials at High Temperatures
Solid-Fluid Reaction Engineering
Electrochemical Processing of Materials
Selected Topics in Engineering I
Selected Topics in Engineering II
Soil Chemistry
Advanced Instrumental Analysis
Design of Experiments
Solar Energy Engineering
Separation processes
Solid-Liquid Separation
Additionally, as optional subjects you can select:
Mathematics subjects
Basic Subjects
Subjects of other graduate programs of the Universidad de Sonora
Postgraduate courses from other institutions
Research and Thesis Subjects (Compulsory)
Advanced Research Techniques (8 credits)
Graduate Seminar (12 credits)
Research (44 credits)
Doctoral Thesis in Science (72 credits)
Lines of generation and / or application of knowledge of the program.
Environmental engineering
Bioprocess Engineering
Materials engineering
Metallurgical Processes
Renewable energy
Academic Core
| | |
| --- | --- |
| First name | Mail |
| Cabanillas Lopez Rafael Enrique | rcabani@iq.uson.mx |
| Gomez Alvarez Agustin | agomeza@iq.uson.mx |
| Warrior German Patricia | pguerrero@iq.uson.mx |
| Hinojosa Palafox Jesus Fernando | fhinojosa@iq.uson.mx |
| Herrera Urbina Jose Ronaldo | rherrera@guaymas.uson.mx |
| Martin Garcia Abraham Rogelio | armartin@iq.uson.mx |
| Monge Amaya Onofre | onofrem@iq.uson.mx |
| Perez Tello Manuel | mperezt@iq.uson.mx |
| Tejeda Mansir Armando | atejeda@guayacan.uson.mx |
| Valenzuela Garcia Jesus Leobardo | jvalen@iq.uson.mx |
How to enter this postgraduate course?
Entry requirements
To enter the Doctorate program in Engineering Sciences: Chemical Engineering the applicant must:
Submit application for admission, curriculum vitae in free format with vouchers, 3 letters of recommendation, doctoral research project with the approval of the possible thesis supervisor and acceptance letter from the possible thesis supervisor.
Present a copy of the Master's degree and the certificate of grades with official average.
Deliver original or certified copy of birth certificate.
Provide proof of English language skills: TOEFL (at least 450 points) or equivalent document.
Attend an interview with the selection committee, where the thesis project will be presented and defended.
Admission profile
The applicant to enter the postgraduate course in the field of Chemical Engineering knowledge must have a preferential training in Chemical Engineering. Students with a Master's degree in Chemical Engineering may be accepted if, in the judgment of the Academic Committee, said applicants meet the academic requirements for admission to the program.
For the doctoral program, you must meet a profile that demonstrates skills and vocation for scientific research and the generation of new knowledge, as well as dedication to taste for scientific work. The evaluation of the attributes required for admission to the Doctorate Program will be done according to the evaluation guide.
What do you need to get the degree?
Qualification requirements
To obtain a PhD degree, you must:
Approve the total credits and meet the other requirements established in the corresponding graduate program;
Proof of understanding a language other than Spanish, as established by the Academic Committee of the Postgraduate Program according to the study program.
Pass the examination of grade in the written phase and in the oral phase before a jury named ex profeso.
For the degree of doctor, to pass a general examination of knowledge in the case in which the graduate program contemplates it.
Comply with the provisions and requirements demanded by the School Services Office for the issuance of the degree.
Titration options
To obtain the degree it is necessary to have covered the credits corresponding to the postgraduate syllabus, have prepared and approved their written thesis work, and the degree examination, consisting of the oral defense of the thesis before a jury appointed by the Academic Committee of the Postgraduate
Students who have at least two articles published and / or accepted within the 8 semesters of the program, will have the option to present these articles as their written document that must be defended in the oral phase of the degree exam.
How much does it cost to study this postgraduate course?
Cost of the EXANI-III
The registration cost of applicants to enter the Universidad de Sonora is announced annually along with the first entry notice.
Registration and tuition fees
Students, when enrolling in any of the graduate programs, must cover the corresponding fees according to the current minimum wage in the city of Hermosillo, as established in the Quotas Regulation.
More reports
Dr. Abraham Rogelio Mártin García
Program coordinator
Rosales and Blvd. Luis Encinas s / n, Col. Centro, CP 83000, Building 5C
posci@iq.uson.mx
Tel: 52 (662) 259 2106, 52 (662) 259 2100
href = "http://www.posci.iq.uson.mx/
Last updated Mar 2020
About the School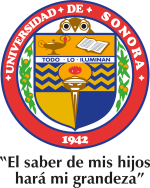 La Universidad de Sonora es una institución pública autónoma que tiene como misión formar, en programas educativos de calidad y pertinencia, profesionales integrales y competentes a nivel nacional e i ... Read More
La Universidad de Sonora es una institución pública autónoma que tiene como misión formar, en programas educativos de calidad y pertinencia, profesionales integrales y competentes a nivel nacional e internacional, articulando la docencia con la generación, aplicación y transferencia del conocimiento y la tecnología, así como con la vinculación con los sectores productivo y social, para contribuir al desarrollo sostenible de la sociedad.
Read less