Read more about this program on the school's website
Program Description
Name of the program: Doctorate in Sciences (Physics)
DGP key: 122601
Normal period to graduate: 8 semesters
Credits: 203
Degree conferred: Doctor of Science (Physics)
Campus where it is offered: Hermosillo
Program description
Overall objective
Prepare specialized personnel in any of the areas of Physics with the ability to propose and undertake their own research projects, relevant and viable, which impact on the scientific and technological development of the country.
Specific objectives
The Doctorate in Science (Physics) program has the following objectives:
To train human resources of high academic level that propitiate the development and creation of scientific and technological knowledge that contributes to the development of the region and the country.
Prepare highly trained personnel to perform teaching tasks of undergraduate and graduate.
To train professors-researchers with a high academic preparation and innovative capacity, capable of generating and transmitting scientific knowledge; apt to create and develop projects and programs of scientific and technological research.
Develop multidisciplinary scientific and technological research programs.
What will be your skills when you finish the Program?
Graduation profile
Broad domain of the specific topics of physics involved with the area of his knowledge.
Sufficient skill and ability to adapt and operate high-tech experimental and / or computational devices to solve problems related to theoretical or applied physics.
Innovative capacity supported by a solid academic background that allows you to contribute to the creation and development of multidisciplinary research projects and programs that involve elements of basic and / or applied physics with patents and prototypes as possible products.
Critical attitude of the scientific and technological context of Mexico that allows it to contribute to the solution of fundamental problems in research and development in the area of its specialty.
Curriculum
Curricular map
| | | | |
| --- | --- | --- | --- |
| SEMESTER I | SEMESTER II | SEMESTER III | SEMESTER IV |
| RESEARCH SEMINAR I | RESEARCH SEMINAR II | RESEARCH SEMINAR III | THESIS ADVANCE |
| --- | OPTATIVE I | OPTIONAL II | --- |
| | | | |
| SEMESTER V | SEMESTER VI | SEMESTER VII | SEMESTER VIII |
| RESEARCH SEMINAR IV | RESEARCH SEMINAR V | THESIS SEMINAR I | THESIS II SEMINAR |
| --- | --- | --- | THESIS |
The subjects Optional I and Optional II will be selected by the student of the thirty-six optional subjects established in the program:
Group Theory
General relativity
Cosmology
Differential Geometry
Mathematical Methods II
Numerical methods
Theory of Many Bodies
Optoelectronics
Nolineal optics
Fourier optics
Digital image-signal processing
Physics of Lasers
Modern Optics Topics
Neural Networks
Advanced Quantum Mechanics
Quantum Chemistry
Relativistic Quantum Mechanics
Quantum Field Theory
Particle Physics
Atomic and Molecular Structure
Advanced electrodynamics
Statistical Mechanics II
Fluid mechanics
Mechanics of Continuous Media
Solid State Seminar
Solid State I
Solid State II
Solar cells
Thin Films
Material Physics
Semiconductor Physics
Optical Properties of Materials
Methods of Experimental Physics
Surface Physics
Instrumentation I
Instrumentation II
Lines of Generation and / or Application of Program Knowledge.
Mathematical Physics.This LGAC encompasses theoretical research that uses the computational simulation tool to solve problems based on the theory of many effective bodies or potentials such as: metal clusters, atoms and confined molecules, colloidal suspensions, nanostructured systems, among others.

Astrophysics, Cosmology and Particle Physics.This LGAC encompasses research on the fundamentals of particles generated at the origin of the universe, covering the study and interaction of fundamental particles, as well as the evolution of the known Universe and dark matter. For example, study of quarks, gluons, hadrons; radio ‐ emission of galactic clusters, study of planetary nebulae and massive rotating stars.

Optics and electrodynamics.This line focuses on the study of the interaction and propagation of electromagnetic radiation with periodic structures.

Solid state.This LGAC includes the spectroscopic study of defects in insulating materials and materials synthesized from the methods: Czochralski, chemical vapor and combustion tank, with luminescent properties, for example: KClxBr1 ‐ x: Cu, CsBr: Eu / Mn, NaCl: Cu.

Interaction Radiation Matter.This LGAC involves the study of the effects of ionizing radiation on micro and nanostructured materials to optimize their luminescent, dosimetric properties and understand the physical mechanisms and their possible biomedical applications: contrast materials, sensors and radiation dosimeters.

Photonic materials.This LGAC includes the synthesis, optical and electrical characterization of crystalline and amorphous semiconductor materials for photonic or optoelectronic applications. For example: thin films of semiconductors PbS, CdS, SrSe, CdSe, among others, metallic nanoparticles obtained by green route, germanatos and vanadatos with different dopings.
Basic / Complementary Academic Core
| | | | |
| --- | --- | --- | --- |
| LGAC | PARTICIPATION | Teacher | Mail |
| one | NAB | Dr. Álvaro Posada Amarillas | posada@cifus.uson.mx |
| one | NAB | Dr. Raúl Riera Aroche | rriera@cifus.uson.mx |
| one | NAB | Dr. Rodrigo A. Rosas Burgos | rodrigo.rosas@unison.mx |
| one | NAB | Dr. Efraí Urrutia Bañuelos | eurrutia@cifus.uson.mx |
| one | NAC | Dr. Adalberto Corella Madueño | adalberto.corella@fisica.uson.mx |
| two | NAB | Dr. Anton Lipovka | aal@cifus.uson.mx |
| two | NAB | Dr. Lorenzo Olguín Ruiz | lorenzo@cifus.uson.mx |
| two | NAC | Dr. Guillermo Arreaga García | garreaga@cifus.uson.mx |
| two | NAC | Dr. Carlos A. Calcaneo Roldán | unicandun@gmail.com |
| 3 | NAB | Dr. Jorge A. Gaspar Armenta | jorge.gaspar@unison.mx |
| 3 | NAB | Dr. Felipe Ramos Mendieta (†) | framos@cifus.uson.mx |
| 3 | NAB | Dr. Raúl García Llamas | ragal@cifus.uson.mx |
| 3 | NAB | Dr. Jesús Manzanares Martínez | jmanza@cifus.uson.mx |
| 3 | NAC | Dr. María Betsabé Manzanares Martínez | betsabe.manzanares@gmail.com |
| 3 | NAC | Dr. Angel Colonel Beltrán | acoronel@cifus.uson.mx |
| 4 | NAB | Dr. Raúl Aceves Torres | raceves@cifus.uson.mx |
| 4 | NAB | Dr. Rodolfo Bernál Hernández | rbernal@gimmunison.com |
| 4 | NAB | Dr. Raúl Pérez Salas | rperez@cifus.uson.mx |
| 4 | NAC | Dr. Thomas Maria Piters | piters@cifus.uson.mx |
| 5 | NAB | Dr. Susana Álvarez García | susana.alvarez@unison.mx |
| 5 | NAB | Dr. Marcelino Barboza Flores | mbarboza@cifus.uson.mx |
| 5 | NAB | Dr. Rodrigo Meléndrez Amavizca | rodrigo@cifus.uson.mx |
| 5 | NAB | Dr. Martín R. Pedroza Montero | mpedroza@difus.uson.mx |
| 5 | NAC | Dr. Valery Chernov | chernov@cifus.uson.mx |
| 5 | NAC | Dr. Rafael García Gutiérrez | rgarcia@cifus.uson.mx |
| 6 | NAB | Dr. Milka C. Acosta Enriquez | milka.acosta@unison.mx |
| 6 | NAB | Dr. Santos Jesús Castillo | semiconductors@difus.uson.mx |
| 6 | NAB | Dr. Mario Flores Acosta | mflores@difus.uson.mx |
| 6 | NAB | Dr. María Elena Zayas Saucedo | mzayas@difus.uson.mx |
| 6 | NAC | Dr. Alejandro Apolinar Uribe | |
| 6 | NAC | Dr. Humberto Arizpe Chávez | harizpe@cifus.uson.mx |
| 6 | NAC | Dr. Dainet Berman Mendoza | daiber@cifus.uson.mx |
| 6 | NAC | Dr. Judith C. Tánori Córdova | jtanori@gmail.com |
How to enter this Postgraduate?
Entry requirements
Master in Physical Sciences or related Master with sufficient knowledge in Basic Physics. Minimum average of 80 points (on a scale of 0 to 100).
Level FOUR of the English courses of the Department of Foreign Languages or 400 points of the TOEFL ITP or equivalent.
Present and pass an entrance exam on the basic subjects of Physics (Classical Mechanics, Quantum Mechanics, Statistical Mechanics and Electromagnetism). This exam may be accredited by proof of having completed the corresponding subjects in a Master's program in Physics prior to less than two years.
Receive a positive evaluation in the individual interview with the Academic Committee where the competitiveness of the applicant will be evaluated to carry out Doctorate studies.
Complete your registration through the portal: https://aspirantesposgrado.uson.mx
Admission profile
The program is aimed at applicants with an interest in pure or applied research, graduates of a Master of Science in Physics or related career with sufficient knowledge in Basic Physics.
What do you need to get the degree?
Qualification requirements
Make a doctoral thesis about an original research project.
Publish at least one research article related to the thesis work in a prestigious journal with arbitration, indexed in the Science Citation Index. An accepted article to cover the requirement will be considered valid. In this publication the student must appear as the first author.
Participate as a speaker in two international scientific events related to the area of thesis work. This requirement can be accredited with papers at national events whose quality is equivalent according to an evaluation by the Academic Committee.
Accredit a minimum level of 6 in the General English Courses of the Department of Foreign Languages of the Universidad de Sonora .
Satisfy the academic requirements established by the Universidad de Sonora in accordance with the current curriculum at the time of admission as a student of the Program. In the case of readmission, must meet the requirements of the current curriculum at the time of this.
Pass the oral thesis defense exam on the date and place determined by the Program Coordination.
Titration options
Thesis defense.
How much does it cost to study this Postgraduate?
The registration of applicants to enter this Postgraduate is FREE.
Students, when enrolling in any of the graduate programs, must cover the registration and tuition fees as set out in the Fee Regulation ( href = "http://www.serviciosescolares.uson.mx/alum_cuotasescolares.html ).
Accepted students will be nominated for a CONACYT scholarship once formalization of the program. The number of scholarships assigned will be subject to CONACYT budget availability.
More reports
Program coordination
Rosales and Blvd. Luis Encinas s / n,
Col. Centro, CP 83000, Building 3I.
Hermosillo, Sonora. Mexico
Tel: 52 (662) 289 3792
posgrado.fisica@unison.mx
href = "http://posgrado.cifus.uson.mx/
Last updated Mar 2020
About the School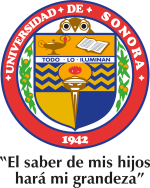 La Universidad de Sonora es una institución pública autónoma que tiene como misión formar, en programas educativos de calidad y pertinencia, profesionales integrales y competentes a nivel nacional e i ... Read More
La Universidad de Sonora es una institución pública autónoma que tiene como misión formar, en programas educativos de calidad y pertinencia, profesionales integrales y competentes a nivel nacional e internacional, articulando la docencia con la generación, aplicación y transferencia del conocimiento y la tecnología, así como con la vinculación con los sectores productivo y social, para contribuir al desarrollo sostenible de la sociedad.
Read less