Read more about this program on the school's website
Program Description
Name of the program: Doctorate in Psychology
DGP Code: 231601
Normal period to graduate: 6 semesters
Credits: 210
Degree that confers: Doctor in Psychology
Campus where it is offered: Hermosillo
Program description
General purpose
To train researchers who are capable of designing and directing original projects and research groups that address regional, national and global social problems.
Specific objectives
Develop skills and competences for the design, evaluation and conduct of original psychological research projects.
Develop the competence to create psychological constructs that are used in the investigation of current, novel or emerging social problems.
Generate in the graduates the competences for the training of human resources (researchers and evaluators) in the area of behavioral sciences.
To train individuals capable of evaluating projects and strategies based on psychological research, aimed at solving real problems in regional and national environments.
What Will Your Competencies Be When You Finish The Program?
Egress Profile
Knowledge
The graduate of the program will dominate the assumptions and theoretical-methodological foundations of the psychological research process, projecting them into creative and original guidelines for action aimed at solving socially relevant problems.
Will be able to develop diagnoses that allow to identify and intervene in those situations and problems that demand the adoption, analytical strategies and modes of operation of psychological research.
Will have the competence to design and conduct psychological research projects, applying their techniques, communication strategies and solutions in the different fields that demand it.
It will possess the conceptual tools that allow it to sustain valid and operative scientific arguments in different domains of psychological science, in such a way that they allow, at the end of their research project, to identify and propose an original theoretical-explanatory model of a reality and / or social issues.
Abilities
Develop negotiation skills and skills for the coordination of work groups and research.
It will be able to transfer the information obtained in the investigation to the applicants of the same for the creation of complex solutions.
It will effectively use qualitative and / or quantitative research methodologies for the development of research projects that test psychological explanatory models of social phenomena.
It will display the skills to publish chapters of books, essays and scientific articles, give lectures and teach or tutor on topics related to the different dimensions and dynamics of the integration of scientific knowledge in psychology.
Doctoral Program expects to contribute to the society researchers trained in the strategies of integration of methodologies, techniques and models of research in Psychology; able to devise original, innovative and critical works in the field of study of the different research lines of the Postgraduate course. The graduate will attend, on the one hand, to the most recent discussion and contributions of the behavioral sciences and, on the other hand, to the study of the phenomena that are presented as fundamental for the development of society.
The graduate of the program will exhibit a wide knowledge of psychological theories that explain various social problems. It will also have the skills to develop original research that addresses these problems and the necessary practice to propose specific solutions to specific problems.
Curriculum
Curricular map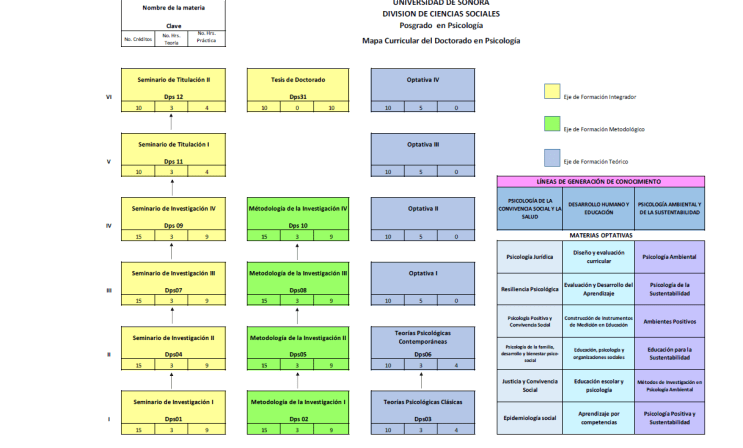 List of subjects
Research Seminar I
Research Methodology I
Classical Psychological Theories
Research Seminar II
Research Methodology II
Contemporary Psychological Theories
Research Seminar III
Research Methodology III
Optional I
Research Seminar IV
Research Methodology IV
Optional II
Titration Seminar I
Optional III
Titration Seminar II
Optional IV
Doctoral thesis
Optional assignatures
Juridic psychology
Psychological Resilience
Positive Psychology and Social Coexistence
Psychology of the Family, Development and psycho-social well-being
Justice and Social Coexistence
Social epidemiology
Curriculum Design and Evaluation
Evaluation and Development of Strategic Learning
Construction of Measuring Instruments in Education
School education and psychology
Education, psychology and social organizations
Learning by competences
Environmental Psychology
Psychology of Sustainability
Education for Sustainability
Research Methods in Environmental Psychology
Positive Psychology and Sustainability
Positive Environments
Lines of generation and / or application of knowledge of the program.
Psychology of social coexistence and health psychology
Education and human development
Environmental and sustainability psychology
Academic Core
| | |
| --- | --- |
| First name | Mail |
| Dr. Víctor Corral Verdugo | victorcorral@sociales.uson.mx |
| Dr. Martha Frías Armenta | marthafrias@sociales.uson.mx |
| Dr. José C. Gaxiola Romero | jgaxiola@psicom.uson.mx |
| Dr. Daniel González Lomelí | dgonzalez@psicom.uson.mx |
| Dr. Juan José Irigoyen Morales | irigoyen@psicom.uson.mx |
| Dr. Federico Zayas Pérez | fzayas@psicom.uson.mx |
| Dr. Marcela Sotomayor Petterson | msotomayor@psicom.uson.mx |
| Dr. Blanca Silvia Fraijo Sing | blancafraijo@sociales.uson.mx |
| Dr. César Tapia Fonllem | cesartapia@sociales.uson.mx |
| Dr. Karla Acuña Meléndrez | karla@psicom.uson.mx |
| Dr. Cecilia Norzagaray Benítez | cecilian@psicom.uson.mx |
| Dra. Nadia Saraí Corral Frías | nadia.corral@unison.mx |
How to enter this postgraduate course?
Entry requirements
Master's degree in Psychology, Behavioral Sciences, Social Sciences or related. Interns can be accepted with a commitment letter of qualification.
Have approved with an average equal to or greater than 80 subjects of the master's degree program.
Accreditation of the Graduate Entrance Exam for CENEVAL (EXANI-III) with a minimum score of 1000.
To prove an English exam equivalent to TOEFL with 500 points.
Proposal of a research doctoral project framed in one of the three lines of research promoted by the Postgraduate Program.
Have at least two publications in peer-reviewed journals, book chapters or extensive congress memory (the completed master's thesis is considered a publication).
Interview with the Academic Committee.
Admission request.
Letter containing the statement of reasons for entering the doctorate, where the applicant expresses interest in entering the program and expresses his willingness to comply with the academic activities assigned to him.
Proposal of the research doctoral project framed in one of the three research lines of the Postgraduate Program.
Curriculum vitae with supporting documents of research experience (publications, articles, papers, academic events, etc.).
Letter of commitment of full-time dedication and those who come from Institutions of Higher Education, institutional letter that endorses the commitment of full-time dedication.
Proof of English (TOEFL) or proof that you will apply it in our Institution.
Certificate of accreditation of Ceneval Exam EXANI-III or proof that it will be applied in our Institution.
Birth certificate.
CURP.
Government-issued photo ID.
Proof of address.
Bachelor's degree
Integrated certificate of qualifications (bachelor's degree).
Master's degree.
Certificate of qualifications with general average (masters).
Proof of other studies (if any).
Admission profile
Applicants must have a master's degree in psychology, in a discipline of the social sciences or similar. They and they will try to be aware of the social reality and its socio-political and cultural context, have strong inclinations for scientific research and, importantly, should show creative capacity, profiled in the development of their master's thesis and / or in publications that could have been generated individually or in collaboration with consolidated researchers. Their professional discipline of provenience should be related to the work and techniques of the Behavioral Sciences, allowing them to be directly and efficiently involved in the analysis and promotion of creative solutions to social problems together with other human sciences. The applicant must demonstrate, in the same way, special interest in the use of logical and analytical reasoning that allows him to be linked with other disciplinary and interdisciplinary approaches for the solution of concrete problems. In addition to the above, you must have the ability to relate, recognize and communicate with other professionals; as well as demonstrate express interest in developing high level scientific research.
Students must dedicate full-time with a professional commitment to attend the activities that the postgraduate requires. Preference will be given to applicants who accredit experience in research work in any of the academic areas related to the doctorate. Likewise, it will be considered as a requirement of income that the research topic responds to the local, regional or national social problems, without implying the exclusion of projects with international impact, since it is based on a systemic and global vision that recognizes the interaction in a double sense that has the local and the global. Even though, for the purposes of curricular-academic organization, three lines of generation and / or application of knowledge are proposed, the approach of the doctorate to the attention of social problems will be flexible and an expansion of the research lines will be considered an area of opportunity or the thematic axes so far defined.
What do you need to get the degree?
Qualification requirements
To obtain a PhD degree, you must:
Approve the total credits and meet the other requirements established in the corresponding graduate program;
Proof of understanding a language other than Spanish, as established by the Academic Committee of the Postgraduate Program according to the study program.
Pass the examination of grade in the written phase and in the oral phase before a jury named ex profeso.
For the degree of doctor, to pass a general examination of knowledge in the case in which the graduate program contemplates it.
Comply with the provisions and requirements demanded by the School Services Office for the issuance of the degree.
Titration options
The only valid modality for obtaining the degree is the thesis. This should be based on rigorous empirical research, accompanied by the respective theoretical support and relevant background.
How much does it cost to study this postgraduate course?
Cost of the EXANI-III
The registration cost of applicants to enter the Universidad de Sonora is announced annually along with the first entry notice.
Registration and tuition fees
Students, when enrolling in any of the graduate programs, must cover the corresponding fees according to the current minimum wage in the city of Hermosillo, as established in the Quotas Regulation.
More reports
Dr. César Tapia Fonllem
Program coordinator
Research and Postgraduate Building, Universidad de Sonora . Reforma and Blvd. Luis D. Colosio, Col. Centro, CP 83000. Hermosillo, Sonora.
posgradoenpsicologia@unison.mx
Tel: 52 (662) 45484-10
href = "http://www.posgradoenpsicologia.uson.mx/
Last updated Mar 2020
About the School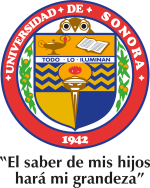 La Universidad de Sonora es una institución pública autónoma que tiene como misión formar, en programas educativos de calidad y pertinencia, profesionales integrales y competentes a nivel nacional e i ... Read More
La Universidad de Sonora es una institución pública autónoma que tiene como misión formar, en programas educativos de calidad y pertinencia, profesionales integrales y competentes a nivel nacional e internacional, articulando la docencia con la generación, aplicación y transferencia del conocimiento y la tecnología, así como con la vinculación con los sectores productivo y social, para contribuir al desarrollo sostenible de la sociedad.
Read less