Doctorate in Sciences in Electronics
Home ›
PhD ›
Doctorate in Sciences in Electronics
Read more about this program on the institution's website
Program Description
Name of the program: Doctorate in Sciences in Electronics
DGP Code: 554601
Normal period to graduate: 8 semesters
Credits: 200
Degree that confers: Doctor of Sciences in Electronics
Campus where it is offered: Hermosillo
Program description
General purpose
To train personnel with the capacity to develop, analyze and evaluate electronic technology in different specialties, proposing research lines in the area of interest, in an autonomous manner.
Specific objectives
Train researchers in the fields of optoelectronics and device design and integrated circuits with the capacity to:
Analyze and evaluate scientific knowledge in an original and innovative way.
Direct research groups in the field of optoelectronics and electronic devices and collaborate with consolidated research groups, both national and foreign.
Propose solutions to problems related to the state of the art in the relevant fields of study.
Analyze and evaluate electronic systems related to the fields of optoelectronics and the design of electronic devices.
Promote border research and development in postgraduate specialties, within the education, production and services sectors.
Present the results of the research carried out through participation in specialized events and the publication of research articles in scientific journals of national or international dissemination.
What Will Your Competencies Be When You Finish The Program?
Egress Profile
Upon completion of the Doctorate program, the graduate will have the ability to be part of national and international research networks according to their line of research, contributing to the generation of innovative and interdisciplinary knowledge, with a vision of social responsibility and sustainable development.
The graduate will have the ability to:
Investigate, analyze and propose technological solutions to problems of advanced electronic engineering in the industry.
Contribute to a culture of scientific and technological development.
Disclose or disseminate the knowledge acquired.
Contribute to technological development.
Develop, independently, research projects.
Curriculum
Curricular map

List of subjects
Optional I
Optional II
Experimental Electronics I
Experimental Electronics II
Research I
Research II
Publication
Thesis
Selected Topics of Electronics I
Selected Topics of Electronics II
Advance of Thesis I
Advance of Thesis II
Advance of Thesis III
Advance of Thesis IV
Advance of Thesis V
Optional assignatures
Computer-aided design oriented to MEMS, NEMS and MOEMS
Design of MEMS, NEMS and MOEMS Microsystems
Systems Design VLSI2
Solar cells
Climate Change Renewable Energies
Alternative Sources of Generation
Automatic Control Topics
Selected Topics of Communications
Radio Frequency and Microwave
Topics of Electronics I
Topics of Electronics II
Lines of generation and / or application of knowledge of the program.
Electronic systems
Design of Electronic Devices
Academic Core
| | |
| --- | --- |
| First name | Mail |
| Dr. Alicia Vera Marquina | avera@guaymas.uson.mx |
| Dr. Ana Lilia Leal Cruz | ana.leal@guayacan.uson.mx |
| Dr. Milka del Carmen Acosta Enríquez | milka@cifus.uson.mx |
| Dr. Alejandro García Juárez | agarcia@cifus.uson.mx |
| Dr. Armando Gregorio Rojas Hérnández | arojas@cifus.uson.mx |
| Dr. Dainet Berman Mendoza | daiber@cifus.uson.mx |
| Dr. José Rafael Benito Noriega Luna | bnoriega@cifus.uson.mx |
| Dr. Luis Arturo García Delgado | luis.garcia@difus.uson.mx |
| Dr. Roberto Gómez Fuentes | rgomez@cifus.uson.mx |
| Dr. Rafael García Gutiérrez | rgarcia@cifus.uson.mx |
How to enter this postgraduate course?
Entry requirements
Application for signed entry and letter of presentation of your reasons for admission to pursue postgraduate studies in the area of electronics.
Master's degree duly legalized in a discipline related to electronics and a master's degree certificate with a minimum average of 80.
Obtain at least 1000 points in the National Graduate Entrance Exam (EXANI-III).
Interview with the Academic Commission or with NAB professors assigned by the Academic Commission. For final acceptance the student must also have a positive evaluation in the interview with the Academic Committee.
Submit to the Academic Commission of the Postgraduate a synthesis of the research project (or preliminary project) of interest, endorsed by who will act as its thesis director.
Demonstrate sufficiency of the English language. Present proof of level 6 of the English language of UNISON or 450 TOEFL points.
Two color children's photos with white background.
Two letters of academic recommendation from national research professors, preferably belonging to the SNI.
Birth certificate (original).
Voter's credential (both sides) for Mexicans, passport for foreigners (copy).
Proof of address (copy).
Unique Code of Population Registration (CURP) for Mexicans, and for foreigners, corresponding student immigration form.
Admission profile
It is convenient that the candidate for the doctoral program has:
Knowledge and skills in physics and mathematics.
Motivation to become familiar with the latest theories, interpretations, methods and scientific techniques in the area of Electronics.
Qualities to transmit knowledge.
Attitude to collaborate in research groups.
Mentality and character to make original contributions in research projects.
Skills for study and learning, autonomously, in any discipline in the area of electronics or related disciplines.
Originality and creativity for the development of technological projects.
What do you need to get the degree?
Qualification requirements
To obtain a PhD degree, you must:
Approve the total credits and meet the other requirements established in the corresponding graduate program;
Proof of understanding a language other than Spanish, as established by the Academic Committee of the Postgraduate Program according to the study program.
Pass the examination of grade in the written phase and in the oral phase before a jury named ex profeso.
For the degree of doctor, to pass a general examination of knowledge in the case in which the graduate program contemplates it.
Comply with the provisions and requirements demanded by the School Services Office for the issuance of the degree.
Titration options
Submit and approve the oral defense of the thesis before a jury appointed by the Postgraduate Coordinator according to the standards indicated in the Regulations for Postgraduate Studies.
How much does it cost to study this postgraduate course?
Cost of the EXANI-III
The registration cost of applicants to enter the Universidad de Sonora is announced annually along with the first entry notice.
Registration and tuition fees
Students, when enrolling in any of the graduate programs, must cover the corresponding fees according to the current minimum wage in the city of Hermosillo, as established in the Quotas Regulation.
More reports
Dr. Dainet Berman Mendoza
Program coordinator
Rosales and Blvd. Luis Encinas s / n, Col. Centro, CP 83000, Building 8B. Hermosillo, Sonora.
posgrado.electronica@cifus.uson.mx
Tel: 52 (662) 259-22-49, 52 (662) 259-22-49
href = "http://posgrado.ite.uson.mx/
Last updated Mar 2020
About the School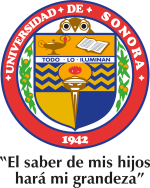 La Universidad de Sonora es una institución pública autónoma que tiene como misión formar, en programas educativos de calidad y pertinencia, profesionales integrales y competentes a nivel nacional e i ... Read More
La Universidad de Sonora es una institución pública autónoma que tiene como misión formar, en programas educativos de calidad y pertinencia, profesionales integrales y competentes a nivel nacional e internacional, articulando la docencia con la generación, aplicación y transferencia del conocimiento y la tecnología, así como con la vinculación con los sectores productivo y social, para contribuir al desarrollo sostenible de la sociedad.
Read less