Program Description
The Executive Doctorate in Business Administration (EDBA) is a professional doctoral program for executives who have a master's degree in business or related advanced degree. Each student works closely with a faculty advisor for the duration of the 3-year program, and the experience culminates with a year-long dissertation that addresses issues and challenges that apply directly to the executive's business interest. EDBA students meet once a month on campus, and no GMAT is required.
What is an EDBA?
An Executive Doctorate in Business Administration (EDBA) is a doctoral degree for executives who want a pragmatic and relevant program of study and may work full time while completing their degree. Many EDBA candidates pursue the degree to advance their careers, enhance their skills and knowledge, and to fulfill personal learning goals.
EDBA programs focus on research that can be applied directly to current business issues. EDBA students research problems or challenges they face in their industries and apply what they learn to resolve issues in their organizations.
EDBA students are inspired by lifelong learning, enjoy the academic experience, and wish to expand their existing knowledge, both from a theoretical and analytical perspective. They are interested in bringing these high-level thinking skills and newly acquired research skills back into the workplace.
Why the Rollins EDBA?
Rollins College is the first AACSB-accredited school in Florida to offer an Executive Doctorate in Business Administration (EDBA). The Rollins EDBA program is a professional doctoral program designed for executives who have an MBA or equivalent degree/experience. These professionals want to take their knowledge, learning, and ability to contribute to organizational success to a level significantly higher than that afforded by the MBA. Through the EDBA experience, the student is positioned to be a thought leader and is differentiated from other managers by mastery of the advanced curriculum and applied research skills. The interdisciplinary nature of the program couples an advanced level general management focuses on the opportunity for specialization through the dissertation process.
Get the Rollins EDBA Advantage
Interactions among the cohort group are highly stimulating and rewarding – all students come into the program with a similar high level of experience, common goals, and motivation for professional and personal advancement.
Coursework is conducted on a once per month Friday/Saturday format, allowing for a continuation of full-time employment.
Top professors with real-world experience follow the "engaged scholarship" model that focuses on topics at the intersection of theory and contemporary business practice – class sessions are always mindful of how the learning can be immediately applied.
In-class experiences are in small groups and follow a facilitated dialogue format around key areas across the business field.
Research projects are highly applied in nature and students are encouraged to connect them to their own firm and industry.
The overall experience provides the impetus for career advancement and a springboard for personal and professional change.
The research skills developed are greatly valued in today's organizations and are not well-mastered by most managers that have not had the EDBA experience.
EDBA students bring important new perspectives, tools, and methods back to others within their firm, thus enhancing the overall firm's success.
The strong bond between the student and her/his faculty advisor and collaborators can foster years of fruitful research collaboration.
Rollins College is accredited by AACSB and SACSCOC
Executive DBA Schedule and Courses
The program of coursework is designed to allow students to continue working while attending classes. Classes will meet in person two consecutive days per month (Friday and Saturday). In between on-site classes, student learning will be augmented by an online education platform.
Last updated Jun 2019
About the School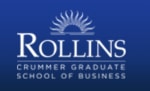 Rollins College Crummer Graduate School of Business graduates are coveted professionals, prepared for the challenges of a competitive global economy.
Rollins College Crummer Graduate School of Business graduates are coveted professionals, prepared for the challenges of a competitive global economy.
Read less
Accreditations