Executive Doctorate in Business Administration
Home ›
DBA ›
Executive Doctorate in Business Administration
Program Description
Why an EDBA
You are Executive Senior Manager
You are a professional in activity (business manager, senior executive, consultant, teacher or speaker), and have more than ten years of experience.
You are driven by the desire to formalize your knowledge, to share it.
You aim to theorize your practice.
You want to produce high-level academic research and disseminate it in the form of publications and works to bring your stone to the edifice of knowledge in applied fields.
You feel motivated to write a thesis on a concrete managerial issue supported by scientific research tools.
You wish to access the title of "Academically qualified" or "Executive doctor" as part of your career development.
All with a schedule compatible with your professional life in a bracket of three years. Don't hesitate any longer, the EDBA of Paris-Dauphine University is made for you!
The EDBA of Paris-Dauphine University is a doctoral level program, based on the concept of "committed research", which is aimed at working professionals, in order to give them all the resources necessary to theorize their practice and produce high-level academic research.
The EDBA of Paris-Dauphine University aims to promote communication between two often distant worlds, that of management research and that of business, for the benefit of both spheres.
This reconciliation makes it possible to:
Give a scientific scope to your "intuitions"
Develop your legitimacy / visibility in your professional world
Access a global vision on business strategy, its functional organizations including the latest advances in theoretical research in a scientific context.
Participate significantly in the evolution of knowledge in your area of expertise by reviewing your professional practices; "… After the training, in my daily life as a manager, I no longer understood the problems in the same way, but with more perspective, and from several angles…" (Elisabeth Bordes)
Work and be in contact with senior executives in an environment driven by research.
Work at a high level of expertise in your sector of activity and within your company thanks to constant access to references in the field of Organizational Sciences.
Participate in the research activities of the largest Management center in France: Dauphine Research in Management (DRM)
Become a reference teacher in international universities and business schools through a systematic analysis of managerial issues.

In short, making this rich development opportunity a solid springboard for career and managerial success.
Why Dauphine
Paris-Dauphine University was one of the first universities in Europe to offer an Executive DBA, in 2008, and the first in France. Today, this program is meeting with increasing success, with an annual promotion of 16 participants on average, of which from 30% to more than half are international. EDBA is rich in the exchange of experience that this international openness provides.
10 good reasons to choose the EDBA of Paris-Dauphine University
You are supported by a team of high-level teacher-researchers, guaranteeing the quality of the content and the supervision, a determining criterion for differentiation from other programs.
You are part of the first French university in the world ranking for management research: six research centers (including 4 associated with the CNRS), a doctoral school with 7 doctoral programs (Management Sciences, Economic Sciences, Sciences, Computer Science, Law, Sociology and Political Science), more than 200 doctoral thesis students, 430 doctoral students, 77 theses defended in 2013, more than 20 chairs, initiatives and research and teaching circles, more than 40 research contracts signed in 2013.
The level of education makes the Paris-Dauphine University the first source for issuing a doctorate in management in France in the fields of Finance / Marketing / Accounting-Control-Audit / Organization / Strategy / Information systems. Over 20 doctoral theses have won national or international awards in the past 10 years.
You will belong to the first French university accredited EQUIS (the most selective accreditation in the world for universities and schools of Management).
You will build strong links with teachers and students and join a real alumni network. Link to alumni networks.
You will discover an esprit de corps and collaboration favoring the development and conduct of research projects and help from the teaching staff to the publication of books.
You will benefit from a privileged and stimulating environment: The University of Paris-Dauphine houses in France a reference research library in Economics and Management. The Study Library has more than 60,000 books, 17 group work rooms and 620 reading places. Registration in EDBA gives access to all of Dauphine's digital resources, including academic databases.
In a dynamic of progress for its students, Dauphine has been part of the PSL "Paris Sciences et Lettres" excellence initiative since 2011. This carries the ambition of building a research university that stands out in the top 20 worldwide.
Students of the EDBA program, you will benefit from the support of the largest Management center in France, labeled CNRS: DRM - Dauphine Recherches en Management, which includes a team of 76 great researchers and 142 doctoral students and represent as many opportunities for exchanges and of collaborations.
It is ideally located in the heart of Paris and Europe allowing easy access for international students.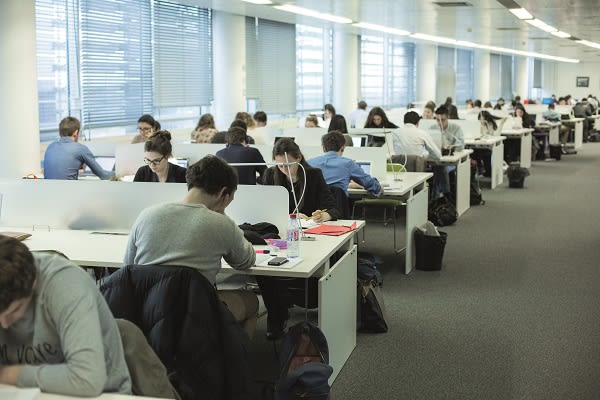 Program of the training
Training for senior professionals.
The EDBA has the format of a part-time continuous training which spans three years.
Organized three days a month, on weekends (Friday afternoon, Saturday and Sunday), the seminars allow participants to continue their professional activities.
"The seminars from Friday early afternoon to Sunday late afternoon are one of the reasons that led me to choose the EDBA of Dauphine" (Promotion 7)
"Modalities of the EDBA with courses and seminars on selected weekends are very practical" (Mike Pfister, Promotion 6).
The training lasts 3 years and is distributed as follows:
A core curriculum of 14 days of Theory to grasp the fundamentals of management science theories, including 6 days of "choice" seminars.
18 days of research methodology.
16 days of Research Practice to decipher the challenges and tools of research, including 7 collective tutorials, 7 practice seminars, 3 days of writing seminars.
3 intermediate deliveries before the pre-defense.
The writing, then the defense of the thesis once the research tools are mastered.
Beginning of training
Training start date: October
Date of end of training: N + 3
Language
The promotion is made up of two groups, one for which the lessons are delivered in English, the other for which all the lessons are delivered in French. Some elective seminars can be delivered in one language.
Most educational documents are in English, which implies a minimum command of English when reading.
The EDBA of Paris-Dauphine University is now delivered on 3 campuses
Paris (EDBA of Paris-Dauphine University)
Relocated diplomas in partnership with:
Beijing (EDBA of Paris-Dauphine University / Tsinghua University)
Beirut (EDBA of Paris-Dauphine University / Saint Joseph University)
Program
The Université Paris-Dauphine has chosen to offer 288 hours of face-to-face training (excluding the supervision of Thesis Directors) which provides solid support to EDBA students throughout their training. The EDBA normally takes place over three years and may, with the approval of the pre-defense jury, extend to a 4th year. The first year is devoted to solid conceptual and methodological training (via university modules) and the development of a scientifically valid project. From the 2nd year, the deepening seminars will be followed, and the realization of the empirical work will have to be started. The 3rd year is devoted to the finalization of the empirical work and to the writing of the EDBA thesis.
The map of the EDBA program has been designed around major themes.
Seminars
Core course seminars (25 days)
Advanced seminars (7 days)
Research workshops (16 days)

Research Design
Epistemology
Innovation & Management
Qualitative methodologies
Quantitative methodologies
Organization performance
Theory of organizations

Innovation
Cultural approaches
Management spaces and territories
Strategy
Process-based approaches
Relational approaches
Sensemaking
Strategy in practice
Discursive turn
Business Models

Research Practice
Writing seminars
Collective tutorials
Readings
Prior to the start of the program, compulsory readings are indicated in order to prepare participants for their entry into the program.
Throughout the program, the readings bridge the work of the participants to complete the face-to-face sessions and ensure an in-depth reflection on the different aspects to be mastered (methodology, theories, research practices, etc.)
Works
3 presentations punctuate the advance before the pre-defense:
The research project specified
Literature review and research design
Empirical study and data analysis
Profile of participants
EDBA participants are high-level professionals who ideally have a profile or experience with an international dimension. More than 2/3 of EDBA students come from abroad (United States, Belgium, Germany, Egypt, Lebanon, etc.)
The average age is around 40 years. Our students are generally between 35 and 55 years old.
The motivations of the participants are diverse:
Willingness to deepen a problem, a marginal astonishment.
Willingness to develop and establish an expert status on a serious capacity to produce valid knowledge.
Willingness to develop, complete or scientifically test the robustness of a tool.
Willingness to change careers.
Pursue an in-depth reflection on a specific field after an MBA.
Willingness to transmit knowledge in a structured way.
What unites all of our participants is the desire to develop an in-depth reflection through an assertive intellectual challenge.
Registration details
Selection conditions
EDBA is a high level training, demanding for participants, which requires prerequisites:
hold a Bac + 5 (Research Master / DEA, DESS, Master 2, MBA, etc.),
have at least 10 years of professional experience in positions of responsibility,
have an appetite for research as well as an idea for a research subject,
master the reading of the English language.
Registration dates: March to September.
EDBA candidates must propose a subject project as soon as they apply and be able to demonstrate interest in this subject both on a practical and theoretical level. This subject project will be further refined.
The nature of EDBA requires a particular approach and applicants must have the motivation to:
Work with scientific methods and models.
Mobilize scientific / structured reasoning.
The selection is made in three stages:
A duly completed file.
The presentation of a research subject in ten pages (including bibliography).
After pre-selection of the file, a selection interview with the directors of the EDBA and / or members of the faculty.
The jury assesses the quality of the candidate based on a set of signs which augur well for their ability to complete rigorous research for the EDBA thesis, based on the EDBA thesis project presented.
Rate
Cost of training: € 35,000 payable in 5 installments:
October year 1: 10500 €
February year 2: € 7,000
June year 2: € 7,000
October year 2: € 7,000
March year 3: € 3,500
The cost of the EDBA includes face-to-face seminars, catering, the supply of an educational suitcase, monitoring by a research director, the scientific organization of the defense at Paris-Dauphine University, as well as access at the library and digital resources of Paris-Dauphine University, for a period of 3 years.
Depending on the progress of the project, a fourth year may be necessary, its cost is 2000 €; and 4000 € in fifth year.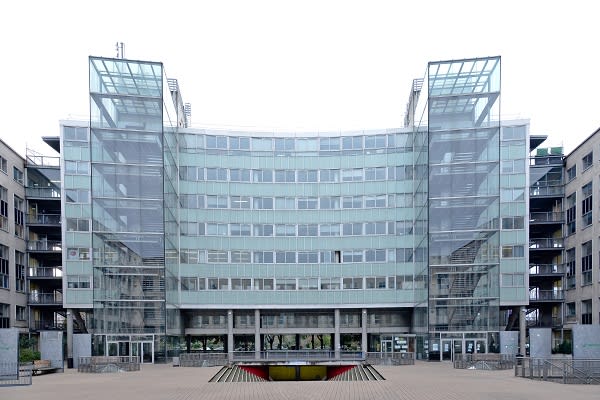 Testimonials
Team spirit and collaboration "The team spirit and the collaboration within the promotions and between participants of different promotions as well as the exchanges with contacts sharing close interests pleasantly surprised me". (Promotion 7).
"Having completed a DEA (Masters and PhD coursework) in economics, doing a doctorate always remained an aspiration for me. The practical nature of the EDBA, being part-time and tailor-made for professionals, made it an optimal option to reach my academic objectives. The experience and views from my EDBA peers, each bringing years of professional experience from different fields, is invaluable to the program and to my own research. "(Promotion 6)
"A framework beyond practice"
"Supplement my professional experience with academic skills in order to develop my teaching activity (my second activity) in a framework that goes beyond practice by integrating economic / financial theories". (Promotion 3).
Last updated Apr 2020
About the School
Dauphine is specialized in the Organization and Decision Sciences. Our mission is to educate future generations of executives, entrepreneurs, leaders and scholars to be both experts in their fields an ... Read More
Dauphine is specialized in the Organization and Decision Sciences. Our mission is to educate future generations of executives, entrepreneurs, leaders and scholars to be both experts in their fields and socially responsible, cultured, open-minded members of the community.
Read less