Official doctoral program in advanced biotechnology
Home ›
PhD ›
Official doctoral program in advanced biotechnology
Program Description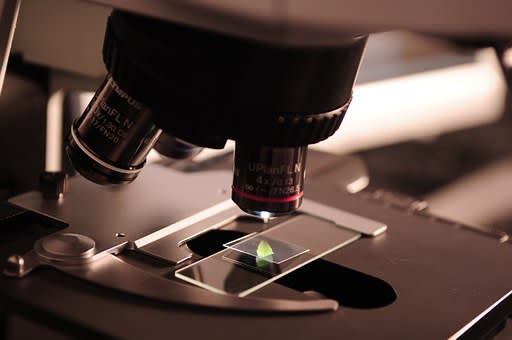 Introduction
The doctoral program is an official interuniversity degree between the University of A Coruña and the University of Vigo. The program of Doctorate of Advanced Biotechnology Aims to train professional researchers in different fields of biotechnological research and to provide a competitive, homogeneous, well-structured and quality doctoral program.
Why study the degree
The aim is to prepare students to be able to initiate and complete a theoretical, methodological and research training in the multidisciplinary field of Biotechnology, which materialize in the elaboration and public defense of a complex, original and innovative doctoral thesis.
What is learned
The research area will focus on the 3 most important sectors of biotechnology (environmental sanitary and agri-food).
The PhD program of Advanced Biotechnology is an interuniversity program, in which 36 doctors participate, distributed in the following teams:
Biochemistry. University of A Coruña
Biotechnology Team. University of A Coruña
Plant Physiology Team. University of A Coruña
Team of Organic Chemistry and Molecular Biology. University of A Coruña
Fuel Equipment. University of A Coruña
Genetics Team. University of A Coruña
Biotechnology Team. University of Vigo
Lines of investigation
These are the lines of research of this doctoral program:
Application of Total Quality Management and risk prevention to different areas
Biobanks
Bioelectroanalysis: modified electrodes, bionanotechnology and applications
Biology of systems
Bioprocesses applied to green chemistry and the environment
Microbial Biotechnology
Health Biotechnology
Plant Biotechnology
Search, expression, production and engineering of proteins with biotechnological applications
Development and use of molecular markers and chromosome studies for population analysis
Study of nutraceutical compounds in horticultural crops
Management and treatment of organic waste, Composting, Minimization of waste and clean technologies
Analytical tools for the analysis and confirmation of chemical compounds of biotechnological interest
Interdisciplinary research related to quality control and evaluation of physicochemical characteristics of fuels and lubricants
Physiological mechanisms of disease resistance and plant development
Obtaining new compounds and nanomaterials with biological application
Reconstruction of genealogies and phylogenies
Biotechnological treatment of industrial waste
Treatment and biotransformation of industrial effluents (water, gases) in bioproducts
Specific Training Complements
In case the doctor does not have the complete previous training required in the program, his / her admission to the program may be conditioned to the surpassing of specific training complements, which may be subjects or modules of master and degree. The complements assigned to the same doctorate may not exceed 15 ECTS credits and may be made prior or simultaneous to the tuition in academic tuition in the program.
In case of simultaneous realization the students will have to register for these complements at the moment of formalizing the tuition of academic tutelage in the program, which must be surpassed in the maximum term of three consecutive quarters. Failure to do so will result in student disqualification from the program.
Accessories
Genetic Engineering and Transgenesis
Cellular and Tissue Engineering
Genomics and Proteomics
Industrial Biotechnology
Processes and Biotech Products
Application Techniques in Biotechnology
Formative Activities of the Program
Research seminars organized by research groups. Full-time doctoral candidates must attend four annual seminars at an average of two and a half hours each. They will be held in the centers where the students are enrolled. Compulsory activity.
Assistance in congresses. Specific activity of second and third year. Depending on the subject of the thesis and the results obtained, the director will propose to which conference the student will attend. It will be encouraged that the students participate in at least one congress before the defense of the doctoral thesis, and if possible of international scope. Compulsory activity.
Promotion of mobility. Students will be encouraged and encouraged to spend three months in prestigious internationally renowned R & D centers.
Writing and publication of scientific articles. In this activity the student has to interpret the results obtained in his research, to review the bibliography, to correct the article, etc. Compulsory activity.
Attendance at research conferences given by research groups or invited researchers. Each full-time student would have to attend at least two conferences per year, with an average of two and a half hours per conference. Compulsory activity.
Assistance to a course on Patents. Compulsory activity.
Professional and academic outputs
It aims to train highly qualified professionals prepared to meet the demand of the growing number of biotechnology companies and to be able to carry out a research task of quality, international projection and leading in the future research groups and R + D + I of public centers and private companies.
Recommended profile
Degree in Biology, Chemistry, Biochemistry, Food Science and Technology, Pharmacy, Medicine, Veterinary Medicine, Nursing, Physical Therapy, Physiotherapy, Environmental Sciences, Marine Sciences and Chemical or Agronomic Engineering with master's degrees in topics related to the field of Biotechnology. Other different qualifications will be valued.
Last updated Mar 2020
About the School
The University of A Coruña is a public institution whose primary objective is the generation, management and dissemination of culture and scientific, technological and professional knowledge through t ... Read More
The University of A Coruña is a public institution whose primary objective is the generation, management and dissemination of culture and scientific, technological and professional knowledge through the development of research and teaching.
Read less
A Coruña ,
A Coruña ,
A Coruña ,
A Coruña ,
A Coruña ,
A Coruña ,
A Coruña ,
A Coruña ,
Ferrol ,
Ferrol
+ 9 More
Less