Read more about this program on the institution's website
Program Description
Graduate School of Education
The Graduate School of Education (GSE) at Nazarbayev University aspires to become an influential, world-class graduate school of education, effecting change in educational thinking, policy and practice at all levels of education through scholarly research, quality teaching, and persuasive argument. Through its research, teaching, and scholarship, the GSE is committed to working to improve education for all, sustaining a vision of education that enables individuals to maximize their own potential, free from the constraints of poverty and background, within the context of mutual understanding and global interdependence.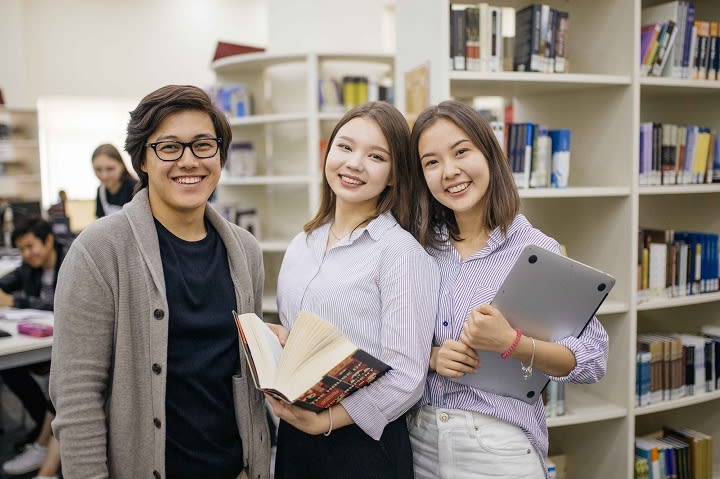 ©Nazarbayev University
About the program
The Nazarbayev University Graduate School of Education Ph.D. program combines intensive coursework, a semester at one of the partner universities (the University of Cambridge or University of Pennsylvania), and in-depth exploration of advanced research methodology to develop scholars and independent researchers in the field of Education. It is a full-time four-year program.
Central to the NUGSE Ph.D. experience is the completion of a substantial piece of independent research, in the form of a Ph.D. dissertation. Graduates of the NUGSE Ph.D. program will be expected to act as key players in education reform and policy development in Kazakhstan.
General information
Campus: Nur-Sultan, Kazakhstan
Language: English
Delivery mode: Full time, on-campus
Duration: 4 years
Program outline
Core courses:
Academic English for Doctoral Students
Globalization and Education
Educational Studies in Context
Education Research Methods
Educational Policy and Reform
Kazakh Language for Educators
Philosophy of Education
Preparation for Proposal Defense
Pre-Dissertation Seminar
Advanced Methods of Educational Research
International Study
Doctoral Seminar
Dissertation Research
Proposal Defense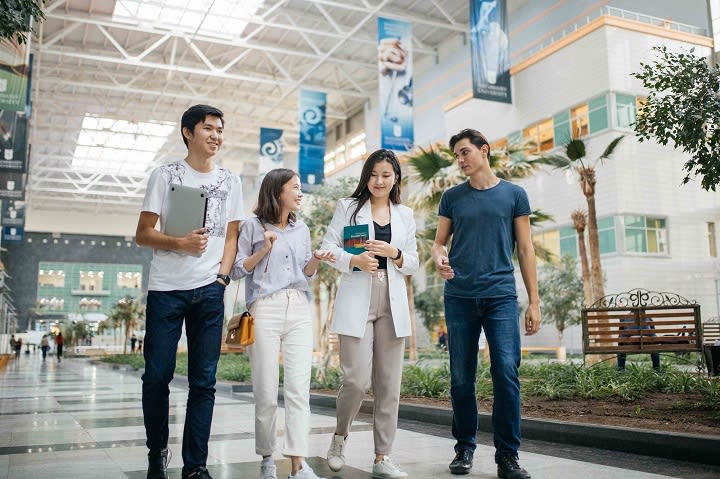 ©Nazarbayev University
Entrance requirements
Candidates applying to the Ph.D. in Education are expected to submit the following documents:
A completed on-line application form which is available at www.admissions.nu.edu.kz.
A notarized copy of identity card or passport.
CV.
Notarized copies of diplomas and transcripts (or equivalents) from all full-time undergraduate and postgraduate education. Candidates in the last year of study may submit an official transcript from the university if they do not yet have a diploma, and have to submit a notarized copy of diploma once it is issued (a minimum CGPA of 2.75).
An English language proficiency test report (IELTS or TOEFL equivalent), valid for the application period. The minimum score requirements are 7.0 (with subscore requirements no less than 6.0) on the IELTS test or the TOEFL equivalent. Candidates who earned their academic degree in a country with English as the language of official communication and instruction are exempted from submitting IELTS or TOEFL test reports. Candidates whose previous degree was earned in a program that was officially taught in English (in any country) can also be exempted from submitting IELTS or TOEFL test reports.
Candidates may submit a copy of GRE scores valid for the application period, if any, which will be considered in making admissions decisions by the Admissions Committee.
A personal statement outlining the applicant's reasons for wishing to enroll in the Ph.D. in Education program, her or his long-term career objectives, and how the program would help her or him achieve these objectives.
A written research proposal outlining the background, aims, methods, and significance of a research topic the applicant would like to pursue in the Graduate School of Education. (Note: if a candidate is admitted, the candidate has the right to choose another research topic in consultation with his or her research advisor).
Three letters of recommendation from individuals who are able to comment on the abilities of the candidate in a professional setting and are familiar with the candidate's achievements and future aspirations.
The Admissions Committee keeps the right to invite the candidate for additional interviews if necessary. They may take place on campus, or by Skype. All documents shall be submitted in English or with a certified English translation before the deadline.
"As educators, not only must we refuse to settle for easy consensus, to simplify, to neutralize, or to translate; we must also accept and assume the responsibility to 'think, speak, and act' within aporetic situations…. Most of all, we must engage students in a quest for knowledge which should take them way beyond the boundaries of their immediate socio-politico-cultural contexts in space and in time. We must encourage them to take risks in learning and discovering the other, the unknown while building a greater sense of responsibility."
Denise Egéa,
NUGSE Professor
Strategic partner
The University of Pennsylvania (USA)
The University of Cambridge (UK)
Other strategic partners of Nazarbayev University
Duke University, Fuqua School of Business (USA)
The National University of Singapore, Lee Kuan Yew School of Public Policy (Singapore)
Colorado School of Mines (USA)
The University of Wisconsin-Madison (USA)
The University of Pittsburgh Medical Center (USA)
The Lawrence Berkeley National Laboratory (USA)
The Oak Ridge Associated Universities (USA)
Last updated Jan 2021
About the School
Located in Nur-Sultan City, Kazakhstan, in Central Asia, Nazarbayev University is a research university with growing international renown combining education and innovation on a state of the art 21st- ... Read More
Located in Nur-Sultan City, Kazakhstan, in Central Asia, Nazarbayev University is a research university with growing international renown combining education and innovation on a state of the art 21st-century campus. NU scholars conduct research in a variety of fields and bring the most ambitious projects to life. Research is supported by internal and external funds each year and carried out in modern laboratories. English as the language of instruction and research at Nazarbayev University, admission and progression systems are entirely merit-based.
Read less