Ph.D. in Engineering - Resilient Infrastructure Systems Emphasis
Home ›
PhD ›
Ph.D. in Engineering - Resilient Infrastructure Systems Emphasis
Program Description
Overview
Infrastructure systems support the basic needs and functions of modern industrialized society including energy, water and sewage, transportation, communications, and public facilities. Resilience is the capacity of individuals, communities, and systems to anticipate, prepare for, and adapt to changing conditions, recover from threats, and thrive in the future. The Resilient Infrastructure Systems program focuses on innovative solutions that help communities, businesses, and governments mitigate risks – and seize opportunities – associated with environmental change, extreme weather and climate-related events by rethinking, transforming, and adapting infrastructure systems to strengthen economic, environmental, and social resilience. The program offers students the opportunity to conduct integrative research focused on built and natural infrastructure systems related to transportation, environment and water, energy, and food, and their interconnections. Students may tailor a plan of coursework to their interests by drawing from UGA's extensive course offerings spanning several engineering disciplines, earth and atmospheric sciences, environmental design, ecology, public health, law and policy, and the social sciences.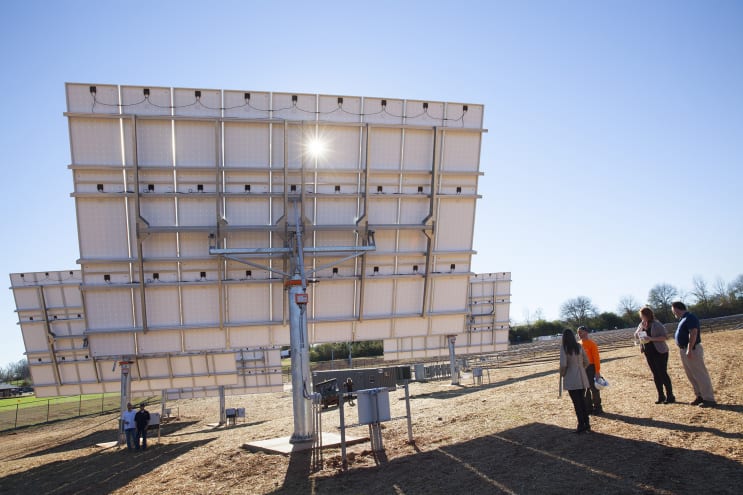 Admission to the Emphasis
Students holding a B.S. degree or M.S. in engineering from an ABET accredited program or a B.S. or M.S. in a related field from an accredited institution are invited to apply for admission to masters or doctoral programs. Students not having an ABET accredited B.S engineering degree but having degrees in math or physical/biological science or other disciplines may be asked to take additional selected course work to adequately prepare them for their specific engineering studies.
Base requirements for consideration for admission to the College of Engineering's Graduate Programs are listed below. Specific degree programs and emphasis areas may add additional requirements:
Completion of a B.S. and M.S. (for Ph.D. applicants) with a minimum GPA of 3.00 (out of 4.00) from an ABET accredited program or program in a related field. The average undergraduate GPA and graduate GPA of recently accepted students is 3.4 and 3.6, respectively.
Submission of the online UGA Graduate School Application and submission of:

Official undergraduate and graduate academic transcripts.
A statement of purpose.
Three letters of recommendation.
CV or resume.
General Graduate Record Examination (GRE) Scores. Average Quantitative GRE scores of recently accepted students range near the 80th percentile. Applicants holding a UGA degree may waive this requirement if they meet GPA and undergraduate research requirements.
TOEFL is required for international students whose native language is other than English.

Additional requirements may be applicable for admission to discipline-specific M.S. and Ph.D. Programs and Emphasis Areas offered through the College's schools.
Program of Study
Requirements for the Ph.D. in Engineering with Emphasis in Resilient Infrastructure Systems further expand on those of the Ph.D. in Engineering. These include a minimum of 72 credit hours in the student's program of study beyond the B.S. degree. A thesis master's degree from an approved university may be accepted for up to 30 credits hours, in which case a minimum of 42 credit hours of approved course work, research and dissertation beyond the M.S. degree would be required as follows:
A minimum of 16 semester hours of coursework, which must include:

At least 15 hours of 8000- and 9000-level courses in addition to research, dissertation writing, and directed study of which 9 hours must be selected from the Resilient Infrastructure Systems Course list (below).
1 hour of Graduate Seminar ENGR 8950*

A minimum of 23 Doctoral Research hours (Doctoral research (9000) or Doctoral project-focused research (9010)) for students with an M.S. **
The Program of Study must include 3 hours of ENGR 9300 Doctoral Dissertation.
* Only 3 hours of Graduate Seminar may apply on the Ph.D. Program of Study. Students are strongly encouraged to continue regular attendance of speaker series presentations even if not formally registered in the seminar.
** A typical student's total research hours will exceed these minimums.
Emphasis Area Course List
As a requirement of the Ph.D. in Engineering with an Emphasis in Resilient Infrastructure Systems degree, students must complete a minimum of 9 credit hours selected from the list below. Students will work with their graduate advisor to select the most appropriate coursework to ensure breadth of understanding as well as mastery of knowledge in a specific subject area. In addition to completing 9 credit hours selected from the list below, students may work with their graduate advisor to develop an interdisciplinary plan of coursework drawing from the extensive graduate course offerings available at UGA.
CRSS(GEOL) 8710Watershed-Scale Modeling
CVLE 6330 Advanced Structural Analysis (F)
CVLE 6340 Design of Bridges
CVLE 6470 Pavement Design
CVLE/MCHE 8350 Nonlinear Finite Element Analysis (Sp – Every Other Year)
CVLE/MCHE 8440 Advanced Strength of Materials (Sp- Every Other Year)
CVLE 8550 Prestressed Concrete Design (F)
CVLE 8420 Geomechanics (F)
CVLE 8460 Soil Improvement (F)
CVLE8140 Mixing & Transport (Sp)
CVLE8160 Jets & Plumes (Sp)
CVLE (MCHE) 6350 Finite Element Analysis
ENGR6490 Renewable Energy Engineering
ENGR8103 Computational Engineering (Sp)
ENGR8160 Advanced Fluid Mechanics (Sp)
ENVE 6230 Energy in Nature, Civilization, and Engineering
ENVE 6250 Energy Systems and the Environment
ENVE 6440 Computer Modeling in Water Resources
ENVE 6450 Engineering Hydrology and Hydraulics
ENVE 6460 Groundwater Hydrology for Engineers
ENVE 6530 Energy and Environmental Policy Analysis
ENGR 6440 Environmental Engineering Unit Operations
ENVE 6550 Environmental Life Cycle Analysis
MCHE 6650 HVAC Systems for Buildings and Industry
MCHE 6660 Sustainable Building Design
GEOL(WASR) 8740 Hydrologic Flow and Transport Modeling
MARS 8030 Physical Oceanography (Sp)
MARS 8100 Estuarine and Coastal Oceanography (F)
MARS 7380 Quantitative Methods in Marine Science (F)
MARS 8150 Ocean Waves (F)
MARS 8510 Modeling Marine Sys (F)
WASR 8200 Hillslope Hydrology
Last updated Aug 2019
About the School

Understanding that 21st century engineers require more than technical knowledge, we equip students with an understanding of the social and economic impact of their work, the ability to communicate the ... Read More
Understanding that 21st century engineers require more than technical knowledge, we equip students with an understanding of the social and economic impact of their work, the ability to communicate their ideas to a wide variety of people, the ability to work effectively in teams, and the skills to provide leadership in solving society's grand challenges.
Read less