Ph.D. in Eurasian Studies Program
Home ›
PhD ›
Ph.D. in Eurasian Studies Program
Read more about this program on the institution's website
Program Description
School of Sciences and Humanities
The academic staff at Nazarbayev University's School of Sciences and Humanities comprises scholars with doctoral degrees from leading universities around the world. We also have researchers involved in various studies, and our scientists in the natural sciences conduct researches in about 90 laboratories. Some of our faculty members even specialize in Eurasian studies. Admitted students of NUSSH can rest assured of tapping from our faculty's wealth of knowledge and experience, both inside and outside the classroom.
We keep our classes small so students can readily receive one-on-one attention from their instructors. Moreover, instructors can tailor classes to the need of each student for the best learning experience owing to our student-centered learning. Our professors can work with the weaknesses of every student and improve their strengths. Laboratory experience and research involvement are not spared from this approach: our students get practical laboratory experience and collaborate with their colleagues or their professors in researches.
Students are also provided with academic support. For instance, students have access to writing instructors and coaches that will help them become assertive writers through our Writing Center. Also, thanks to our long-existing Peer Advising Center, we provide our students with a team of peer advisors, most of whom are trained students, who assist other students with various academic decisions, such as course selections, general orientation for new students, or if a student needs help using university resources.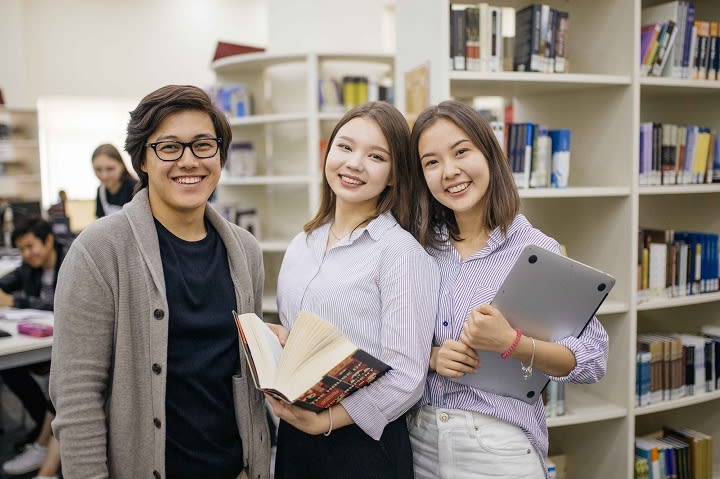 ©Nazarbayev University
About the program
The Ph.D. in Eurasian Studies consists of a minimum of four years of full-time study, culminating in the completion of a doctoral dissertation. Most candidates complete three to four semesters' worth of coursework. The main component of the degree is the doctoral thesis, which is co-supervised by an advisor from NU and an external advisor. After passing qualifying exams, each student writes a dissertation based on their own original research, applying the methods, theories and accumulated scholarly wisdom of the core curriculum and their chosen subject areas.
The Ph.D. program in Eurasian Studies at Nazarbayev University is the first interdisciplinary, English-medium doctoral program in the Humanities and Social Sciences in Central Asia. It is designed according to the highest international standards and taught by highly-qualified faculty, but at the same time is adapted to the educational, social and intellectual environment of Kazakhstan and the wider region.
General information
Campus: Nur-Sultan, Kazakhstan
Language: English
Delivery mode: Full time, on-campus
Duration: 4 years
Program outline
Our program combines a core curriculum of key concepts in the humanities and social sciences, practical training in necessary writing and research techniques and ethics, and rigorous subject-specific training across at least two disciplines. Students have space, time and flexibility they need to write a doctoral thesis that makes an original contribution to the field. Funding opportunities for research abroad and co-supervision by NU and non-NU experts enables our students to develop a truly international profile.
We train students to become versatile and internationally competitive scholars in the Eurasian region. Graduates from this doctoral program share a range of qualities and abilities, as well as field-specific skills that make them both "interdisciplinary" and "flexible." Truly interdisciplinary research demonstrates a solid grounding in one discipline and sufficiently deep training in one or more others, which enables the scholar to build real bridges between various disciplines. Graduates of this program combine strong disciplinary and interdisciplinary training with first-hand knowledge of the region, a command of the primary and secondary sources consistent with world-class scholarship on this region of the world, knowledge of requisite research languages, and excellent academic English.
Core Modules:
Introduction to Eurasia
Critical Issues in Eurasian Studies
Proseminar in Eurasian Humanities OR Proseminar in Eurasian Social Sciences
Dissertation Research I
Dissertation Research II
Elective Modules:
Discipline 1 Elective A
Advanced Academic Writing
Discipline 1 Elective B
Discipline 2 Elective A
Open Elective 1
Doctoral Seminar in Eurasian Studies I
Discipline 2 Elective B
Discipline 1 or 2 Elective C
Open Elective 2
Doctoral Seminar in Eurasian Studies II
Open Elective 3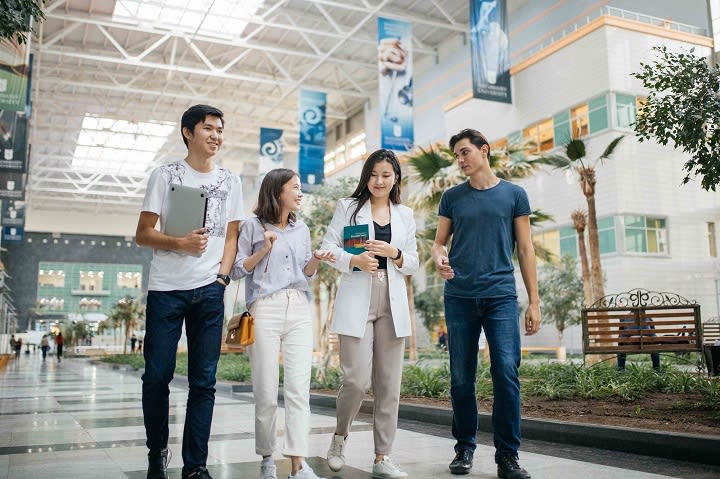 ©Nazarbayev University
Entrance requirements
English Language Requirements
Overall IELTS test score of 7.0 (with sub-score requirements no less than 6.0) or the equivalent TOEFL score as posted on the ETS website.
Applicants to the Program, at the discretion of the Admissions Committee, can be exempted from submitting the language proficiency test report if:

one of their earlier academic degrees was earned in a country with English as the language of official communication, academic instruction, and daily life;
an undergraduate and/or graduate degree was earned in a program that was officially taught in English. Applicants must provide an official document confirming English as the language of instruction;
the applicant is a graduate of Nazarbayev University.
Academic Requirements
An undergraduate degree (Bachelor's degree or equivalent) in a relevant discipline.
A Master's degree or equivalent in a relevant discipline or a Ph.D. degree or equivalent (if applicable) in a relevant discipline. During the application period, final year students may submit an official current transcript for consideration. Applicants recommended for admission must provide final transcripts and diplomas before the end of the Program's enrollment term.
A competitive CGPA in applicant's Master's (or equivalent) degree. If an applicant has more than one Master's or another terminal degree, then they should submit the most relevant document.
Strong reading, analytical, and mathematical skills (as appropriate to the focus of the applicant's research) as demonstrated by the GRE test.
High motivation and a strong interest in the Program as outlined in a personal statement.
Strong academic writing ability as demonstrated in a writing sample (academic paper, essay, published article).
Relevant research interest and knowledge of research subject (including appropriate disciplinary training and research language preparation) as demonstrated in a written research proposal.

International and Kazakhstani graduates of recognized Master's and Bachelor's programs with a competitive CGPA are welcome to apply. Applicants must have achieved a minimum IELTS score of not less than 7.0, with no sub-score lower than 6.0, or the equivalent TOEFL score as posted on the ETS website (or evidence of native competence), valid GRE test report (or equivalent) for admission.
We strongly recommend that students applying to the Ph.D. in Eurasian Studies already have a knowledge of Russian and/or other regional languages.
Applicants must submit:
Application form available online at http://admissions.nu.edu.kz
CV/resume
Three confidential letters of recommendation
Notarized copies of Bachelor's and Master's degree diplomas if available or notarized copies of official transcripts alone when the degree diploma has not yet been received.
Notarized copy of passport or identity card.
Valid GRE test report (or equivalent).
IELTS or TOEFL results.
A writing sample.
A Research Proposal (1500-2000 words), outlining the research topic the candidate would like to pursue.
The Admissions Committee will evaluate applications on the basis of the information submitted in English. Incomplete or late applications will not be considered. The submission of a completed application package by the applicant does not guarantee admission to the program. The Admissions Committee reserves the right to request a completed application package in hard copy.
Shortlisted applicants will be invited for an interview with the Admissions Committee.
Work after graduation
Graduates of this program are attractive to universities, governments, and other non-governmental institutions, to employers in the Central Asia region, in the broader region of Central Eurasia (including all the countries of the Turkic world), as well as in North America, Europe, Asia, and elsewhere in the world. The program contributes to the modernization of education in Kazakhstan and the development of a highly-trained class of academic, political, social, and cultural leaders with world-class training.
Strategic partner
University of Wisconsin-Madison (USA)
Other strategic partners of Nazarbayev University
Duke University, Fuqua School of Business (USA)
The National University of Singapore, Lee Kuan Yew School of Public Policy (Singapore)
The University of Pennsylvania (USA)
The University of Cambridge (UK)
Colorado School of Mines (USA)
The University of Pittsburgh Medical Center (USA)
The Lawrence Berkeley National Laboratory (USA)
The Oak Ridge Associated Universities (USA)
Last updated Jan 2021
About the School
Located in Nur-Sultan City, Kazakhstan, in Central Asia, Nazarbayev University is a research university with growing international renown combining education and innovation on a state of the art 21st- ... Read More
Located in Nur-Sultan City, Kazakhstan, in Central Asia, Nazarbayev University is a research university with growing international renown combining education and innovation on a state of the art 21st-century campus. NU scholars conduct research in a variety of fields and bring the most ambitious projects to life. Research is supported by internal and external funds each year and carried out in modern laboratories. English as the language of instruction and research at Nazarbayev University, admission and progression systems are entirely merit-based.
Read less