Read more about this program on the institution's website
Program Description
Hong Kong Baptist University (HKBU) invites candidates from all cultural and ethnic backgrounds, with evidence of academic excellence, research ability and potential, and good communication, interpersonal and leadership abilities to apply for full-time PhD study under the Hong Kong PhD Fellowship Scheme (HKPFS). HKPFS is established by the Hong Kong Research Grants Council (RGC) with an aim to attract the best and brightest students from all over the world to pursue their PhD studies in Hong Kong.
Applicants for admission to HKBU's PhD programmes via HKPFS will concurrently be considered for our regular postgraduate studentship programme.
Why the Faculty of Arts?
The Faculty of Arts of Hong Kong Baptist University is a faculty for creativity – creating a rich cultural environment to stimulate students' imagination, to develop their sensitivity, and to contribute to society through art and culture. We are a diverse and inclusive community with a global outlook and a long tradition of local engagement for the public good. Structurally, the Faculty has six academic departments/programme and a Language Centre. Four research centres and two research institutes play a prominent role in our pursuit of research excellence. Areas of significant research strength include Classical Chinese, Creative Writing, Translation, and Music.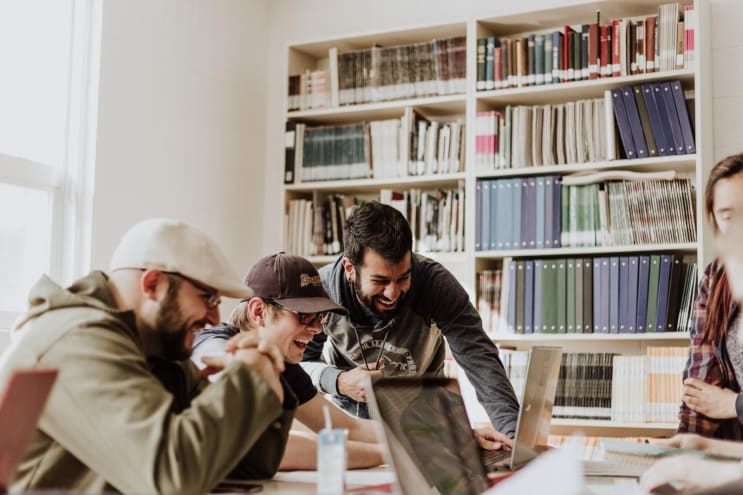 Priscilla Du Preez / Unsplash
Research Area
The following Departments will offer PhD Programmes:
Department of Chinese Language and Literature
Department of English Language and Literature
Department of Humanities and Creative Writing
Department of Music
Department of Religion and Studies
Department of Translation, Interpreting and Intercultural Studies
Please visit the website below for a more comprehensive list of areas in which postgraduate research may be undertaken:
http://artsbu.hkbu.edu.hk/index.php/en/prospective-students/admissions-postgraduate#research
Financial Support for Your PhD Studies
Financial Support for Your PhD Studies (for AY2021/22)

Entrance Award

HK$25,000 per awardee

Stipend

HK$26,600 (approx. US$3,400) monthly

Procurement of research materials, books, equipment, etc

HK$25,000 per year for a maximum of 3 years

Tuition Waiver/ Scholarship*

HK$42,100 (around US$5,400) per year for each of the 4 years of studies

Conference and Research-related Travel Allowance

HK$31,800 per year for a maximum of three years plus the University's provision of HK$20,000 (approx. US$2,500) for the entire study period

Accommodation

Guarantee for first year on a request basis
*subject to satisfactory academic progress
Academic Qualification Requirements
Applicants seeking admission to the PhD programmes should possess:
A master's degree, or a bachelor's degree with first-class honours, from a recognised university or comparable institution.
Fulfilment of the English Language Requirements if the language of the teaching of the above qualification is not English.
Selection Criteria
While applicants' academic excellence is the primary consideration, the following factors will also be taken into consideration:
Academic excellence
Research ability and potential
Cultural diversity
Communication and interpersonal skills
Leadership abilities
Application Timeline
1. Initial Application to RGC

1 September - 1 December 2020 (HKT12:00nn)

- Make an initial application through the online application system at the RGC's website

- Obtain an HKPFS reference number

2. Full Application to HKBU

1 September - 1 December 2020 (HKT 23:59pm)

- Find out admission requirement and fields of tudy on offer

- Submit a full online application to HKBU

- Choose up to 2 programmes

3. Result Announcement

Late March 2021

- The result will be announced at the RGC's webiste, and individual awardee will receive an email notification direct from RGC
For more information and application of the Hong Kong PhD Fellowship, please check the websites below:
Graduate School, HKBU
https://gs.hkbu.edu.hk/admission/hong-kong-phd-fellowship-scheme/introduction
Hong Kong PhD Fellowship, Research Grants Council, HKSAR
https://cerg1.ugc.edu.hk/hkpfs/index.html
Last updated Sep 2020
About the School

The Faculty of Arts is an essential part of Hong Kong Baptist University, an institution that is firmly committed to being "a leading liberal arts university in Asia for the world delivering academic ... Read More
The Faculty of Arts is an essential part of Hong Kong Baptist University, an institution that is firmly committed to being "a leading liberal arts university in Asia for the world delivering academic excellence in a caring, creative and global culture."
Read less