Read more about this program on the institution's website
Program Description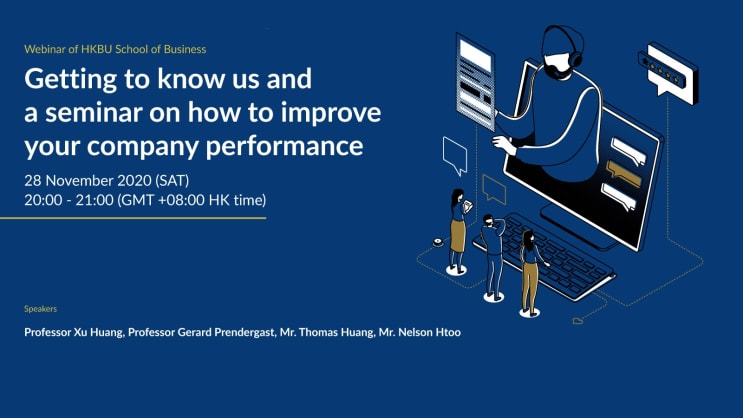 HKBU School of Business offers 4-year full-time PhD Programme across 5 main disciplines, including Accountancy and Law, Economics, Finance and Decision Sciences, Management and Marketing. Combining academic rigour with a resolutely international approach, the Programme aims at training students to become professors.

Our students will be able to conduct quality and impactful research works under the supervision of our outstanding faculties. Students will be provided with enormous research resources, ranging from research laboratories to scholarships, to support your intellectual journey. There is part-time lectureship which is an ideal stepping stone to a career in academia. There are also opportunities for international conference exposure and overseas attachment to build networks and develop collaborative projects with international scholars. We recognize students with outstanding performance in which they will be invited to join our double-degree PhD Programme co-supervised by faculties of HKBU and University of Groningen.
Learning Goals
The Learning Goals (LGs) of the PhD Programme are threefold:
LG1:

Students will acquire advanced knowledge and theories in their areas of specialization and research skills required for pursuing independent research on their chosen topics.

LG2:

Students will develop the ability with an international perspective to design and conduct original research in their fields of specialization.

LG3:

Students will be able to teach college-level courses in their areas of specialization.
Research Area
The School offers studies leading to a higher research degree:
PhD - Doctor of Philosophy
The supervision of postgraduate research students is an integral part of each Department's activities. These students undertake full-time studies and research towards a PhD degree. Students from Hong Kong, China and overseas countries have been accepted on this programme.
To assist prospective students in identifying possible options, the following is a list of disciplines/fields of study offered by the departments.
Department of Accountancy and Law

Department of Economics

Department of Finance and Decision Sciences

Department of Management

Department of Marketing
Accountancy and Law
Financial Reporting; Corporate Governance; Information Disclosure; International Accounting; Auditing and Taxation
Economics
Applied Microeconomic Theory; Applied Econometrics; Development Economics; Labour Economics; Chinese Economy
Finance and Decision Sciences
Corporate Finance and Corporate Governance; Financial Derivatives and Investment Strategies; E-Business; E-Commerce; Information System Management
Management
Organization Behavior and Managerial Psychology; Management Issues in China; Strategic Management Leadership; Corporate Social Responsibility and Business Ethics
Marketing
Consumer Behavior; Marketing Communication; Socially Responsible Marketing; Service Marketing; Global Marketing
Admission Requirements
Applicants are required to provide GMAT or GRE score upon application.
Period of Study
School of Business offers a 4-year full-time PhD programme with a potential to extend to 6-year study.
Tuition Fees (PhD)
Full time
$42,100/academic year (UGC-funded)

$84,200/academic year (self-funded)
Last updated Nov 2020
About the School

For more than half a century, Hong Kong Baptist University (HKBU) has been at the vanguard of business education in Asia, molding generations of business leaders. Steeped in a tradition of academic ex ... Read More
For more than half a century, Hong Kong Baptist University (HKBU) has been at the vanguard of business education in Asia, molding generations of business leaders. Steeped in a tradition of academic excellence, yet always looking forward to new intellectual horizons, HKBU prides itself in striving to always remain a true pioneer in business education. Located at the crossroads between the emerging countries of Asia and the West, HKBU is ideally situated to confront the changes impacting our world, be it the economic resurgence of China, the deepening impact of globalization or the need for new ethical standards in the age of sustainability.
Read less