Program Description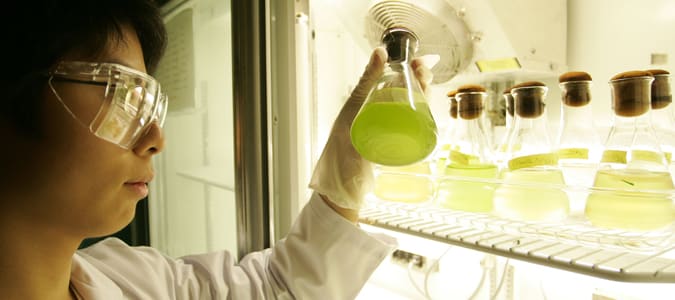 Chemistry as a discipline is growing and changing rapidly. The traditional divisions of Chemistry into analytical, inorganic, organic, and physical chemistry no longer reflect the dynamic and multidisciplinary nature of the field. Chemistry is, in fact, the "central science", having relevance in areas such as molecular biology, molecular physics, materials science, molecular engineering, biotechnology, environmental science, and drug design.
As a postgraduate student in the Department of Chemistry at the Hong Kong University of Science and Technology, you will have the chance to study in programs that reflect the current, central, position of Chemistry and you will learn from diverse, innovative faculty at the forefront of their fields of research.
Our mission is to offer research and instructional opportunities in the emerging areas of Chemistry while maintaining a program rooted in the basics of the discipline. Postgraduate programs emphasize training in original research focusing on fundamental, interdisciplinary, and applied areas. Complementing our formal degree programs is an active seminar program allowing students to meet prominent and international scientists who are pioneering the creation of new chemical knowledge.
The purpose of the Ph.D. program in Chemistry is to prepare students through the execution and completion of a substantial research project to become mature, independent scientists who themselves are then capable of the design, initiation, and execution of their own original projects in academic or industrial environments.
The admission into the program is to be regarded as a privilege, and the subsequent execution of the research project by a Ph.D. candidate is a major undertaking. It requires the application of considerable depth and breadth of scholarship, and there must be a substantial discovery of new science. The final Ph.D. thesis must reflect clearly and completely the fulfillment of these criteria.
Research Foci
Research and development within the Department focus on five main areas:
Synthetic Chemistry: Synthetic methodology, organometallic chemistry, and catalysis.
Molecular Dynamics and Structure of Complex Systems: Laser-based spectroscopy, dynamics of biomolecular and supramolecular systems, computational chemistry (protein / RNA folding).
Material Sciences: Nanomaterials, biomaterials, and polymeric and organic electronic materials.
Chemical Biology: Protein organization in metabolism, signal transduction.
Analytical / Environmental Chemistry: Method development and applications for environmental and bioanalytical chemistry, and atmospheric chemistry.
The department has international links with major chemical industries and has played a key role in setting up university-wide collaborations involving universities, research institutions, and companies in Hong Kong, Mainland China, Japan, Europe, and the US.

Admission Requirements
i. General Admission Requirements
Applicants seeking admission to a doctoral degree program should have:
Obtained a bachelor's degree with a proven record of outstanding performance from a recognized institution; or presented evidence of satisfactory work at the postgraduate level on a full-time basis for at least one year, or on a part-time basis for at least two years.
ii. English Language Admission Requirements
You have to fulfill English Language requirements with one of the following proficiency attainments*:
TOEFL-iBT: 80#
TOEFL-pBT: 550
TOEFL-Revised Paper-Delivered Test: 60 (total scores for Reading, Listening and Writing sections)
IELTS (Academic Module): Overall score: 6.5 and All sub-scores: 5.5
*If your first language is English, and your bachelor's degree or equivalent qualification was awarded by an institution where the medium of instruction was English, you will be waived from fulfilling the above English Language requirements.
#refers to the total score in one single attempt
For more program information, please refer to pg.ust.hk/programs
Last updated Oct 2020
About the School

Located at the Clear Water Bay of Hong Kong, the Hong Kong University of Science and Technology (HKUST) is a research-focused institution that ranks first among top young universities in the world (Ti ... Read More
Located at the Clear Water Bay of Hong Kong, the Hong Kong University of Science and Technology (HKUST) is a research-focused institution that ranks first among top young universities in the world (Times Higher Education Young University Rankings, 2020). With an international outlook and global reputation, the university aims to be a leading university, both locally and internationally, through excellence in teaching and research. With the unprecedented demand for high-end talent in support of the development of Hong Kong and the world, The Hong Kong University of Science and Technology (Guangzhou) (HKUST(GZ)) will be set up in Nansha, south of Guangzhou, to synergize with its Clear Water Bay (CWB) counterpart, nurturing talents and facilitating collaboration amongst Hong Kong, the Guangdong-Hong Kong-Macao Greater Bay Area (GBA) and beyond on education, research and knowledge transfer.
Read less