Program Description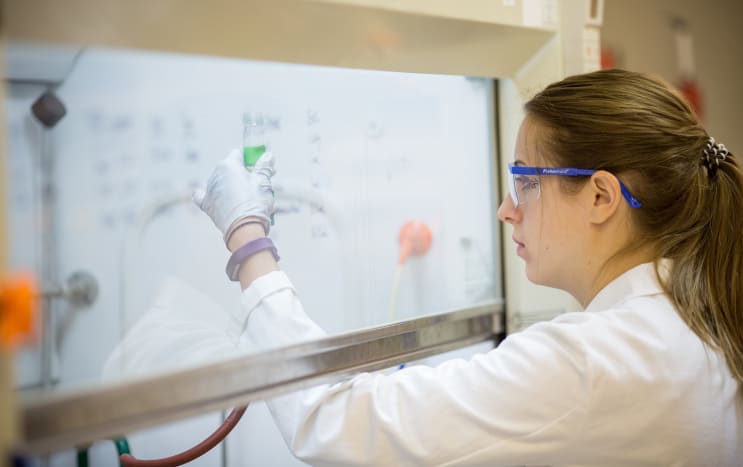 Research areas for our Ph.D. program include analytical, organic, inorganic, physical chemistry, and biochemistry.
The Department has currently 14 research-active faculty members with specialization areas in Biointerfacial chemistry, Chemical force microscopy, Drug delivery, Electrochemistry, Gas separations, High-pressure chemistry, Lanthanide Chemistry, Lipids, Membranes, and Langmuir-Blodgett films, Membrane proteins, Multi-drug resistance, Nanoporous materials, Organometallic chemistry, Organofl Fluorochemistry, Polymer Chemistry, Solid State Chemistry, Surface chemistry of metals and semiconductors, and Vibrational spectroscopy of nanostructured polymers.
Program Highlights
Graduate students work closely and are mentored by their research advisor.
Students have access to state-of-the-art instrumentation and perform federally funded cutting-edge research.
Our students publish in top-notch scientific journals and present their work at national and international conferences.
Graduate students develop teaching skills and are highly competitive in the job market.
A Ph.D. degree in chemistry is your entry into the world of professional molecular problem-solving. As a professional chemist or biochemist, you will be expected to solve real-world problems and have the opportunity to work on major societal issues, many of which are blur disciplinary lines. Lehigh Chemistry provides an approach to graduate education that trains students to be successful independent scientists in an increasingly interdisciplinary scientific world. Graduate students in the Department of Chemistry are engaged in research that ranges from exploring fundamental chemistry and biochemistry to solving mission-based problems that are increasingly complex and transdisciplinary.
Why choose Lehigh for graduate school?
Graduate students in Chemistry work closely with faculty to carry out cutting-edge research that advances current understanding and knowledge in a broad spectrum of chemical problems. In this program, you will learn to use molecular-level problem solving to advance your field, contribute to the scientific literature, and develop skills to tackle complex challenges with many moving parts.
Lehigh Chemistry offers:
Interdisciplinary research projects.
Small faculty-to-student ratio.
Financial support: tuition, and health care benefits through teaching assistantships, research assistantships, and fellowships to all students in good standing.
State-of-the-art instrumentation facilities.
What do Lehigh Chemistry PhDs do after graduate school?
After graduation, many of our students go on to do postdoctoral work at prestigious universities and institutes or take jobs in the industry performing research or other work. Alumni have gone on to work in a broad range of positions at several institutions.

What does it take to get a Chemistry Ph.D.?
To summarize, the general flow of a Ph.D. in chemistry consists of:
Proficiency Exams
A Ph.D. candidate must demonstrate proficiency in three areas within their first two years in residence and prior to scheduling their General Exam. The department administers proficiency examinations in biochemistry, analytical, organic, inorganic, and physical chemistry.
Course Work
All full-time graduate students must register for at least 9 credits of graduate-level (i.e., 400-level) coursework. A broad spectrum of courses is available in the Department. Graduate students consult with the Graduate Administrator (first semester ) or their Research Advisor to build a unique program that encompasses the student's research topic and interests.
Choosing a Research Advisor
The Department of Chemistry uses a free-agent model in which graduate students are admitted into the program and spend their first semester choosing a research group. Each student will meet with at least 4 faculty to discuss research projects before submitting a list of their top choices to the graduate advising committee (GAC).
General Examination
The General Doctoral Examination sometimes referred to as the "Qualifying Exam," is an oral defense of a written research proposal presented to the chemistry faculty on the student's doctoral committee that must be completed by the beginning of the student's fifth semester.
Ph.D. Dissertation
The requirements for the written Dissertation and the timetable for the submission of both a draft of this document and the final version of the Dissertation are established by the College and University Regulations.
Admission Requirements
2 Letters of Recommendation Required: Recommenders should be in chemistry or in a close the related field of study.
GRE general test is not required.
Statement of interest: Please provide a summary of your career objectives as well as work and/or research experience with reference to the chosen field of graduate study. Your essay should not exceed two pages in length. If appropriate, please comment on the challenges or setbacks you have faced and how you have overcome them. You may use this statement to address any perceived weaknesses in your application that would like the committee to consider.
Transcripts For an international applicant, you will need to provide a transcript which has been translated into English, along with the official version in its original language.
Curriculum Vitae.
International Applicants
International Applicants are required to demonstrate English language skills equal to those required of degree-seeking students. All international applicants must take the TOEFL test and submit scores.
Last updated Jun 2020
About the School

As Lehigh's largest and most diverse college, we are home to the social sciences, arts, humanities, and natural sciences. With 1,894 undergraduate students, 342 graduate students, 270 full-time facult ... Read More
As Lehigh's largest and most diverse college, we are home to the social sciences, arts, humanities, and natural sciences. With 1,894 undergraduate students, 342 graduate students, 270 full-time faculty and 90 professional staff, we are comparable in size and offer the intimacy of a liberal arts college, yet benefit from the resources of a research university. Our faculty are accomplished scholars, artists, and writers, recognized nationally and internationally as leaders in their fields, who share a commitment to the integration of teaching and scholarship into innovative, dynamic curricula set in an intellectually stimulating environment.
Read less