PhD in Condensed Matter Physics
Program Description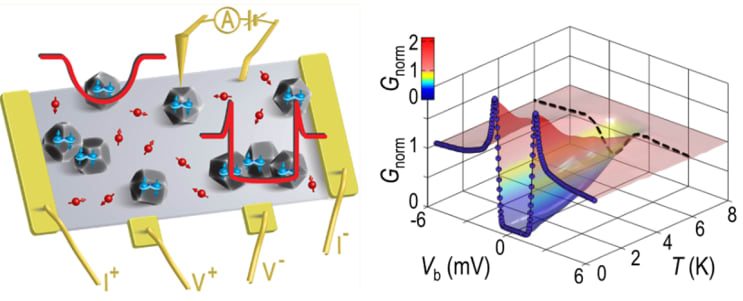 photo courtesy of Pavol Jozef Safarik University Faculty of Science
Ph.D. program description
The study program Condensed Matter Physics focuses on the predominantly experimental investigation of structural, transport and magnetic properties of various solid objects involving man-made structures and nanosystems attractive for studying fundamental physical phenomena and those with high application potential. Unique and logistically connected local infrastructure enables Ph.D. students to become an important part of our scientific effort in the preparation of novel materials, characterizing their structure and macroscopic quantum phenomena under extreme experimental conditions. Tuning the material properties for application in strategic areas of material research, such as nanotechnologies, results in the design of a new generation of sensors, memory and display elements, cooling methods and green technologies. The ongoing and past research projects and published results provide evidence of our know-how and its scientific relevance.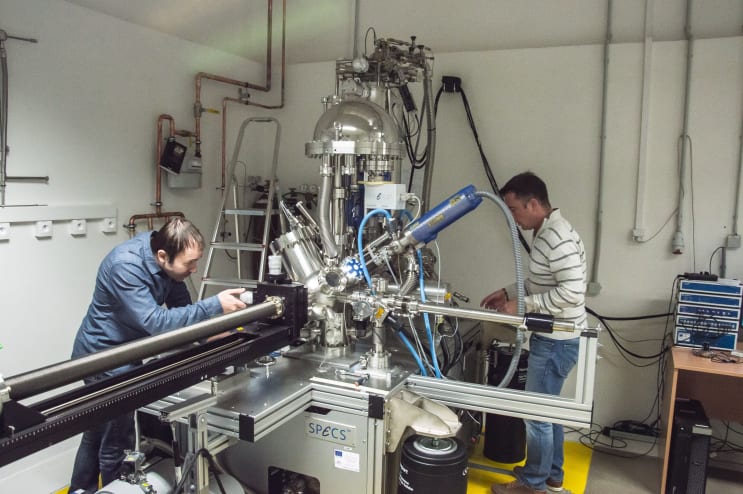 photo courtesy of Pavol Jozef Safarik University Faculty of Science
Admission requirements
All applicants to a Doctor of Philosophy (PhD.) program at the Faculty of Science must meet the admissions requirements for entry. We welcome graduates of a Master's level university degree in physics whose educational curriculum involved some of the standard university courses in Condensed Matter Physics, Thermodynamics, Quantum mechanics, Physics of Materials, Nanotechnologies. Practical skills in software programming are recommended.
Personal contact with a potential supervisor is advisable to consult the focus of the thesis. A specific topic can be negotiated but it is subject to the focus of the current research project at the Institute.
The focus of the thesis can be modified during the study to more accurately reflect the content of the thesis. The number of new doctoral positions is limited to 2-4 every year.
Applicants must provide the following materials to be considered for the Ph.D. graduate program:
Complete online application form
Transcripts
Motivation Letter
Resume/CV
Application Fee
Letters of Recommendation (optional)
All qualified applicants will be invited for the admission committee hearing (late June, late August).
The applicants can ask for a Skype call instead. During the approximately 30-minute discussion, the applicant introduces himself/herself (education, experience, results) and presents his/her current knowledge of physics relevant to the topic of the proposed Ph.D. thesis.
Our selection criteria:
Personal skills, knowledge, motivation, and ability to work on the topic. (60%)
Study results and other activities such as participation in science fairs, scientific competitions, publications, conferences. (20%)
The Institute priorities such as ongoing and planned projects, number of Ph.D. students of the selected supervisor, etc. (20%)
Admission Fees and Funding
Application forms need to be submitted either by post or online. The application fee for doctoral study programs is 50 EUR (by post) or 30 EUR (online).
The doctoral study is financially supported by providing funding (stipend) for students. Each year the University allocates a certain number of Ph.D. positions for each doctoral study program. These positions are eligible for funding of ca. 10,000 EUR annually per student. More doctoral students than this number of funded positions can be admitted only as self-payers. Such a study is subject to a tuition fee of 5,000 EUR per academic year (2,500 EUR per semester) and no state funding is applicable. The study is taught in Slovak or English with no impact on tuition fees at the Faculty of Science.
We also welcome students within mobility exchange schemes such as Erasmus+, Ceepus, SAIA, Cotutelle, and others following the conditions of the schemes and the candidates should contact the International Relations and Scientific Research Office before sending an application.
How is the study organized?
The standard duration of the study is four years. Normally, submissions are due by June and the study commences in September. The study involves coursework and research that leads to a dissertation. The coursework includes compulsory and selective compulsory courses. The compulsory courses focus on expanding the knowledge in the theory of condensed matter physics and developing special skills required for the research work. The selective compulsory courses involve learning advanced topics on macroscopic quantum phenomena, magnetochemistry, smart magnetic materials, nanotechnologies, and nanoscopic objects. This kind of course also allows for the specialization of the student according to his or her thesis.
In the scientific part of the study, the student is guided by his or her supervisor to perform high-quality research work. The successful finish of the doctoral study expects acquiring skills and scientific expertise to achieve original scientific results and publish them in peer-reviewed research journals. The student must publish at least two research papers in leading international peer-reviewed journals to successfully complete the study, thus confirming his/her ability to publish research results and lead a research team. Students will gradually learn these skills in the process of supervision and communication with other colleagues at the Institute. Students meet with their supervisors on a regular basis and they are required to report their progress annually.
Both components of the study start since the first year of study and, typically, the study part is finished within the second year. By the end of the second year of the program, the student has to pass a written and oral state examination focusing on his research topic demonstrating the ability to conduct research independently. Writing the dissertation expects to detail the results of a substantial and original research project. The study ends with the public defense of the dissertation thesis, typically, in the fourth year of the study.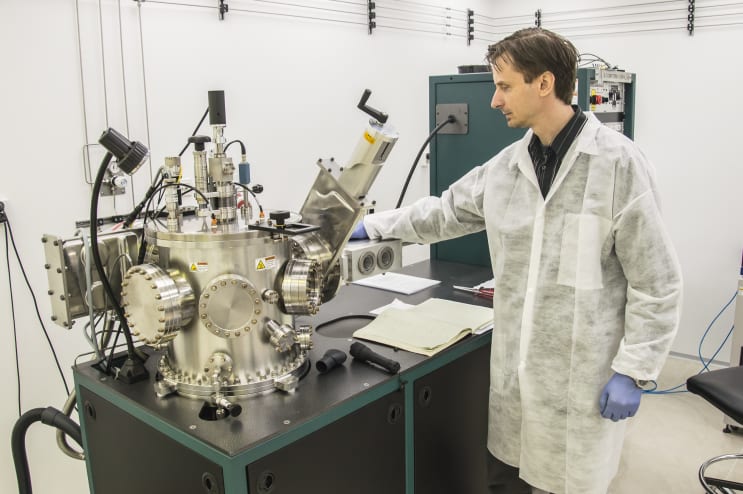 photo courtesy of Pavol Jozef Safarik University Faculty of Science
Ph.D. graduate profile
Graduates of the Ph.D. study program Condensed Matter Physics are experts in their discipline with a broad knowledge of the state-of-art. They mastered research methodologies in Solid State Physics concerning a wide temperature interval, including sensitive spectroscopic methods under normal and extreme conditions (low temperatures and high-intensity magnetic fields). The graduates are capable of preparing smart materials, semiconductors, and nanostructures. They are also experienced in microscopic diagnosis. The developed computer skills make the graduate highly qualified for developing custom software solutions for data acquisition and analysis. The graduates apply their skills in fundamental and applied research designing new materials, technologies, and methods.
Career Prospects
The knowledge, creative critical thinking, experimental and computational skills, teamwork and presentation skills make our graduates highly relevant in a diverse range of positions, particularly, in companies offering high-tech products and/or high added value in public and private sectors. , Successful graduates work in various research institutions (Slovak Academy of Sciences), academia (universities), and in the industry (U. S. Steel, B. S. H. – Bosch group, Cemm Thome, etc.). They are also very capable of running their own businesses (e.g. Alpha technologies).
Last updated Mar 2020
About the School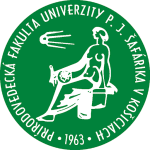 Founded in 1963, the Faculty of Science, has educated over 6 000 graduates of both, joint and single degree study. Currently, over 350 Bachelor's, Masters's, and Doctoral students graduate each year i ... Read More
Founded in 1963, the Faculty of Science, has educated over 6 000 graduates of both, joint and single degree study. Currently, over 350 Bachelor's, Masters's, and Doctoral students graduate each year in disciplines that impact lives today and will shape our future.
Read less