Read more about this program on the school's website
Program Description
Developmental Science is an emerging approach to the study of human development that combines elements of more traditional approaches from the fields of Developmental Psychology and Human Development. Developmental Science entails the study of human development across the lifespan, integrating the biological, cognitive, and socioemotional underpinnings of development, and incorporating the familial, social, institutional, and cultural contexts in which development occurs.
Developmental Science Doctoral Program
College of Human Sciences and Education ⋅ Department of Human Development and Family Science ⋅ North Dakota State University
Developmental science is an emergent interdisciplinary field that studies human development across the lifespan in various family, social, and cultural contexts. NDSU's program has exciting, relevant, and flexible opportunities for study and research to help you reach your goals.
At NDSU, you'll be surrounded by active scholars with cutting-edge research programs and state-of-the-art equipment and labs. A highly supportive environment is designed to help develop your interests and skills in research and teaching. Faculty genuinely care about your welfare and are dedicated to helping you become the best professional you can be.


Program Requirements, Curriculum, and Coursework
You may enter the program directly after earning a bachelor's degree, in which case you will earn a master's degree along the way to completing your doctoral degree. If you already have a relevant master's degree and have completed a research-based thesis, you also are eligible for the program. Students entering with a bachelor's degree and enrolling full time can expect to complete the program in 5 years. Students entering with a master's degree and enrolling full time should be able to finish the program in 3 years.
Research at NDSU
Develop your interests in tandem with engaged and passionate faculty and students. Our faculty's research covers the lifespan with immediate and meaningful impacts on the wellbeing of individuals and families.
At NDSU, you'll find faculty who study both socioemotional and cognitive development across a variety of ages. Rather than focus on how groups of people at different ages vary from one another, we are concerned with how individuals grow and develop over time. In particular, we focus on how this growth and development related to family, social, and cultural contexts.
Highlights of recent faculty interests and projects include:
Perception and object individuation in infancy
Preventive interventions for disruptive children
Factors associated with body image disturbances and disordered eating
Relational and contextual influences on adolescents' and young adults' positive and problem behaviors
Parent training to promote parent and child optimal development
Social connections and psychological well-being in later adulthood
Age-related differences and changes in cognitive and functional abilities, such as driving
In addition, you'll find a strong emphasis on quantitative methodologies and their application to the study of development. To be able to address research questions in developmental science, a high degree of knowledge in advanced quantitative techniques is required. Our program will provide you with those skills.
Financial Assistance
We are committed to offering every student accepted into the program a full tuition waiver plus a stipend for a graduate assistantship. Assistantship options are available for both research and teaching.
Application Information
The early, preferred application due date is February 1st. Late applications may be considered. Please contact the DS coordinator or the faculty member of interest for more information.
Student Comments About the Developmental Science Program
"The program is rigorous and prepares you well for teaching, research, and practice. You learn from great faculty and interact with wonderful students with unique backgrounds."-Courage Mudzongo
"The program is small enough that students don't have to compete for research and teaching opportunities, but large enough to have all the resources that give students a comprehensive and personalized education." -Alison Brennan
"You want to be here because you will not just be another face in a program. You and your success are the focus."-Jennifer Wenner
Gerontology Doctorate Dual-degree Option
At NDSU, you can combine studies in developmental science with a Doctor of Philosophy dual-major option in gerontology. The mission of the option is to promote aging-related research and education that uses a discipline-based perspective that serves to enhance the length and quality of life. It represents an intellectually exciting field of study in which students can integrate information from diverse fields of study.
Last updated Sep 2020
About the School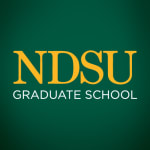 NDSU is a student-focused, land-grant, research university with a graduate student population of about 2,000 across 75+ programs. Our students work with world-class faculty on innovative, and often in ... Read More
NDSU is a student-focused, land-grant, research university with a graduate student population of about 2,000 across 75+ programs. Our students work with world-class faculty on innovative, and often interdisciplinary, research. Additionally, our students have access to professional development opportunities, and events such as Three Minute Thesis. Our low tuition costs make NDSU a bargain, and our career outcomes are excellent. We are located in Fargo, ND – a Midwestern "hidden gem," and a welcoming and vibrant community of about 230,000 with a unique rural-urban feel. We have a bustling entrepreneurial atmosphere; rich culture; great local fare, arts, and entertainment; and family friendly environment.
Read less