PhD in Electronic and Computer Engineering (Nanotechnology Concentration)
Home ›
PhD ›
PhD in Electronic and Computer Engineering (Nanotechnology Concentration)
Program Description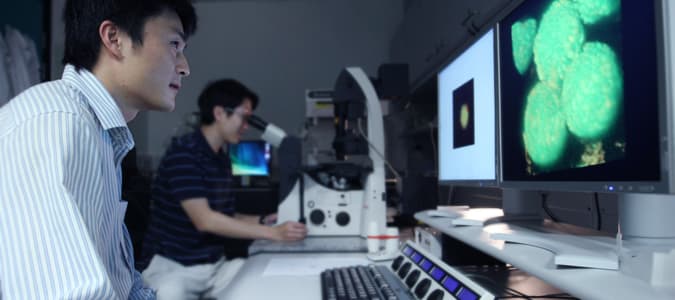 Power ahead and make your postgraduate studies really count in the Department of Electronic and Computer Engineering. The recent evolution of Electronic and Computer Engineering has been developed into a wide-ranging discipline covering technologies critical to the growth of the knowledge economy.
Networking, wireless communications, multimedia signal processing, microelectronics, microprocessors, IC design, optoelectronics, display technologies, and control and robotics all fall into this exciting discipline. Advanced training in these fields opens up a wealth of career opportunities in the manufacturing industry, business sector, government, and universities worldwide.
The Department's goal is to prepare students to become leading academics, top-quality engineers, or product managers in the ever-changing high-technology world.
The Ph.D. degree caters to those wishing to pursue a career in advanced industrial research and development or university research and teaching. It emphasizes training in original thinking and independent research. Students must successfully complete coursework and a thesis of significant original research.
Research Foci
The Department's research concentrates on six pillar areas:
Solid-State Electronics and Photonics
Topics related to Microelectronics, Nanoelectronics, Large Area Electronics, Power and Energy-Efficient Electronic Devices, High-Speed Electronics, Semiconductor Materials, Devices, and Fabrication Technology, Micro-Electro-Mechanical Systems (MEMS), Displays, Optoelectronics, Organic Light-Emitting Diodes (OLEDs), Solid-State Lighting, Liquid-Crystal Displays, Liquid-Crystal Photonics, Silicon Photonics, Optical Communications and Interconnects, Solar Cells, Epitaxy of Compound Semiconductors by MOCVD.
Integrated Circuits and Systems
Topics related to Digital, Analog and Mixed-Signal Integrated Circuits (IC) Design, VLSI Design, Embedded Systems, Network-on-Chip, and Multiprocessor System-on-Chip, Circuit and System Simulation and Verification Tools. Advanced topics include RF and mm-Wave IC and Systems, Data Converters, Power Management IC, High-Speed Optical Communication Transceiver, Image and Bio-Medical Sensors, Signal Processing and System Architectures, Design Automation, Computer Architecture, Reconfigurable System and Hardware/Software Codesign.
Wireless Communications and Networking
Topics related to Physical Layer, Signal Processing, Coding, and Information Theory, Networking as well as New Architecture for Next Generation 5G Wireless Communications, Massive MIMO and Cloud Radio Access Networks, Interference Management, Heterogeneous Networks, Green Communications, Tactile Wireless Systems For Machine Type (MTC), Device-To-Device (D2D) and Multimedia Communications, Integration of Control and Wireless Communication Theory, Display-Smart Mobile Communications And Interactions, Network Coding Theory and Applications, Cross-Layer Stochastic Optimization, Distributed Algorithms and Optimisations, Big Data Systems, Social Media and Cyber-Physical and Social Computing Systems, Self-Organising Networks, Cloud Computing and Virtualisation.
Biomedical Engineering
Topics related to Medical Imaging, Biomedical Optics and Biophotonics, Neuroengineering, Medical Electronics, Bioinformatics/Computational Biology, and Biomedical Microdevices and BioMEMS.
Control and Robotic Systems
Topics related to Control and Optimization (including System Theory, Optimization Theory, Detection and Estimation, Financial Systems, Networked Sensing, and Control), Robotics, and Automation (including UAV, Next-Generation Industry Robots, Medical/Healthcare Robotics, and Autonomous Systems).
Signal, Information, and Multimedia Processing
Topics related to Digital Signal Processing of Video, 3D, Image, Graphics, Audio, Speech, Language, Biomedical Data, Financial Data, and Network Data. Specific topics include Signal Capture, Conditioning, Compression, Transformation, Playback and Visualization, Data Analysis, Information Theory, Error Correction, Cryptography, Computer Vision, Pattern Recognition, Machine Learning, Language Understanding, Translation, Summarization, Retrieval, Multi-Lingual and Multi-Modal Processing, and Embedded Systems.
Nanotechnology Concentration
Nanoscience and technology have become one of the most visible and fast-growing multidisciplinary research areas. Nanoscience and technology research, ranging from nanostructured-materials to nanoelectronics, covers diverse areas in many disciplines, such as medicine and healthcare, aeronautics and space, environmental studies and energy, biotechnology and agriculture, national security and education.
A joint postgraduate program in Nanoscience and Technology, initiated by the Schools of Science and Engineering, can offer long-term support to our ongoing research and training as well as to the development of technology and to commercialization efforts. Because of the diverse, multidisciplinary nature of Nanotechnology, its research and training can be best integrated into different disciplines. The aim of the concentration is to equip students with the necessary knowledge in the areas on which they wish to focus on.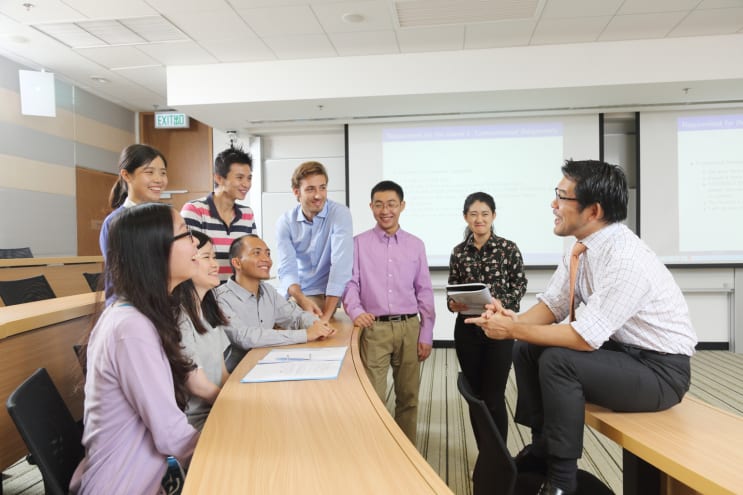 Admission Requirements
i. General Admission Requirements
Applicants seeking admission to a doctoral degree program should have:
Obtained a bachelor's degree with a proven record of outstanding performance from a recognized institution; or presented evidence of satisfactory work at the postgraduate level on a full-time basis for at least one year, or on a part-time basis for at least two years.
ii. English Language Admission Requirements
You have to fulfill English Language requirements with one of the following proficiency attainments*:
TOEFL-iBT: 80#
TOEFL-pBT: 550
TOEFL-Revised Paper-Delivered Test: 60 (total scores for Reading, Listening and Writing sections)
IELTS (Academic Module): Overall score: 6.5 and All sub-scores: 5.5
*If your first language is English, and your bachelor's degree or equivalent qualification was awarded by an institution where the medium of instruction was English, you will be waived from fulfilling the above English Language requirements.
#refers to the total score in one single attempt
For more program information, please refer to pg.ust.hk/programs
Last updated Oct 2020
About the School

Located at the Clear Water Bay of Hong Kong, the Hong Kong University of Science and Technology (HKUST) is a research-focused institution that ranks first among top young universities in the world (Ti ... Read More
Located at the Clear Water Bay of Hong Kong, the Hong Kong University of Science and Technology (HKUST) is a research-focused institution that ranks first among top young universities in the world (Times Higher Education Young University Rankings, 2020). With an international outlook and global reputation, the university aims to be a leading university, both locally and internationally, through excellence in teaching and research. With the unprecedented demand for high-end talent in support of the development of Hong Kong and the world, The Hong Kong University of Science and Technology (Guangzhou) (HKUST(GZ)) will be set up in Nansha, south of Guangzhou, to synergize with its Clear Water Bay (CWB) counterpart, nurturing talents and facilitating collaboration amongst Hong Kong, the Guangdong-Hong Kong-Macao Greater Bay Area (GBA) and beyond on education, research and knowledge transfer.
Read less