Read more about this program on the school's website
Program Description
The mission of NDSU's Emergency Management Program is to create a cadre of graduates with extensive theoretical and applied knowledge in emergency management who can advance the field and discipline of emergency management. The program is built on a core of emergency management and methods/theory courses to help students approach the study of disasters and emergency management from the emergency management disciplinary perspective. Additionally, the program draws from other disciplines that enhance the development of processes and techniques to deal with emergencies and disasters.
The master's and doctoral degree programs in emergency management at NDSU are campus-based. Potential students are encouraged to visit the campus and meet faculty and current graduate students.
Doctoral Degree
North Dakota State University offers a face-to-face Doctor of Philosophy in Emergency Management designed to prepare graduates for careers teaching future generations of emergency management students in higher education programs, conducting research that describes and explains patterns, processes, change, and effectiveness/efficiency related to emergency management, and/or policy development and analysis related to emergency management.
By the time a student graduates with a doctoral degree in emergency management from North Dakota State University's Department of Emergency Management, the student should be able to do the following:
Suggest implications from the evolution of emergency management for policy, practice, and research.
Demonstrate extensive knowledge of the literature associated with the academic discipline within two of the four areas of specialization within emergency management (i.e. preparedness, response, recovery, mitigation).
Develop insights, make inferences, and/or draw conclusions about the current state of knowledge (e.g. challenges, opportunities, and trends) and the status of theory on key topics within the discipline's purview.
Formulate approaches to emergency management endeavors.
Assess the major methods/analytical approaches and research standards related to the discipline.
Create new knowledge in a manner consistent with the disciplinary research standards.
The degree program is built on a core of emergency management courses to help students learn how human beings create, interact, and cope with hazards, vulnerability, and associated events. The program emphasizes the study of how human beings cope with hazard events through activities related to preparedness, response, recovery, and mitigation. This comprehensive and challenging program is committed both to extensive research and its practical application in the areas of emergency management. Throughout their graduate career, students will have the opportunity to conduct research and work in the field.
View the requirements associated with the Doctoral Degree in Emergency Management.
The Ph.D. is awarded in recognition of the significant depth of understanding and scholarly achievement in emergency management. The recipient must complete all of the required course work, including two functional area specialization courses, pass two written comprehensive exams and oral defense of them (one on emergency management theory and one on research methods), complete a novel and significant research project for the dissertation; and successfully defend this research in an oral examination. The student's progress will be reviewed by a supervisory committee that is responsible for reviewing the student's plan of study, written comprehensive examinations, dissertation proposal, and dissertation defense.
Admission Requirements
The Department of Emergency Management at NDSU is selective in choosing graduate applicants for entry into the master and doctoral programs. Admission is competitive reflecting the department's commitment to small, high-quality, student cohorts that match the mentoring capacity of the faculty.
Applicants will be evaluated in a two-stage process. In the first stage, the applicant's Graduate School application, letters of reference, GRE scores (if applicable), and academic writing paper samples will be reviewed by the Department of Emergency Management faculty. Applicants demonstrating goodness-of-fit with the Department of Emergency Management's mission and goals and an aptitude for graduate study will be invited to complete the second stage of the admissions process.
Financial Assistance
Both teaching and research assistantships are available, contingent on departmental and faculty research funds. All students are automatically considered for graduate assistantships, unless they request otherwise, so no separate application process is required for such consideration. Awards are based on past academic and professional performance. The review process is highly competitive.
Last updated Oct 2020
About the School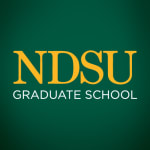 NDSU is a student-focused, land-grant, research university with a graduate student population of about 2,000 across 75+ programs. Our students work with world-class faculty on innovative, and often in ... Read More
NDSU is a student-focused, land-grant, research university with a graduate student population of about 2,000 across 75+ programs. Our students work with world-class faculty on innovative, and often interdisciplinary, research. Additionally, our students have access to professional development opportunities, and events such as Three Minute Thesis. Our low tuition costs make NDSU a bargain, and our career outcomes are excellent. We are located in Fargo, ND – a Midwestern "hidden gem," and a welcoming and vibrant community of about 230,000 with a unique rural-urban feel. We have a bustling entrepreneurial atmosphere; rich culture; great local fare, arts, and entertainment; and family friendly environment.
Read less