PhD in English-Rhetoric, Writing, & Culture
Home ›
PhD ›
PhD in English-Rhetoric, Writing, & Culture
Read more about this program on the school's website
Program Description
The Rhetoric, Writing and Culture Ph.D. degree program is open to all qualified graduates of universities and colleges of recognized standing. The Ph.D. in Rhetoric, Writing, and Culture provides students with employable skills in the area of professional and technical communication. This innovative and regionally unique program invites students to work at the intersection of rhetorical, textual, and cultural studies. The number of positions available in technical communication significantly surpasses the number of new Ph.D.s produced each year by a sizable margin. Graduates from NDSU's program may pursue careers as:
professors in universities or colleges;
training and development specialists, user-experience experts, and human-computer interaction specialists in the industry;
technical, scientific, or professional writers and editors in research and development organizations, high-tech companies, non-profit organizations, or government agencies.
Hands-on experience is essential to our program. The Rhetoric, Writing, and Culture Ph.D. requires six credits of experiential learning. Students can work with professors or mentors in disciplinary writing. Others opt to intern for non-profits or local industries.
NDSU offers opportunities for students in the Ph.D. program to teach discipline-specific writing, such as writing in the sciences, writing for engineers, and writing in business and finance. Ph.D. students are eligible for Presidential Doctoral Graduate Fellowships.
Degree Requirements
The Ph.D. program requires 90 credits beyond the baccalaureate degree and a minimum of 60 graduate credits taken beyond the M.A. and at NDSU.
Students must take a minimum of 30 credits at the 700- or 800-level.
English 764: Teaching Strategies is required of all Graduate Teaching Assistants who have not taken a similar class elsewhere.
Students must take 48 of 60 credits at NDSU from within the Department of English.
Students with a master's degree in another discipline may be required to complete additional graduate course work in specific areas of English, as specified by their adviser and supervisory committee.
No more than 10 credits may be transferred into the program.
Outcomes
Students who complete the Ph.D. in Rhetoric, Writing, and Culture will be able to:
Demonstrate a commitment to interdisciplinary engagement across rhetoric, writing, textual and cultural studies
Demonstrate a comprehensive understanding of major conversations, theories, and theorists in rhetoric, writing, and textual and cultural studies
Demonstrate an ability to design and apply specific disciplinary and interdisciplinary research methodologies, such as:

Qualitative methods
Quantitative methods
Historical analysis
Discourse analysis
Rhetorical analysis
Cultural analysis

Identify significant texts central to their major strands of study within the field and develop and support arguments on questions important to scholars
Demonstrate knowledge of major pedagogical theories and debates within rhetoric, writing, and cultural studies
Engage in experiential learning that transfers and applies theoretical skills to practical, real-life work environments, be they academic, pedagogical, or professional
Demonstrate a trajectory for continued growth as a professional, including sustainable research, writing, and teaching agenda
Admission Requirements
To be admitted with full status to the program, the applicant must fulfill all of the requirements set out below.
In most cases, applicants are expected to have completed a Master of Arts or Science, but exceptional candidates may be admitted directly out of the Bachelor's degree
Have completed a BA, BS, MA, or MS from an accredited educational institution.
Have a minimum cumulative grade point average (GPA) of 3.5.
Conditional admission may be granted to students who do not meet all requirements for admission or have deficiencies in prerequisite course work but demonstrate the potential for graduate study. Such students may be required to take additional courses to address deficiencies in prerequisite course work.
In addition to the Graduate School required materials, applications must include:
an academic writing sample, not to exceed 20 pages, that reflects the student's academic or professional interests and that demonstrates the student's critical and analytical abilities
A statement of purpose that includes the following:

the coursework you plan to complete in the program
faculty members with whom you wish to study
the research you plan to pursue
a sense of what you hope to do once you have completed a Ph.D. degree in English
how your education and/or life experience have prepared you for graduate work

official transcripts from all previous undergraduate and graduate institutions
a letter stating your interest in and qualifications for a teaching assistantship.
Financial Assistance
Teaching assistantships are available and awarded based on the applicant's scholastic record and letters of recommendation. Students need to apply to the Graduate School to be considered for admission in the Department of English and before they are eligible for an assistantship. Letters of interest for teaching assistantships, detailing prior experience (if applicable) and qualifications, need to be submitted as part of the application to the program.
Teaching assistantships are reviewed and renewed annually based on academic and professional performance, as well as funding. The annual stipend is $14,000, which is in addition to tuition waivers (including summer) for the duration of the degree program; TAs are responsible for books and fees. In rare cases, teaching fellowships may be granted to advanced doctoral students who have passed their comp exams and completed their course work. Scholarships are available through the Department, the College, the Graduate School, and the University.
Last updated Sep 2020
About the School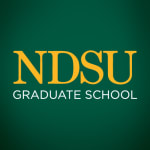 NDSU is a student-focused, land-grant, research university with a graduate student population of about 2,000 across 75+ programs. Our students work with world-class faculty on innovative, and often in ... Read More
NDSU is a student-focused, land-grant, research university with a graduate student population of about 2,000 across 75+ programs. Our students work with world-class faculty on innovative, and often interdisciplinary, research. Additionally, our students have access to professional development opportunities, and events such as Three Minute Thesis. Our low tuition costs make NDSU a bargain, and our career outcomes are excellent. We are located in Fargo, ND – a Midwestern "hidden gem," and a welcoming and vibrant community of about 230,000 with a unique rural-urban feel. We have a bustling entrepreneurial atmosphere; rich culture; great local fare, arts, and entertainment; and family friendly environment.
Read less