PhD in Environmental & Conservation Science
Home ›
PhD ›
PhD in Environmental & Conservation Science
Read more about this program on the school's website
Program Description
The graduate program leading to an M.S. or a Ph.D. in Environmental and Conservation Sciences (ECS) rests on an integrative curriculum and a multidisciplinary team approach. The program emphasizes the common ground shared by all sciences and seeks to bridge methodological and philosophical boundaries that might hinder interdisciplinary communication and cooperation. The program offers three tracks: Environmental Science, Conservation Biology, and Environmental Social Sciences. The Environmental Science track focuses on abiotic environmental issues, such as water, air, and land pollution. The Conservation Biology track focuses on biotic issues, such as the preservation of biodiversity and ecosystem function. The Environmental Social Sciences track emphasizes environmental economics and policy.
The interdisciplinary nature of this program is reflected by the participation of faculty from across the campus, including the Colleges of Agriculture, Food Systems, and Natural Resources; Arts, Humanities, and Social Sciences; Engineering; and Science and Mathematics.
Tracks
Track 1: Conservation Biology
Conservation Biology offers a new philosophy of looking at complex problems. This discipline focuses on the loss of regional and global biodiversity, but considers the human element, as well, in its approach to conservation. As an example, conservation biologists integrate a variety of sub-disciplines such as molecular ecology, landscape ecology, and conflict resolution to conserve biodiversity.
Track 2: Environmental Science
Areas of Environmental Science, such as climate change, groundwater, hazardous waste, and water chemistry require broad training across discipline lines for a successful application. To better predict anthropogenic environmental impacts, engineering, earth material, chemical, and biological data have to be considered in an integrated manner.
Track 3: Environmental Social Science
The environmental Social Sciences discipline looks at interactions between humans and the environment which tend to be complex and often require interdisciplinary efforts to understand and manage. Environmental policy, environmental economics, environmental history, environmental communication, environmental sociology, and human ecology are examples of the fields of study.
One cornerstone of the ECS curriculum is a weekly Greenbag Seminar series that provides an opportunity for students to interact with professionals "in the trenches." Local professionals as well as nationally recognized experts provide seminars, workshops, and mini-courses to ECS students.
Admissions Requirements
To be admitted to the Environmental and Conservation Sciences program, the applicant must meet the Graduate School requirements. Further, applicants are only considered after an ECS affiliated faculty member has agreed to admit the student to her/his lab and make arrangements of stipend and research funding.
Financial Assistance
The applicant should contact a prospective mentor to identify sources of financial aid. Teaching and research assistantships may be available through funded research or participating departments. Applicants are considered on the basis of scholarship and potential to undertake advanced study and research. Contact the Office of Financial Aid and Scholarships for information and applications regarding scholarships.
Program Administration
The graduate program is administered by the ECS Steering Committee. The committee is composed of ECS graduate faculty members representing the participating colleges: Agriculture, Food Systems, and Natural Resources; Engineering; and Science and Mathematics. The committee also includes a student membership which is nominated annually by the ECS Graduate Student Association.
The ECS Program Director presides over ECS Steering Committee meetings. The duties of the ECS Steering Committee include:
review of requests to join the ECS faculty and
program review and administration.
Last updated Oct 2020
About the School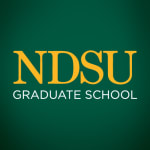 NDSU is a student-focused, land-grant, research university with a graduate student population of about 2,000 across 75+ programs. Our students work with world-class faculty on innovative, and often in ... Read More
NDSU is a student-focused, land-grant, research university with a graduate student population of about 2,000 across 75+ programs. Our students work with world-class faculty on innovative, and often interdisciplinary, research. Additionally, our students have access to professional development opportunities, and events such as Three Minute Thesis. Our low tuition costs make NDSU a bargain, and our career outcomes are excellent. We are located in Fargo, ND – a Midwestern "hidden gem," and a welcoming and vibrant community of about 230,000 with a unique rural-urban feel. We have a bustling entrepreneurial atmosphere; rich culture; great local fare, arts, and entertainment; and family friendly environment.
Read less