Program Description
The Department of Information Systems, Business Statistics and Operations Management (ISOM) consists of two divisions: Information Systems and Operations Management. The Department is internationally recognized for its authoritative research and ranked among the Top 20 in the world and No. 1 in the Asia-Pacific region, according to the University of Texas at Dallas's survey (2009-2013) of the premier ISOM journals: Information Systems Research, MIS Quarterly, Management Science, and Operations Research.
Faculty members of the Information Systems (IS) division are on the editorial boards of the top IS journals. Our students have gone on to academic positions in Australia, Finland, France, Hong Kong, Netherlands, Singapore, UK, and the USA. Some are now full professor/associate professors and on the editorial boards of the top IS journals.
The Doctor of Philosophy (Ph.D.) degree program in Information Systems (IS) is a research-oriented degree that aims to prepare students for a research and teaching career in universities, research institutes, governmental, or business organizations. The program has a technology management perspective with a focus on economic modeling and behavioral research into the management, design, use, and socio-economic impact of information technology on individuals, organizations, and societies. The Ph.D. (IS) program is intended to be taken as the follow-up part of the MPhil (IS) program.
Research Foci
The two key areas of research focus on the IS division are as follows:
Behavioural Research
Our primary interest is in studying the management of information technology (IT) and the use of IT for managerial and organizational purposes. Our research examines more than just technological systems or social systems – it investigates the phenomena that emerge when the two interact. Examples include human-computer interaction, user acceptance of IT innovations, IT strategy, electronic communities, e-government, e-commerce, and telecommunications policy. The methodologies employed include surveys, experiments, and field studies. Ph.D. students will need to take courses in psychology, organizational behavior, survey design, experimental design, multivariate statistics, etc. Prospective students with excellent analytical ability and good proficiency in English are preferred.
Analytical and Empirical Modeling
Economics has contributed to the theoretical richness and methodological rigor of IS research. Examples include information economics, the economics of electronic commerce, economic models for the impact of IT on organizations and markets, and supply and demand of IT. This interdisciplinary collaboration has the potential to help resolve many difficult IS issues. Ph.D. students interested in this area need to take courses in game theory, industrial organization, price theory, econometrics, etc. Prospective students with a strong quantitative academic background are preferred.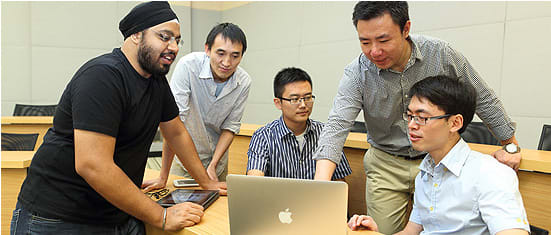 Admission Requirements
i. General Admission Requirements
Applicants seeking admission to a doctoral degree program should have:
Obtained a bachelor's degree with a proven record of outstanding performance from a recognized institution; or presented evidence of satisfactory work at the postgraduate level on a full-time basis for at least one year, or on a part-time basis for at least two years.
ii. English Language Admission Requirements
You have to fulfill English Language requirements with one of the following proficiency attainments*:
TOEFL-iBT: 80#
TOEFL-pBT: 550
TOEFL-Revised Paper-Delivered Test: 60 (total scores for Reading, Listening and Writing sections)
IELTS (Academic Module): Overall score: 6.5 and All sub-scores: 5.5
*If your first language is English, and your bachelor's degree or equivalent qualification was awarded by an institution where the medium of instruction was English, you will be waived from fulfilling the above English Language requirements.
#refers to the total score in one single attempt
For more program information, please refer to pg.ust.hk/programs
Last updated Oct 2020
About the School

Located at the Clear Water Bay of Hong Kong, the Hong Kong University of Science and Technology (HKUST) is a research-focused institution that ranks first among top young universities in the world (Ti ... Read More
Located at the Clear Water Bay of Hong Kong, the Hong Kong University of Science and Technology (HKUST) is a research-focused institution that ranks first among top young universities in the world (Times Higher Education Young University Rankings, 2020). With an international outlook and global reputation, the university aims to be a leading university, both locally and internationally, through excellence in teaching and research. With the unprecedented demand for high-end talent in support of the development of Hong Kong and the world, The Hong Kong University of Science and Technology (Guangzhou) (HKUST(GZ)) will be set up in Nansha, south of Guangzhou, to synergize with its Clear Water Bay (CWB) counterpart, nurturing talents and facilitating collaboration amongst Hong Kong, the Guangdong-Hong Kong-Macao Greater Bay Area (GBA) and beyond on education, research and knowledge transfer.
Read less