Program Description
This Ph.D. program in Mangement will be particularly interesting both for those who wish to pursue advanced research careers or projects in public or private institutions or want to pursue their careers as teachers in higher education institutions or research centers.
Ph.D. in Management
It is with great pleasure that we present a new edition of the Ph.D. Program in Management. The success of previous editions has been achieved through the completion of good research projects and the consequent publication of their results in conferences and blind peer-reviewed papers published in good ranking international journals. These facts justify our enthusiasm and commitment to launching this edition.
Throughout its existence, the School of Economics and Management (ISEG) has had a fundamental contribution to the training of cadres and leaders of Portuguese organizations and international ones. ISEG's faculty and Ph.D. alumni display a good publishing and citation record.
The Doctoral Programme in Management aims to provide doctoral students with a deep understanding of management problems and a strong background in methods and applied management research techniques. The insertion into networks of researchers is promoted not only through the collaboration of teachers and researchers from several European and North and South American universities, but also by taking advantage of ISEG's membership of the Academic Council of EIASM - European Institute for Advanced Studies in Management, based in Brussels, and the IMP (Industrial Marketing and Purchasing) Group, among others.
This Ph.D. will provide you the cutting edge knowledge on Business and management theory and the necessary tools, methodologies and research strategies for your developing relevant and impactful research in your specific area of interest in business or management. The development of the program although rather demanding both for full time and part-time students are compatible with keeping a professional or in industry activity. The school's facilities are excellent and the professors are very qualified, competent and friendly.
Entry Conditions and Criteria
Applications are welcome from graduates of the ISEG Masters in Economics, or an equivalent Masters. Applicants who have a Masters or equivalent degree in another field may be admitted, but only after having successfully studied for the syllabus of the 1st Semester of the ISEG Masters in Economics. The selection of candidates is made by the Scientific Board of the Ph.D. Programme, based on the following criteria: Masters and respective final grade; Bachelors and respective final grade; Scientific curriculum and relevant professional experience.
Target
Those who are looking for advanced education and who wish to carry out research in Economics, in preparation for a highly qualified role in the public sector or private sector. Such a position includes university teaching and research, the leadership and management of national and international organizations, consulting, training, and research projects and studies.
Operational Regime
Classes and seminars are mostly on Mondays (afternoons and early evening), and Tuesday and Wednesday evenings.
At the same time as the application or after enrollment, the candidate may apply for a scholarship from the Foundation for Science and Technology, whose application deadlines are compatible with those for enrollment in the program.
Last updated Nov 2019
About the School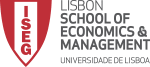 The first school of Economics and Management in Portugal, ISEG belongs to the University of Lisbon, the largest Portuguese University. ISEG Lisbon is internationally recognized and accredited by AACSB ... Read More
The first school of Economics and Management in Portugal, ISEG belongs to the University of Lisbon, the largest Portuguese University. ISEG Lisbon is internationally recognized and accredited by AACSB and AMBA, complying with the best higher education standards. ISEG's research centers are very well rated by the Portuguese research council (FCT). With an experienced and well prepared faculty, students from more than 70 countries contribute to an ever-increasing international academic environment, and take advantage of the school's excellence and location. ISEG Lisbon has excellent modern premises at the heart of Lisbon, right next to the Parliament and the river Tagus, in a vibrant neighborhood full of social life, business and culture. At ISEG, you will find a culture of excellence and achievement, alongside a climate of inclusiveness and cooperation. This is made by the mutual collaboration of students, faculty and staff. ISEG is a School prepared for the future: with a unique blend of quantitative skills and social contextualization of economic and managerial decisions, ISEG's faculty, professionals, students and alumni are at the forefront of those who address the UN's 17 Sustainable Development Goals (SDGs) with an entrepreneurial and collaborative mindset.
Read less