PhD in Mechanical Engineering (Nanotechnology Concentration)
Home ›
PhD ›
PhD in Mechanical Engineering (Nanotechnology Concentration)
Program Description
The Department of Mechanical and Aerospace Engineering (MAE) is one of the leading MAE departments in Asia. It offers rigorous academic and professional training in a wide range of areas, including both traditional and cutting-edge topics in energy, mechanics, advanced materials, nano/biotechnology, and manufacturing.
The Ph.D. program aims at equipping the students with the capability of identifying and solving academic and/or real problems creatively. The doctoral degree is awarded for the completion of required courses and a significant original thesis.
Research Foci
The Department's research concentrates on energy and environmental engineering, mechanics and materials, and mechatronics and manufacturing.
Solid Mechanics and Dynamics
These are two of the fundamental pillars of Mechanics research. The Department has a diverse faculty with expertise in these fields. Research activities range from applied to theoretical problems and have a marked multidisciplinary nature. They involve applied mathematics, solid mechanics, nonlinear dynamics, computations, solid-state physics, material science, and experiments for various kinds of solid materials/systems and mechanical behaviors. Faculty members work on problems of both static and dynamic natures with different types of evolutions. These problems also involve multi-field coupling on different scales of time and length, from micro-second to longtime creep processes and from a very small carbon nanotube or a cell to macroscopic scale composite materials and electromechanical devices/systems.
Materials Technology
Materials engineering focuses on characterizing and processing new materials, developing processes for controlling their properties and their economical production, generating engineering data necessary for design, and predicting the performance of products. Research topics include smart materials, biomaterials, thin films, composites, fracture and fatigue, residual life assessment, materials issues in electronic packaging, materials recycling, plastics flow in injection molding, advanced powder processing, desktop manufacturing, and instrumentation and measurement techniques.
Design and Manufacturing Automation
These elements lie at the heart of mechanical engineering in which engineers conceive, design, build, and test innovative solutions to "real world" problems. Research is being conducted in the areas of geometric modeling, intelligent design and manufacturing process optimization, in-process monitoring and control of manufacturing processes, servosystem control, robotics, mechatronics, prime-mover system control, sensor technology, and measurement techniques, and bio-medical systems design and manufacturing.
Microsystems and Precision Engineering
Micro-Electro-Mechanical Systems (MEMS) is a multidisciplinary research field which has been making a great impact on our daily life, including various microsensors used in personal electronics, transportation, communication, and biomedical diagnostics. Fundamental and applied research work is being conducted in this area. Basic micro/nanomechanics, such as fluid and solid mechanics, heat transfer, and materials problems unique to micro/nanomechanical systems are studied. New ideas to produce microsystems for energy, biomedicine and nanomaterials, microsensors, and microactuators are explored. Technology issues related to the micro/nanofabrication of these devices are being addressed.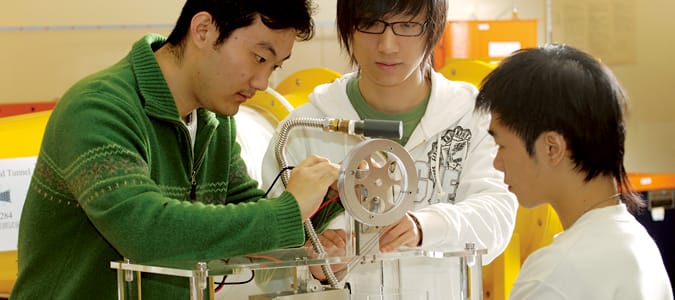 Nanotechnology Concentration
Nanoscience and technology have become one of the most visible and fast-growing multidisciplinary research areas. Nanoscience and technology research, ranging from nanostructured-materials to nanoelectronics, covers diverse areas in many disciplines, such as medicine and healthcare, aeronautics and space, environmental studies and energy, biotechnology and agriculture, national security and education.
A joint postgraduate program in Nanoscience and Technology, initiated by the Schools of Science and Engineering, can offer long-term support to our ongoing research and training as well as to the development of technology and to commercialization efforts. Because of the diverse, multidisciplinary nature of Nanotechnology, its research and training can be best integrated into different disciplines. The aim of the concentration is to equip students with the necessary knowledge in the areas on which they wish to focus on.
Admission Requirements
i. General Admission Requirements
Applicants seeking admission to a doctoral degree program should have:
Obtained a bachelor's degree with a proven record of outstanding performance from a recognized institution; or presented evidence of satisfactory work at the postgraduate level on a full-time basis for at least one year, or on a part-time basis for at least two years.
ii. English Language Admission Requirements
You have to fulfill English Language requirements with one of the following proficiency attainments*:
TOEFL-iBT: 80#
TOEFL-pBT: 550
TOEFL-Revised Paper-Delivered Test: 60 (total scores for Reading, Listening and Writing sections)
IELTS (Academic Module): Overall score: 6.5 and All sub-scores: 5.5
*If your first language is English, and your bachelor's degree or equivalent qualification was awarded by an institution where the medium of instruction was English, you will be waived from fulfilling the above English Language requirements.
#refers to the total score in one single attempt
For more program information, please refer to pg.ust.hk/programs
Last updated Oct 2020
About the School

Located at the Clear Water Bay of Hong Kong, the Hong Kong University of Science and Technology (HKUST) is a research-focused institution that ranks first among top young universities in the world (Ti ... Read More
Located at the Clear Water Bay of Hong Kong, the Hong Kong University of Science and Technology (HKUST) is a research-focused institution that ranks first among top young universities in the world (Times Higher Education Young University Rankings, 2020). With an international outlook and global reputation, the university aims to be a leading university, both locally and internationally, through excellence in teaching and research.
Read less