Program Description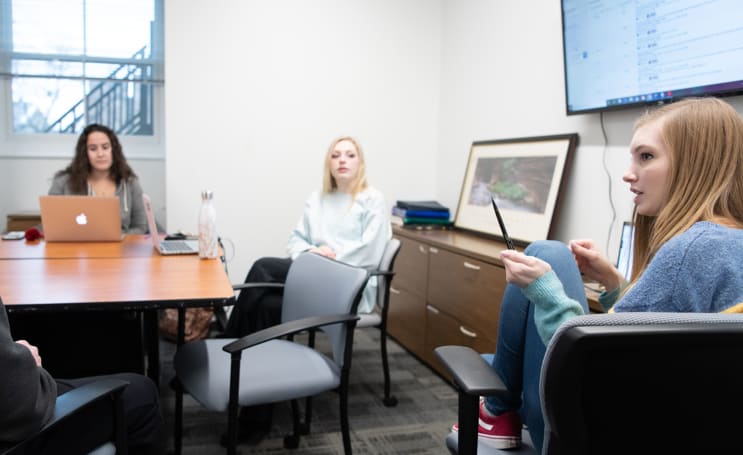 The Ph.D. in Psychology at Lehigh University is a research-intensive program in which students and faculty work collaboratively in areas of cognitive, developmental, and social psychology.
Our Cognition and Cognitive Neuroscience focus include research on cognitive control, attention, memory, language, causal reasoning, and categorization. Our Social and Cognitive Development focus includes research on cognitive, perceptual, socio-emotional, cultural, and moral development, as well as the development of identity, language, and literacy. Our Social Cognition and Personality focus includes research on conscious and unconscious processes, prejudice and stereotyping, motivation, health behavior, stress, and social relationships.
Program Highlights
Our department is highly collaborative and students are encouraged to work in multiple labs.
Our graduate students regularly present at national and international conferences and are authors on peer-reviewed publications.
Our faculty are rising and established leaders in the field, with research labs funded by national agencies (NSF, NIH) and private foundations.
Students are afforded multiple opportunities to gain teaching experience.
Recent graduates from our Ph.D. program have secured tenure-track faculty positions, postdoctoral research positions, as well as jobs in university administration and government agencies.
Complete a graduate degree in Psychology - with specialties in Cognitive, Developmental, and Social Psychology. The Graduate Program in Psychology at Lehigh University is a selective, research-intensive program that focuses on Cognitive, Developmental, and Social Psychology—and our faculty and students often work at the intersection of these areas.
The department accepts mainly Ph.D. students, who obtain a master's degree in the process of working for the doctorate. But every year a few well-qualified students may also be accepted for a Master of Science degree. Ph.D. and M.S. students define an area of specialization through their research experiences and selection of graduate seminars.
Lehigh's Department of Psychology is a research-intensive department where graduate students and faculty work collaboratively within and across three areas: cognitive, developmental, and social psychology. In addition, we often work closely with researchers from other departments, programs, and colleges, including the Health, Medicine, and Society Program, the Cognitive Science Program, as well as the Colleges of Business and Education. Many labs also collaborate with researchers at other institutions.
Our doctoral students are supported financially (with stipend and tuition) throughout their time in the program.
Graduate Program Highlights
Small is beautiful. The program is intentionally small, ensuring a favorable faculty-student ratio, close faculty-student collaboration, and a congenial atmosphere. We plan to expand from our current enrollment of 17 to about 20 students at full capacity.
State-of-the-art facilities. Well-equipped psychological laboratories provide an excellent setting for research. The department has ample facilities for research in each of our three specialization areas. Lehigh has a sophisticated network system and excellent on-line library and informational support. The department also has its own computer facilities, providing statistical, experimental, and general-purpose software.
Generous financial support. Students admitted with regular full-time status are normally given a full tuition waiver and an annual 9-month stipend ($21,630 for 2019-2020). Support may come in the form of teaching, research, or graduate assistantship, or a fellowship (the latter sometimes being endowed with a more generous stipend). Additional support is usually available in the summer. In assessing our support package, bear in mind that the cost of living is a good deal lower here than in major cities.
An idyllic location. Lehigh's park-like campus, in historic Bethlehem, Pennsylvania, is a heavily wooded former arboretum with ivy-covered Victorian-era stone buildings. Located in Pennsylvania's third-largest metropolitan area (pop. 630,000), the Lehigh Valley combines the advantages of urban and rural life. It is a short drive from New York City, Philadelphia, the Pocono Mountains, and the New Jersey shore.
Program Requirements
Ph.D. Program
We are a research-intensive department, where graduate students and faculty work collaboratively in three areas of psychology: cognitive, developmental, and social psychology. Most students work with one professor as their primary research adviser, but collaboration across research labs is encouraged. Our program involves some course work, but the focus is on designing, conducting, and publishing cutting-edge psychological research. Students also have multiple opportunities to gain teaching experience.
Coursework: The minimum required courses include: three core courses covering cognitive psychology, developmental psychology, and social cognition; two courses on statistics and research methodology; a professional development seminar; at least three graduate seminars; and two elective courses.
Research: All students are active in research throughout their residence in the program. The formal requirements include a first-year project that may provide the basis for the Master's thesis and the doctoral dissertation. Students are strongly encouraged to engage in additional research projects outside these requirements.
General Examination: During the third year, preparatory to the dissertation, students undertake an examination based on a reading list centered on their general area of the study: cognitive, developmental, or social psychology. The reading list is compiled by faculty in each area and is designed to provide broad expertise in each particular subfield of psychology.
Teaching Experience: Most students work as teaching assistants at some point during the program, and Ph.D. students have the opportunity to teach at least one undergraduate course after completing their M.S. degree.
Areas of Specialization
The department's main fields of specialization include:
Cognition and Language: Broad training in cognitive psychology and cognitive neuroscience; special expertise in cognitive control and attention, executive processes, memory, knowledge representation, language, causal reasoning, and categorization.
Social and Cognitive Development: Research covers many central developmental topics, including cognitive, meta-cognitive, and perceptual development; language, narrative, and literacy development; symbolic and plays development; attachment, socio-emotional, and moral development; gender and identity development; socio-relational and socio-cultural development, and lifespan development.
Social Cognition and Personality: Examination of how situational influences, individual differences, and information processing mechanisms combine to create social cognition and behavior. Current emphases include conscious and unconscious influences on social judgment, social influence, prejudice and stereotypes, goals, motivation, and self-regulation, and social-cognitive changes associated with aging and health status, including coping and depression.
Admission
Admissions Open: Fall
Fall Deadline for Application Review: January 1
Contact Information
Professor Almut Hupbach, Graduate Director
Email: alh309@lehigh.edu
Phone Number: 610-758-6762
Admission Requirements
2 Letters of Recommendation Required.
GRE general test scores Required.
International Applicants
International Applicants are required to demonstrate English language skills equal to those required of degree-seeking students. All international applicants whose native language is not English must take the TOEFL test and submit scores.
Last updated Jun 2020
About the School

As Lehigh's largest and most diverse college, we are home to the social sciences, arts, humanities, and natural sciences. With 1,894 undergraduate students, 342 graduate students, 270 full-time facult ... Read More
As Lehigh's largest and most diverse college, we are home to the social sciences, arts, humanities, and natural sciences. With 1,894 undergraduate students, 342 graduate students, 270 full-time faculty and 90 professional staff, we are comparable in size and offer the intimacy of a liberal arts college, yet benefit from the resources of a research university. Our faculty are accomplished scholars, artists, and writers, recognized nationally and internationally as leaders in their fields, who share a commitment to the integration of teaching and scholarship into innovative, dynamic curricula set in an intellectually stimulating environment.
Read less