Read more about this program on the school's website
Program Description
The Department of Psychology at North Dakota State University grants both M.S. and Ph.D. degrees. We have three doctoral programs that prepare students for research and academic careers: Psychological Clinical Science, Visual and Cognitive Neuroscience, and Health/Social Psychology.
Doctoral Programs
Students enter one of three Ph.D. programs: Psychological Clinical Science, Visual and Cognitive Neuroscience, or Health/Social Psychology. These areas represent the strengths of the department's faculty in experimental research, as well as three of the most active and cutting-edge areas in the field of psychology. The program accommodates approximately 20 students, with approximately 4 new Ph.D. degrees awarded each year. Training in the program includes course work in the student's area of emphasis, as well as methods courses, breadth requirements, and research experience under the supervision of a faculty mentor. Training and experience in college-level teaching is an important part of all three programs. Student support is available through teaching assistantships, research assistantships, and teaching stipends.
Program Requirements
Coursework: Students enrolled in the Ph.D. in Psychology program will complete 31 didactic credit hours, including coursework in research methods and analysis (9 credits), core areas of psychology (i.e., cognitive psychology, health psychology, neuroscience, social psychology; 12 credits), grant writing (3 credits), college teaching (3 credits), and electives (4 credits).
Mentored Research experience: We select students for our program who have the interest and desire to engage in intensive, cutting-edge research with faculty members in our department. Consequently, we expect students will maintain research productivity throughout their time in the program. In addition to enrolling in research credits each term (PSYC 793), students will develop independent research projects to fulfill the thesis (M.S.) and dissertation (Ph.D.) requirements.
Grant Writing Experience: In addition to completing the didactic course Grant Writing for Psychological Scientists (PSYC 763), all doctoral students are required to prepare and submit a fellowship or grant application. This is a mentored experience for which each student will choose a faculty mentor (typically the primary advisor) and work together to identify appropriate funding mechanisms, develop specific aims, and prepare and submit the proposal. The purpose of this requirement is to provide students with skills that will be beneficial to careers in academia, service, or industry, including written communication, proposal design, and critical thinking.
College Teaching Experience: Following completing didactic coursework in college teaching (STEM 810 or COMM 702), all doctoral students will teach one psychology course as the instructor of record. Each student will identify a faculty teaching mentor who will advise the student on the organization of the course and development of course materials, as well as provide support throughout the semester. The purpose of this requirement is not only to provide valuable experience in teaching but also to enhance presentation and communication skills applicable to a broad audience.
In addition to these formal requirements, students enrolled in the Ph.D. in Psychology program have access to a broad range of professional development experiences, including journal clubs, brown bags, colloquium speakers, professional workshops, and training opportunities from the Department of Psychology, NDSU, and the broader research community of Fargo-Moorhead. Individual labs provide training in specific methodologies, analytic techniques, and data collection strategies. In addition, graduate students often have the opportunity to work closely with undergraduate research assistants, providing mentorship and guidance to their junior colleagues.
How to Apply
The enrollment of the Ph.D. program begins in the fall of each year. Applications for the Ph.D. in Psychology program will be reviewed beginning January 15 for the upcoming academic year and will continue to be reviewed on a rolling basis as space and funding allow.
Admissions Requirements
The Department of Psychology graduate programs is open to qualified graduates of universities and colleges of recognized standing. Applications are due by January 15 in order to receive full consideration for admission in the upcoming academic year. However, applications will be considered after this date to the extent that space in the program is still available.
Financial Assistance
Students are routinely supported through research and teaching assistantships. Applicants are considered on the basis of scholarship, the potential to undertake advanced study and research, and financial need. All students who submit complete applications to the program by the appropriate deadlines are considered for assistantships. There is not a separate application for financial aid. Doctoral students are eligible for university fellowships that are awarded on a competitive basis.
Last updated Sep 2020
About the School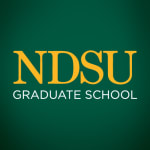 NDSU is a student-focused, land-grant, research university with a graduate student population of about 2,000 across 75+ programs. Our students work with world-class faculty on innovative, and often in ... Read More
NDSU is a student-focused, land-grant, research university with a graduate student population of about 2,000 across 75+ programs. Our students work with world-class faculty on innovative, and often interdisciplinary, research. Additionally, our students have access to professional development opportunities, and events such as Three Minute Thesis. Our low tuition costs make NDSU a bargain, and our career outcomes are excellent. We are located in Fargo, ND – a Midwestern "hidden gem," and a welcoming and vibrant community of about 230,000 with a unique rural-urban feel. We have a bustling entrepreneurial atmosphere; rich culture; great local fare, arts, and entertainment; and family friendly environment.
Read less