Program Description
The School of Psychology has a thriving, well-resourced and engaged the PhD community that is central to its research environment. Students are strategically appointed to research projects with the express purpose of enhancing research capacity and development in prioritised areas for which the School aims to enhance world-leading research.
Mode of study/duration
Registration is on a full-time or part-time basis, under the direction of a supervisory team appointed by the University. You will be expected to submit your thesis at the end of three years of full-time registration for Ph.D., or two years for MPhil (or part-time equivalent).
Research information
Associated Research
The School of Psychology has a postgraduate research community of around 50 PhD students who are very well resourced and supported in their research.
The School has made extensive material investments in infrastructure, including two computer labs and access to several suites of dedicated research labs, to support their research.
Students are a central part of the research environment of the School and participate in School-level seminars and research meetings.
Students are expected and encouraged to publish during their PhD research and are supported in doing so through their research training.
Subject-specific postgraduate modules in research design and methods are delivered as part of the PhD training portfolio to complement the generic University training and further topic-specific research training is also available.
Other opportunities exist to attract funding from non-governmental sources. Current and previous PhD sponsors include professional services firms, international Governments, charities, and technology companies. We also welcome self-funding students on a full-time or part-time basis.
The School of Psychology at Queen's ranked in the top 10 psychology departments in the UK for research intensity in REF 2014 and provides an excellent environment in which to carry out PhD research.
One distinctive aspect of the PhD experience in the School of Psychology is the high level of spontaneous peer-support, initiative, and engagement among this community of Doctoral researchers. This is valued and fostered by the School through its support of the postgraduate conference and postgraduate week activities as well as wide-ranging involvement of research students across many aspects of School life.
Our PhD community also organizes numerous social events each year that are very popular amongst both staff and students. There is a range of sources of funding available for PhD students. Every year the Department for Employment and Learning in Northern Ireland (DEL) funds a number of PhD students to undertake research on pre-specified topics within the School of Psychology. These topics and the names of the associated supervisors are typically advertised online in December with a closing date in February. Last year's topics spanned research topics across Development, Social, Cognitive and Biological Psychology. Selected applicants are invited to interview and the successful candidate is offered a fully funded place with fees paid and an annual maintenance stipend for the three years of the PhD.
Students who wish to self-fund or explore external funding sources are advised to peruse our staff webpages (http://www.qub.ac.uk/schools/psy/Staff/) and to contact potential supervisors to discuss potential topics. Most students continue within academia to take up postdoctoral research positions, fellowships or lectureships in psychology. Some continue into clinical or educational psychology training while others take up research positions in the private and public sectors.
Career Prospects
For further information on career opportunities at PhD level please contact the Faculty of Engineering and Physical Sciences Student Recruitment Team on askEPS@qub.ac.uk.
Our advisors - in consultation with the School - will be happy to provide further information on your research area, possible career prospects and your research application.
Entrance requirements
Graduate
The minimum academic requirement for admission to a research degree programme is normally an Upper Second Class Honours degree from a UK or ROI HE provider, or an equivalent qualification acceptable to the University. Further information can be obtained by contacting the School.
International Students
For information on international qualification equivalents, please check the specific information for your country.
English Language Requirements
Evidence of an IELTS* score of 7.0, with not less than 6.5 in any component, or an equivalent qualification acceptable to the University, is required. *Taken within the last 2 yrs.
International students wishing to apply to Queen's University Belfast (and for whom English is not their first language), must be able to demonstrate their proficiency in English in order to benefit fully from their course of study or research. Non-EEA nationals must also satisfy UK Visas and Immigration (UKVI) immigration requirements for the English language for visa purposes.
If you need to improve your English language skills before you enter this degree programme, INTO Queen's University Belfast offers a range of English language courses. These intensive and flexible courses are designed to improve your English ability for admission to this degree.
Academic English: an intensive English language and study skills course for successful university study at degree level.
Pre-sessional English: a short intensive academic English course for students starting a degree programme at Queen's University Belfast and who need to improve their English.
Last updated Mar 2020
About the School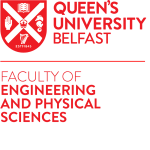 The Faculty of Engineering and Physical Sciences spans disciplines that impact lives today and will shape our future. Our international mix of staff and students make up a vibrant community that is ho ... Read More
The Faculty of Engineering and Physical Sciences spans disciplines that impact lives today and will shape our future. Our international mix of staff and students make up a vibrant community that is home to some of the most innovative and globally significant research and teaching. It works where industry and research meet, providing the platform to spin out research into commercial opportunities and engage with industry on cutting-edge research with real-world projects such as the work with Wrightbus to produce the cleanest hybrid bus technology that powers the London Routemaster, or the pioneering work in The Institute of Electronics, Communications and Information Technology, securing our digital future through their Centre for Secure Information Technologies.
Read less