Read more about this program on the school's website
Program Description
Read more about how RIT is tackling the coronavirus crisis here
Overview
A practically based program that fosters innovation and creativity in solving real-world challenges within social, economic, technological, and business realms. In this inherently interdisciplinary program, you'll become part of a network of academics from across RIT who are working to optimize sustainable systems and practices in engineering, manufacturing, energy, education, and more.
Our approach to sustainability means working in the broader context of environmental assessment, economics, and policy. Each faculty member in the Golisano Institute for Sustainability sponsors a select number of students for specific research projects, with the scope varying from fundamental science to applied engineering to corporate sustainability applications. On acceptance into a sponsored research project, you will receive a fully-funded education, a stipend to help with living expenses, your own office space, and the time to develop your technical expertise in sub-areas dependent on your research.
In the Sustainability Ph.D., you'll have the opportunity to learn from areas across the entire university to develop your own innovative approach to the field, building off of methodologies such as life cycle assessment, environmental risk and impact assessment, design for the environment, pollution prevention, closed-loop supply chain management, and product life assessment. Moreover, you'll work side-by-side with our world-renowned faculty who are avid researchers in diverse areas including biofuels, transportation, energy policy, resource recovery, smart products and systems, and more.
The Ph.D. degree helps you think innovatively about how sustainability can positively impact systems all over the world through big-picture solutions, from training future business leaders to maximizing natural resources. You don't need a background in sustainability to join this program; you just need a desire to create positive change in the world. We bring in students of all ages, from all backgrounds—from biotechnology to business—and from all over the world. You'll also find a wide range of ages—many of the program's students have 10+ years of career experience and/or education under their belts when they enroll.
The faculty are well-known scholars and active researchers who not only bring their knowledge into the classroom but also directly involve students in their scholarship. This work includes a wealth of hands-on experience in our impressive research facilities, including a 75,000 sq. ft. LEED Platinum certified research building with over 9 labs and 6 technology testbeds. With this level of experience, you'll be prepared for diverse academic and industry jobs where you can make an impact on the way the world views and utilizes sustainable practices, from the macro to the micro.
Plan of study
With the Ph.D. degree's integrative curriculum, you will develop a deep foundation in sustainability science, sustainable systems, risk analysis, and more. You can also choose several electives from across colleges at RIT—from "Computational Modeling and Simulation" to "Principles of Statistical Data Mining"—to tailor your degree and create interdisciplinary relationships throughout the university.
Through your sponsored research project, you'll have the opportunity to make novel and impactful contributions to the development and understanding of sustainable technologies. Recent dissertation examples include:
You must complete 60 semester credit hours of course work and research to conclude this program.
Active research areas
Sustainable Energy
Fuel cells
Photovoltaics
Energy supply/demand models
Energy policy
Circular Economy
Life cycle assessment
Electronic waste and battery recycling
Waste-to-energy processes
Food waste management
Remanufacturing
Sustainable Urban Systems
Smart Cities
Transportation systems analysis
Food Waste Management
Food-Energy-Water Nexus
Community involvement
Rochester, NY, is a hub for sustainability professionals and home to rich natural resources, such as fertile farmland and the nearby Finger Lakes. Many students share their passion for sustainability with the local community by working in volunteer service on projects like K-12 education, community gardens, farmer's markets, and more. In addition, you will connect with the larger sustainability world by attending and presenting at professional conferences all over the world.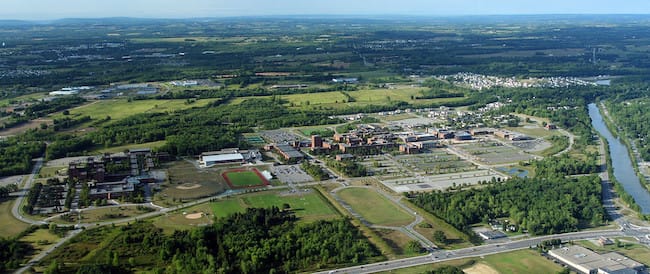 Admission Requirements
To be considered for admission to the Ph.D. program in sustainability, candidates must fulfill the following requirements:
Complete a graduate application.
Hold a baccalaureate degree (or equivalent) from an accredited university or college from an accredited institution. Course work must include at least one year of college science and one year of college mathematics, including calculus and statistics.
Have a minimum cumulative GPA of 3.0 (or equivalent).
Submit official transcripts (in English) of all previously completed undergraduate and graduate course work.
Submit scores from the GRE.
Submit a personal statement of educational objectives.
Submit a current resume or curriculum vitae.
Submit at least two letters of recommendation from academic or professional sources. Letters should be submitted directly to RIT and must be confidential.
International applicants whose native language is not English must submit scores from the TOEFL, IELTS, or PTE. A minimum TOEFL score of 100 (internet-based) is required. A minimum IELTS score of 7.0 is required. The English language test score requirement is waived for native speakers of English or for those submitting transcripts from degrees earned at American institutions.
Last updated May 2020
About the School
With more than 80 graduate programs in high-paying, in-demand fields and scholarships, assistantships and fellowships available, we invite you to take a closer look at RIT. Don't be fooled by the word ... Read More
With more than 80 graduate programs in high-paying, in-demand fields and scholarships, assistantships and fellowships available, we invite you to take a closer look at RIT. Don't be fooled by the word "technology" in our name. At RIT, you will discover a university of artists and designers on the one hand, and scientists, engineers, and business leaders on the other – a collision of the right brain and the left brain.
Read less