How are Ph.D. programs structured in the USA?
Do you want to study for a Ph.D. in the USA? There are major differences in the course structure in American and European Ph.D. programs that you should know about before applying. We highlight the key differences to help you decide which program is right for you.
Ph.D. program structure in the USA
In the US, Ph.D. programs are typically structured around coursework, research, and a dissertation. Most Ph.D. programs begin with an introductory phase where you take classes to build your knowledge base and explore potential topics for your dissertation research. Coursework is typically followed by a period of independent research and writing. During this phase, you will be expected to develop a research proposal, conduct experiments and/or data collection, analyze your results, and present your findings. Finally, you will have to write and defend a dissertation that summarizes your research project. Once all requirements have been completed successfully, you will earn the title of Doctor of Philosophy.
Ph.D. program structure in the USA vs Ph.D. program structure in Europe.
The Ph.D. program structure in the US differs from Ph.D. programs in Europe, where coursework is minimal, and research is often done within a research group or laboratory setting under the direct supervision of a faculty advisor. In the US, Ph.D. candidates are typically expected to take more classes and develop their independent research.
A Ph.D. program in the USA is rarely a pure research degree. Original research is a key requirement for a doctorate in the US, and students present and defend a thesis, but you will undertake personal and professional development activities such as learning another language or pursuing volunteering opportunities.
Doctoral students in European countries normally start researching right away, and USA Ph.D. programs start with taught classes and assessments. Candidates need to pass these components before they can confirm their final dissertation topic and begin research.
What is the duration of a Ph.D. in the USA?
The Ph.D. program typically takes between 4-7 years to complete, depending on the type of Ph.D., the school and department requirements, and the student's educational background and progress. Students who take full-time classes can usually finish in 4 years, while part-time students may take up to 7 years to obtain their Ph.D.
Doctoral students spend 1-4 years in the coursework stage of their program and 2-4 years working on their dissertation research.
The academic year in the USA consists of two teaching semesters: August-December and January-May. Your classes and assessments take place during this period. Most graduate programs admit students in the autumn (or 'fall') semester.
Postgraduate studies in the USA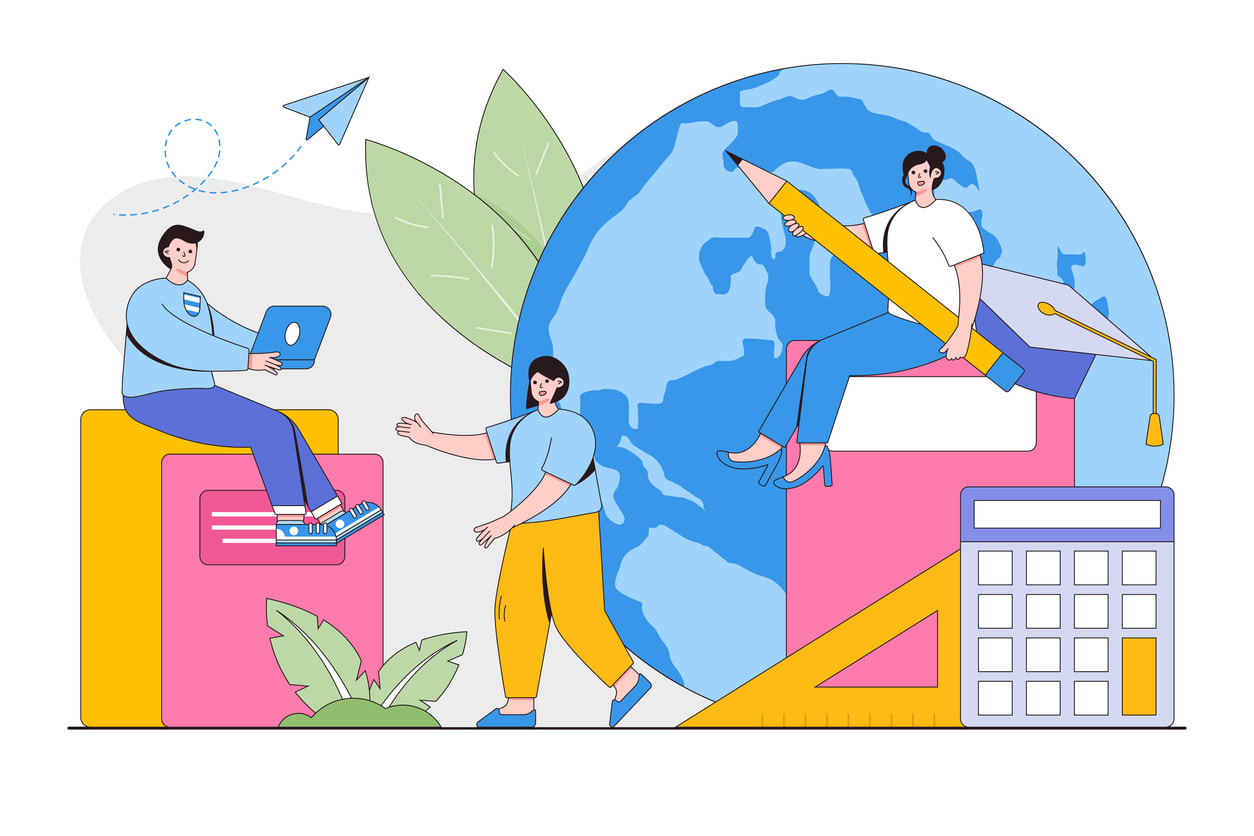 Graduate studies in the USA differ from postgraduate studies in Europe and other countries. In the USA graduate students need to enrol in a specific graduate program, typically within a graduate school attached to a university. Their chosen program will steer the courses available to them for their Ph.D. - like a taught bachelor's or master's degree.
Most universities in the USA have separate graduate schools and/or programs for different subjects. Specialized or smaller institutions may only offer one or two programs. Students must choose classes relevant to their intended research area.

Larger graduate programs tend to offer a wider range of degree subjects. For example, a Social Sciences graduate program might offer separate pathways for Politics or Anthropology,this would dictate the core classes a student needs to pass.
Ph.D. program structure in the USA - coursework component
Coursework consists of a combination of lectures, seminars, and research projects. Depending on the subject and program, Ph.D. candidates may also be asked to complete an internship or practicum, a language exam, or other specialized tests.
Many doctoral programs in the US require students to take comprehensive exams (also known as 'qualifying exams') at the end of their coursework phase. Passing these comprehensive exams will allow them to progress onto the dissertation stage.
The first part of a Ph.D. in the USA is like a taught masters
Ph.D. students will work through a series of classes and/or coursework modules:
Ph.D. Core classes are an essential part of your program. These classes cover key concepts, research techniques, and provide required subject knowledge.
Elective classes are optional. Students need to study a quota to fulfil the credit requirements for their program, it's entirely up to you what you select. This allows you to broaden your studies and pick specific training or select modules to reflect your interests that might help develop your research project later in the degree.
The structure of your Ph.D. program and the amount of technical knowledge needed for your subject will determine how you choose your elective classes.
Many Ph.D. programs in the USA require doctoral candidates to take part in professional and personal developmental activities, such as volunteering roles or learning a second language. This is a benefit of the structure of Ph.D. programs in the USA: graduates gain a holistic and adaptable education.
Following the completion of classes and compulsory elements of your program, students will need to tackle a field exam or dissertation qualifying exam. This exam ascertains if you have acquired sufficient subject knowledge to run your original research. Students reaching this point in a graduate program are referred to as ABD (all but dissertation).
Some students can exit a graduate program at this stage with a master's degree, or they may be awarded a master's whilst progressing on to a Ph.D.
Ph.D. structure in the USA – coursework is subdivided
Many Ph.D. programs in the USA are structured where the coursework is subdivided. Students can start their studies with compulsory classes and qualifying exams to confirm they are ready to study for their Ph.D., before focusing on their dissertation prep.
Ph.D. structure in the USA - dissertation component
The dissertation component of a Ph.D. in the USA is the final stage after fulfilling all coursework requirements. This is when you conduct and write up new research that contributes to academic knowledge in your field.
The doctoral dissertation is also referred to as a capstone project for a graduate program leading to a Ph.D.
Dissertations vary depending on the subject; some involve laboratory work, while others focus on data analysis or literature reviews.
Choose a topic for your dissertation
When starting work on their dissertation students need to first choose a research topic. Your research may be linked to ideas in your application or based on ideas you have covered in your core or elective classes. Your research topic must be put forward in a dissertation prospectus like a research proposal submitted as part go a Ph.D. application. This is an essay explaining your intended project, methodology, and outcomes.
The structure of a Ph.D. in the USA during the dissertation stage is like a research doctorate studied in other parts of the world. Students are assigned a panel of supervisors whose interests and skills are relevant to their topic. You will have a designated principal advisor or dissertation director drawn from the panel to support your research, gather your findings, and write up your results.
Students can continue their developmental activities alongside their research - a key benefit of studying for a Ph.D. in the USA. Some programs require students to undertake teaching work or submit an article based on their research for publication in an academic journal.
Structure of a Ph.D. in the USA - assessment and exams
The structure of PhDs in the USA is like taught degrees rather than the research-focused doctorates offered in other countries. Students need to pass exams to progress in their Ph.D. and eventually defend their dissertations.
US Ph.D. program requirements:
Ph.D. coursework 
Classes are assessed through essays, exams, and presentations. You will need to pass these to earn enough credits to finish the coursework stage of your program.
Ph.D. examinations 
You will be assessed on your skills before you can move on to the dissertation. These exams involve oral presentation and debate with members of your faculty. Or they could be a traditional closed-book exam paper to assess your general subject knowledge. Some programs involve multiple tests.
Ph.D. dissertation prospectus 
Your proposed topic and plan will be orally examined by your dissertation committee before you can proceed with your research.
Ph.D. dissertation defence
The final test for your Ph.D. will be a presentation and oral examination of your doctoral dissertation. This is like the viva voce used in the UK and other countries.
Students may have to demonstrate they have fulfilled other requirements for their program. This could include having foreign language skills, completing professional internships, or submitting articles for academic presentations or journals.

Completing both coursework and dissertation stages will make you eligible for an award of a Doctorate (Ph.D.). On completion, graduates can pursue further study or find employment.
Find your perfect program
Use our search to find and compare programs from universities all over the world!
PhD