Study and Working in Climate Science - James Pope
Good afternoon, James. Thanks for joining us today.
Thanks for the invitation.
We're really excited about this conversation. Maybe you could start off by discussing your current role...
Sure! I'm a climate scientist at the UK Met Office, where I work in the UK Climate Projection Science into Services team. We curate the UK's climate projections so that they are available as a public dataset -- available to everyone. The main part of my role is research. I use meteorological tools to look at how weather patterns can change in the future.
I'm also involved in how we communicate information about climate change. It's not just about writing papers and giving presentations to fellow scientists. We need to help other people understand climate change on their own personal level and engage with it. So I've been producing future weather forecasts that we put up on YouTube. We create possible future scenarios based on current data and present them as 'real' forecasts.
We did one covering an extreme heatwave in the UK -- the peak temperature was 43°C. We use that to hook in the audience, then add little explainers at the end. The explainers provide important context like what we expect to happen, what is still uncertain, and how our decisions will influence where we go in the future. So we create a story, then give people some science to go with it. We've also supported the Wimbledon tennis championships. They had their first environment day this year. We produced a Wimbledon-specific forecast for them.
That's the public-facing stuff. I use the same tools and techniques to work with a group of stakeholders in the Outer Hebrides [islands in Northwest Scotland]. We're looking at the chance of increased winter storms on the islands, the impact of high rainfall events, and any changes we might need to make.
That's impressive. What do you enjoy most about your work?
I like that it's varied. I have academic freedom. I'm encouraged to pull at new strands and find fresh ways of developing things. But I can also support and engage with people. The Met Office gets queries from all kinds of people who want to know more about climate change and how it will impact their area.
For me, providing information that benefits 'ordinary' people in the real world is really important. Everything I've ever done education-wise has been funded by taxpayers and grants -- I went to university and state school. Now I can do things that directly matter to real people and their local community.
Can you explain how your university studies led you to your current career?
Looking back, it looks nicely joined up, as if I had some grand master plan. But I really didn't.
I started studying for a Bachelor of Science in Geology and Physical Geography at the University of Edinburgh. That was a four-year program. Although I did well at it during high school, I wasn't enjoying studying physical geography at university. So I was left with the choice of switching the direction of my degree. I could choose straight geology, geophysics, or environmental geoscience. I disliked hard rock geology. It involved too much time staring at slices of rock through a microscope. And I wasn't good enough at physics to do geophysics, so I went for environmental geoscience.
Then during my third and fourth years, I got some job-specific experience at Edinburgh Airport. I rummaged through their bins for eight weeks and wrote a report on how the airport could improve its recycling. I was given a brief and asked to come up with something. So I did. I realized that I liked doing my own research projects.
While I was there, one of the managers told me that there's a real glass ceiling in environmental careers for people without a master's degree. I knew I didn't want to start a job after graduating and then go back to uni a few years later. So I decided to plow straight through and found a master's program at Edinburgh. It was a masters by research, which means three months of teaching followed by nine months of research.
I became fascinated by geoengineering, which focuses on large-scale intervention in the Earth's climate system. Then a research project came up in numerical modeling in geoengineering. I had no idea what numerical modeling was, but I was really intrigued by the science behind geoengineering. So I sat down with the professor who suggested the project. I had no computer modeling or coding experience, but he liked the fact that I was a geologist interested in the broader issues around climate change, the big picture. We did a deal: if I promised to work hard and to learn to code, the other people on the team would help me run the modeling. I threw myself into that project.
A month or so later, I saw a PhD advertised in paleoclimate at the University of Leeds. Paleoclimate models past climate from millions of years ago and compares them to geological data. I was still a geologist at heart and thought I could combine it with the modeling work I'd been doing. So I applied and got accepted. A UK PhD is much more research-focused, especially compared to PhDs in the US. There's less teaching and no exams. You basically just turn up and start your research. That suited my personality.
Then, near the end of my fourth year, it was time to start thinking about getting a job! During my research I'd helped a classmate build some simulations on how much radiation the sea ice reflects. I ended up being the co-author on a paper he published. Then at the end of my PhD, I saw the British Antarctic Survey was looking for someone to do climate models on sea ice. It sounded like a cool job, and I had enough experience to apply. They offered me a job, and I ended up working on two long-term projects that looked at the relationship between sea ice and atmospheric changes.
That came to an end, and my personal situation changed. I had a wife and a young child. I didn't want to float around from job to job. I wanted to settle down, have a place to call home. Then I saw the Met Office was looking for climate scientists. I applied and interviewed for two jobs. I was lucky enough to be offered both roles and choose the one I'm in now.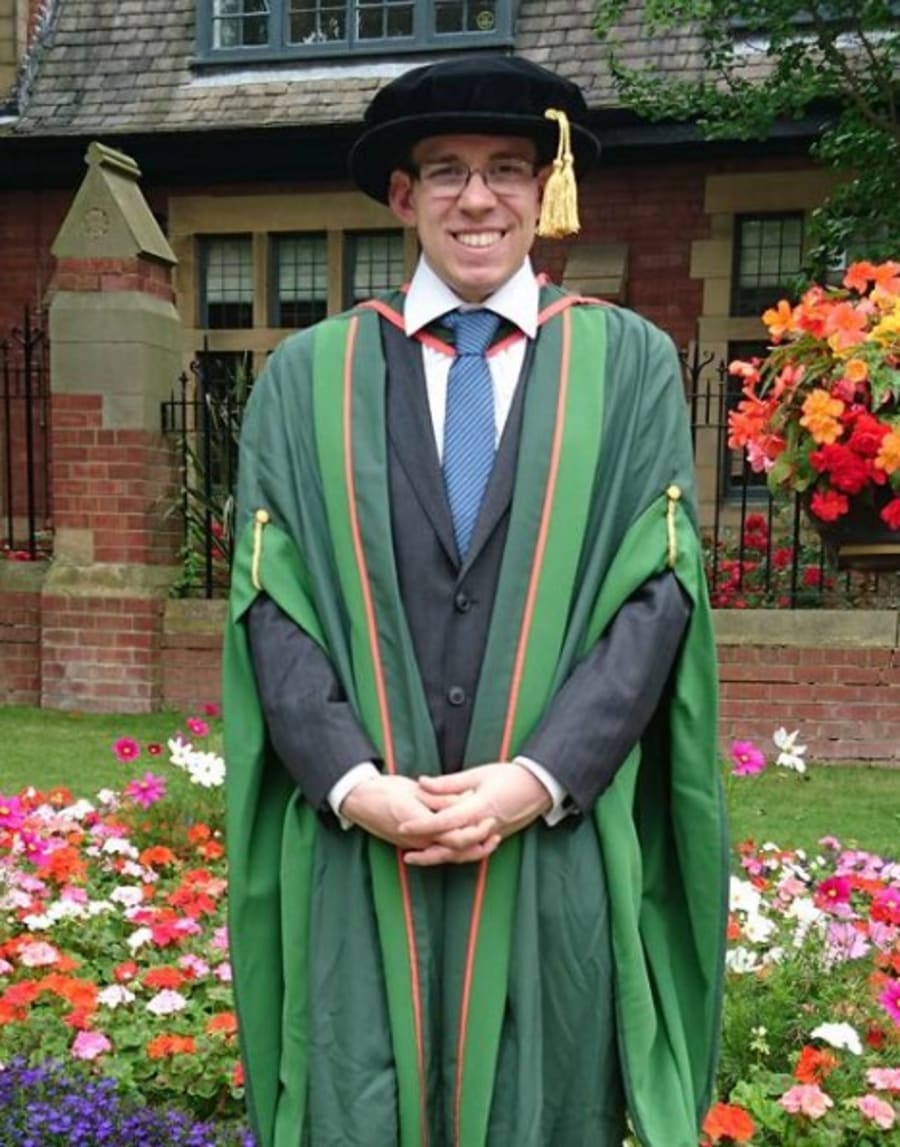 What advice would you give to someone thinking about studying and working in climate science or related areas?
If you want to go down the academic route, make sure you have a backup plan. There's a lot of luck involved in academia. There's no guarantee it will work out.
If you're still determined to do it, then follow your interests. If you're an undergraduate, focus on getting a degree in the physical sciences. Then just start working away at it. If you want a career in climate science, you need to be very committed. You've got to have lots of drive and be willing to focus on one idea for a long time. I work in two areas - and that's it. I don't do research into anything else. I don't have the time or capacity for anything more.
And science isn't always fun. The end results are, but getting there involves a lot of laborious tasks. Some of them are just dull. Model simulations I've run took over nine months to complete. You need the right personality for it, a willingness to grind stuff out. I'd say try and find opportunities to do some 'boring' science while you're an undergraduate. It depends on people's situation, but if you can intern or work as a lab assistant. It's worth doing for the experience.
If you're not interested in being a researcher, you can go and work for so many major companies. LinkedIn is constantly sending me messages about new jobs. Every industry has climate-related science roles. They're becoming more and more common as companies now understand their environmental impact and responsibilities. There are so many chances out there for people who want a career in this sphere.
I also learned a lot from just speaking to people, including other PhD students. You can learn so much this way, especially if you buy them a pint! They're a diverse bunch who are committed, passionate, and willing to grind. The idea of a nerdy white guy in glasses is such a stereotype. Admittedly, I don't do much to dispel that -- I mean, just look at me! Which is why it's so important to get out there and meet them. They're not all Sheldon Coopers. They're ordinary people like you and me who just happen to be very passionate and dedicated to a particular idea.
The same goes for your tutors. Find out what worked and what didn't work for them. Don't be shy about asking. In my experience, as long as you're genuine, people are always happy to talk about their careers and what matters to them.
Any final tips?
Have a plan for yourself, but be aware that plans can always change. Keep aiming at it, work hard, and give everything. Then, no matter what happens, you can always look at yourself in the mirror and feel proud.
Excellent advice and a nice way to wrap things up. Thanks for sharing your thoughts and experiences with us, James.
You're welcome. It's been a pleasure.
If you want to learn more on Dr James Pope's studies and career, you can follow him on LinkedIn and Twitter.

Ashley Murphy
After graduating with a degree in English literature and creative writing, Ashley worked as a bartender, insurance broker, and teacher. He became a full-time freelance writer in 2016. He lives and writes in Manchester, England.