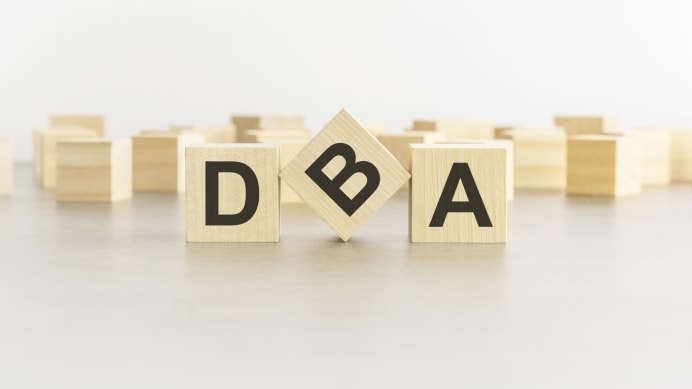 What is a DBA?
A DBA is a Doctor of Business Administration, a professional doctorate in the world of Business and Management. It is one of the highest levels of qualification available in these fields of study.
DBA programs combine discussion of advanced management theory and practice with training in methods and skills required to conduct doctoral research in Business and Management.
Where can I study for a DBA?
DBA programs are often available at business schools, attached to research universities. Students study for a DBA via distance learning and part-time, enabling students to work while learning.
DBA programs originated in North America, like the MBA, but are available in Europe and the rest of the world.
What is taught in a DBA program?
DBA programs build on the knowledge gained in a master's degree in business. DBA candidates will be experienced business professionals who want to gain the skills to be better problem-solvers and business leaders.
DBA students will complete coursework outlining in-depth quantitative and qualitative research methods and business theory applied to global change, decision-making, and leadership.
DBA programs help candidates to combine professional experience with scientific research methods and theory, preparing them to write and effectively defend a dissertation that provides new insights and pathways on practical business problems.
DBA students conduct research with precise business applications, thus helping working professionals with practical experience apply theory and knowledge to everyday business issues. It prepares executive managers to become business leaders.
Typical concentrations in DBA programs
Depending on your school, you may have to select a concentration within your DBA program. Some universities allow students to incorporate areas of interest they want to study into their research, creating a built-in focus to address needs and goals.
Popular areas of interest you may find in DBA programs:
Business management
You will study methods for implementing change and managing people and projects for roles as a department or division manager, executive, or consultant.
Healthcare management or leadership
You will examine systems, regulations, and laws specific to the healthcare sector, preparing you for hospital administrator roles, facility directors, or executives.
Accounting
You will learn about investments and topics for careers as a chief financial officer or analyst and manager.
Finance
You will learn about tools to help implement financial modelling, analysis, and decision-making used by financial analysts, CEOs, CFOs, and consultants.
How to choose a DBA program?
DBA programs vary widely in quality; students should research programs before choosing them.
Unlike MBAs, there are no rankings for DBA programs by recognized organizations. DBA admissions staff advise prospective candidates toinvestigate whether DBA degrees are accredited by one or more of the following accreditation bodies:
International Accreditation Council for Business Education (IACBE)
The Accreditation Council for Business Schools and Programs
The Association to Advance Collegiate Schools of Business (AACSB International)
It is wise to establish if the academic institution is part of the Executive Doctorate in Business Administration Council or the EDBAC.
DBA candidates who learn best with in-person interaction should ask about this. Business schools can vary in the amount of face time vs. online learning, which may be especially important if you want to network with other executives or if commuting to school is an issue. Also, check the number of face-to-face residencies required each year.
Online lectures and seminars can be valuable, as can conversations with other students in your DBA program and alums. Candidates need to establish the most aspects of a DBA program by researching the degree structure, curriculum, cost, and reputation.
How much does it cost to get a doctorate in business administration?
While tuition can vary significantly from program to program, it estimates the average price of graduate tuition at about $19,000, while the most prestigious non-profit institutions charge $44000 per year. Online degrees in business management provide set-up and in-state tuition rates.
How long does it take to get a doctorate in business administration?
A Doctorate in Business Administration may be completed within 1-3 years, depending upon a specific internship fellowship or dissertation. However, most online courses have faster pathways to graduation.
Doctor of business administrationadmission requirements
Entry to a DBA will typically require extensive work experience and relevant academic qualifications.
You should typically have the following:
An MBA or other relevant master's degree.
Significant professional experience, ideally in senior leadership or management roles (most universities will specify a minimum of three years).
Evidence of a promising research project related to the interests and expertise of the university or business school you are applying to.
Will I need a GMAT or GRE?
The GRE and GMAT are standard admission exams but are rarely required for DBA applications. Your professional experience or previous experience is enough to demonstrate your aptitude. A GMAT score is helpful if you need the right MBA.
Do you need an MBA to get a DBA?
Academic requirements can be flexible: you may be admitted to a DBA without an MBA (or other master's) based on significant professional experience.
Is a DBA the same as a Ph.D. in Business Administration?
DBAs differ from PhDs in business administration, and many colleges offer both. DBAs are usually part-time and designed to strengthen professional and methodological skills. An MBA in business administration is typically oriented towards students looking to pursue academic careers in the educational field – usually teaching and scholarship – or non-academical roles requiring knowledge in research techniques.
DBA Degrees vs. Ph.D. and MBA Degrees
A Doctor of Business Administration is a practice-based doctorate aligned better with individuals wanting to progress to higher-level management roles. It is not aimed at candidates wishing to pursue a career in academia.
A DBA involves learning and applying business theory to resolve real-world business problems; candidates are likely to work in the industry and do not want to teach full-time in academia, though they may want to teach as adjunct professors.
A Ph.D. in Business involves identifying and filling gaps in business theory and research. Typically, Ph.D. students' progress to become professors at a university.
When comparing a Doctorate in business administration with an MBA, the latter is seen to be more rigorous. An MBA helps students learn practices for management, whereas a DBA teaches you to create new approaches to management. A DBA is intense, and it requires a thesis and original research. An MBA focuses on group work and case teaching and learning methods.
Careers for doctor of business administration graduates
A DBA boosts career prospects. It will provide intense, practical training that can be applied to management roles in various sectors. Here are some examples:
Management consultant
Sometimes known as management analysts, this role helps businesses improve their operations and efficiency through ideas for streamlining working practices, increasing revenue, or reducing costs.
Market research analyst
As a market research analyst, you will investigate the products and services that have consumer demand.
Economist
Economists conduct research, monitor economic trends, and perform data analysis to understand how society distributes resources.
C-level executive
High-level executives oversee the operational direction of an organization. They design policies and strategies to ensure their companies meet their business objectives.
Submitting your DBA application
Individuals interested in pursuing a DBA should apply directly to universities through their websites.

Many universities suggest students contact their admissions team before applying to ensure their qualifications are suitable and to establish if an applicant is a good fit.
Follow the university's guidelines for application submissions and research proposals. You may be invited to an interview once your application has been processed to establish further if the DBA suits you and if you are an excellent fit for the university.
Find your perfect program
Use our search to find and compare programs from universities all over the world!
DBA
Find a program in these categories