Why Study Hospitality and Tourism in Hong Kong?
Joanna Hughes
Apr 21, 2020
Students, Hong Kong, and hospitality
There are many reasons to study hospitality and tourism in Hong Kong, starting with its status as one of the world's most dynamic cities. A 2015 article in The Guardian highlighted the allures of this "glamorous global metropolis" for students. "Whether you are initially fond of its cosmopolitan lifestyle, its international significance, or simply its overcrowdedness, you might be amazed by what the pearl of the orient has to offer," it asserts. It's not surprising, therefore, that Hong Kong is a perennial top 10 finisher in roundups of best student cities.
One thing which makes Hong Kong an appealing destination for hospitality and tourism studies is that it has two official languages: English and Chinese. As English is the lingua franca of travel, this makes it an excellent place to learn.
And then there's its prime location in the heart of the Asia-Pacific region. This makes for easy proximity to mainland China, as well as unbeatable access to other popular Asian destinations. Factor in a bustling international airport served by more than one hundred airlines, more than a thousand international flights a day, and a shared timezone with the likes of Singapore, Indonesia, Western Australia and many other popular tourist destinations, and the list of reasons to choose Hong Kong for hospitality and tourism studies continue to grow.
Hong Kong is also a leader in the hospitality and tourism industry. "Tourism is one of Hong Kong's four pillar industries and the city has rich experience in serving hotel guests, cruise passengers and conference delegates to international standards. Hong Kong's prosperous and well-traveled local population presents exciting opportunities for travel service companies, while the city's strategic location within five hours' flight of half the world's population secures its popularity as a leisure and business travel destination," says Hospitality Net.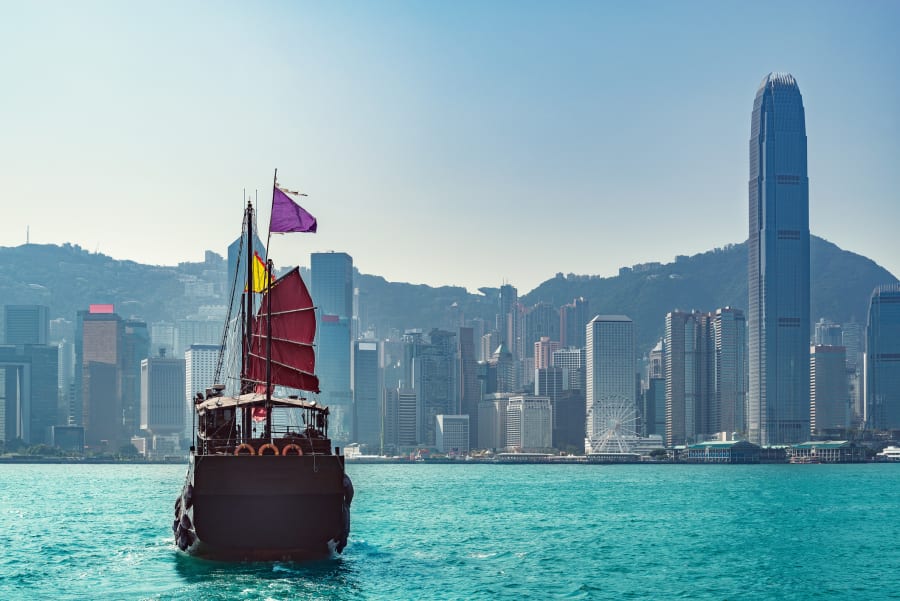 Hong Kong is also home to many top-notch hotels as well as a plethora of accommodation options. In fact, even in the face of economic and other uncertainties, the tourism industry is resilient and dynamic, with hotels in the region – and worldwide – not compromising on quality and service even amidst adversity. Tourism and investment is being drawn by new and exciting infrastructure projects like the high-speed rail link and the Hong Kong-Zhuhai-Macau-Bridge, according to the South China Morning Post.
An educational powerhouse
Not only is Hong Kong a premier destination for students, it's also home to The Hong Kong Polytechnic University's School of Hotel and Tourism Management (SHTM), which lays claim to the world's top-ranked programme last year for Hospitality & Tourism Management by the ShanghaiRanking of Academic Subjects 2019. It also recently celebrated its 40th anniversary of being a world-leading center of education and research excellence for the hospitality and tourism industry.
Students at SHTM have their choice of a diverse range of internationally recognized doctoral and master's degrees in hospitality and tourism, including the Doctor of Philosophy (Ph.D.) in Hotel and Tourism Management; the Doctor of Hotel and Tourism Management (D.HTM); the Master of Science (MSc) in Global Hospitality Business; the MSc in International Hospitality Management/International Tourism and Convention Management; and the MSc in International Wine Management. "With its bachelor's, master's and doctoral degrees, SHTM is now providing a lot of talent for the industry," says Betty Simpson, an SHTM alumna who has over 30 years of experience in the Hong Kong hotel industry and now works as the general manager of The Helena May. "It is a respected brand which guarantees high standards."
No mention of SHTM is complete without mention of the school's groundbreaking teaching and research hotel, Hotel ICON. With nearly 300 guest rooms, a restaurant, spa, and other amenities typical of a leading international hotel, it provides students with critical hands-on learning opportunities when it comes to managing both frontline and behind-the-scenes aspects of the hotel and tourism industry.
SHTM professor Kaye Chon, dean, chair professor, and Walter & Wendy Kwok Family Foundation Professor in International Hospitality Management, says, "Opening the hotel made a difference to the curriculum and helped to enhance the overall quality of our courses. The nature of the discipline means there are things you cannot teach in the classroom; students need to see real-life examples. So, we revised the syllabus for as many as 40 different subjects to include a practicum, and we have distinctive internship patterns."
Chon adds, "We are constantly striving to scale new heights. The school is already a symbol of excellence in the field and we are grateful that we remain consistently in the upper echelons of international rankings. Our students can make the most of the school's prime location at the heart of the booming Asia-Pacific region."
In addition to an international teaching faculty, SHTM also hosts the D.HTM Distinguished Lecture Series, which brings in leading academics and executives from around the world to share their perspectives into relevant topics into hotel and tourism management. The most recent industry heavyweight to be featured is Gregory Rockett, former Vice President of Corporate Hotel Development -- Americas Region at Hilton, whose lecture covered his reflections on working in the evolving industry over three decades and the skill set he prescribes for a successful hotel development career. Rockett also shared his advice for up-and-coming hospitality leaders.
#PolyUSHTM students
But you don't have to take our word for the advantages of SHTM when you can hear it from the students themselves. Stephanie Ho of Hong Kong, who aspires to become a consultant in the hospitality industry, is a current student in the MSc in Global Hospitality Business (MGH) programme. She calls her experience in the MGH programme "very special" because the students all "help each other" and "all want to be a better person."
Ho's classmate, Rutendo Brando Matingo of Canada, adds, "This experience will allow me to be more comfortable in any environment." Matingo's goal for applying the degree in the real world? To bring a Four Seasons to Zimbabwe.
Another MGH programme student, Ignacio Rodriguez Fernandez Victorio of Spain, speaks enthusiastically about his motivated and purposeful classmates, as well as of the many benefits of studying under professors working in the industry. "It's very important for us in order to have real life examples," he insists.
Meanwhile, MSc in International Hospitality Management student Emmanuella Alexandra Chole of France speaks to the impact of SHTM's highly diverse student body on her studies. "There are in my class students from more than ten different nationalities. Studying in this multicultural environment is a real opportunity. Students share their backgrounds, ideas and experience which brings an additional dimension to our lectures and group projects," she says.
There are also special benefits when it comes to wine studies. MSc in International Wine Management student Li Na of China explains, "Hong Kong has the benefit of zero import tax policy for wine since 2008, and the wine market is very active now. In my view, it is the best place to study wine in Asia. Thanks to SHTM, who offers this master programme of international wine management, I could have this chance to complete my master degree of wine in the ideal place."
Students also give our D.HTM programme rave reviews. Teerawut Chanyasak of Thailand says, "The D.HTM programme at The Hong Kong Polytechnic University is unique. With its focus on Asia, the school provides a balanced theoretical and practical approach to the subjects. Many of the faculty members have industry and managerial experience. Classes have a good blend of research and practical applications. Classmates have diverse backgrounds, and this essentially enriches the learning. I feel privileged to be in this programme and to be part of the alumni network of inspired researchers and industry leaders."
Also, SHTM offers an International Hospitality Management MicroMasters programme which may, for some students, be the perfect solution to the uncertainty in higher education caused by COVID-19. Delivered on the edX online learning platform, it allows students to meet with learners all over the world and learn through a combination of strategic perspectives, pragmatic implementation, problem identification, and decision-making, supported by interdisciplinary theory and management application. The MicroMasters programme includes hospitality and tourism-specific courses on Managing Human Resources, Managing Marketing, Innovation and Technology, and Luxury Management. It is a first-of-its-kind credit-bearing qualification, offering a route to SHTM's on-campus Master of Science programmes -- students earn a verified certificate issued by edX and The Hong Kong Polytechnic University. Students can enrol on the programme at any time.
The United Nations' World Tourism Organization (UNWTO) has declared tourism to be "an economic and social phenomenon." If you'd like to position yourself to be part of it, there's no better place to acquire the skills you need to succeed than at The Hong Kong Polytechnic University's School of Hotel and Tourism Management (SHTM).
Article written in association with The Hong Kong Polytechnic University -- School of Hotel and Tourism Management (SHTM).

Joanna Hughes
Joanna worked in higher education administration for many years at a leading research institution before becoming a full-time freelance writer. She lives in the beautiful White Mountains region of New Hampshire with her family.