PhD in
Doctor of Nursing Practice (DNP)
Holy Family University School of Nursing and Allied Health Professions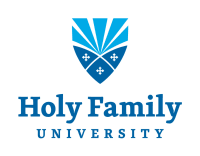 Introduction
The Doctor of Nursing Practice has emerged to fill a vital role during the last decade to develop leaders in health care. The DNP terminal degree is a non-research clinical doctorate focused on developing experts in nursing "practice" (AACN, 2006). Deciding to enroll in a DNP program is a critical and life-changing decision. Holy Family University is committed to supporting and guiding you on your journey as you reach new heights.
Holy Family University is proud to offer our DNP Program designed to prepare nurses for advanced practice roles as clinical scholars skilled in the application of theory and research, evidence-based practice, advanced clinical practice, measurement of patient outcomes, and transformation of health care systems to ensure quality and safety. Graduates build on their education and experience to influence change.
Our program is unique. The blended class format offers students flexibility while maintaining a close relationship to faculty members. The small class size, progression as a cohort, and faculty members who live the mission of the university are just a few of the unique features. Our nursing faculty bring clinical expertise, academic rigor, and a passion for nursing into the curriculum so each of our graduates are prepared to inspire and lead the future of nursing.