PhD in
PhD in Astronomy
Northern Arizona University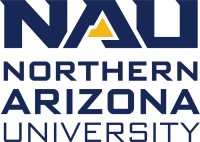 Introduction
The Department of Physics and Astronomy at Northern Arizona University (NAU) will launch a new Ph.D. program in Astronomy and Planetary Science in the Fall of 2016. The Department is now recruiting new faculty members and Ph.D. students.
Superb Access To Large Telescopes
Faculty members and their Ph.D. students have full competitive access to facilities run by the University of Arizona including the 2 x 8.4-meter Large Binocular Telescope, 6.5-meter Magellan Telescopes, 6.5-meter MMT telescope, 2.3-meter Bok telescope 1.8-meter Vatican Advanced Technology Telescope, and the 1.5-meter Kuiper Telescope. NAU researchers have access to the 4.3-meter Discovery Channel Telescope, 1.8 Perkins telescope, and 0.8-meter NURO telescope through partnerships with Lowell Observatory. Faculty and students also have access to the 0.5-meter Lutz telescope on the NAU campus.
English Language Requirements
Certify your English proficiency with the Duolingo English Test! The DET is a convenient, fast, and affordable online English test accepted by over 4,000 universities (like this one) around the world.