PhD in
Doctoral Program In Agricultural Innovation In Tropical Food Chains
School of Agriculture - University of Lisbon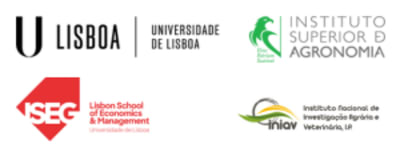 Key Information
---
Campus location
Lisbon, Portugal
Tuition fees
EUR 2,750 / per course **
Application deadline
Request info *
Earliest start date
Oct 2023
* applications for 2023/2024 are evaluated in the following dates:March 17th 2023,May 26th 2023,July 14th 2023
** plus annual enrolment fee and Insurance
Introduction
A novel and innovative Ph.D. program for students from temperate countries with skills in agriculture and agri-food chains searching for tropical regions contextualization and for students from tropical countries who seek to confront their contextualized competencies with exposure to new technical and scientific knowledge, through an international training experience.
The international Ph.D. program in "Agricultural Innovation in Tropical Food Chains" is jointly offered by the University of Lisbon's "School of Agriculture (ISA, ULisboa)" and "Lisbon School of Economics & Management (ISEG, ULisboa)", in collaboration with the "National Institute for Agricultural and Veterinary Research (INIAV – State Laboratory)".
The course is oriented to the transformation of tropical regions' societies, through the development of a vital, competitive, and sustainable agricultural sector.
Objectives
To offer advanced theoretical, methodological, and contextual training and to promote original and internationally competitive research.
To provide the integration of skills in agriculture, agronomic sciences and engineering, and economic science with knowledge related to the specificities of biological, environmental, and economic resources, as well as with the societies of tropical regions.
To innovate in the competitiveness of agri-food systems following a socio-ecological and integrative perspective of its particular value chains.
Understand the global dimension of human-environment interactions that underlies agricultural activity, and how the same process can explain different trajectories in distinct regions of the world:
Be proficient in the state of the art of agricultural innovation and management of natural and economic resources in the tropics
To know methodologies and tools to design and develop research and innovation that responds to questions about agriculture and tropical agri-food systems
Understand the multidimensionality that makes sustainable agriculture, food security, and rural development not to be development problems for the South and agro-environmental problems for the North
Identify solutions that cross south and north contexts and promote the participation of the economies of tropical countries in local, regional, and global systems
Adapt and implement contextualized solutions guided by diagnosis and critical analyses of trends, theories, and experiences
Ideal Students
This Doctoral Program is oriented to those who are interested in contributing to global issues with an impact or impacted by the development of economies in tropical regions, which are closely linked with innovation in the agricultural and agri-food sector.
Students from both temperate and tropical regions.
Masters or legal equivalent in agricultural, veterinary, biological, environmental, international economy and development sciences or related fields, including the possibilities set out in Article 27 b) and c) of "Despacho" 8631/2020, September 8, in accordance with point b) and c) of Article 30 of the Legal Regime of Degrees and Diplomas of Higher Education (RJGDES), DL 65/18 of 16 August.
Curriculum
Curricular Units
The program comprises the accomplishment of 240 ECTS, of which:
204 correspond to research activities leading to an original thesis;
6 correspond to webinars for interaction between different cohorts;
30 ECTS correspond to a Doctoral Course based on the required attendance of curricular units (CUs) organized under a modular system during the first semester for critical debate of advanced topics, including the plan and development of a Thesis Project.
The first semester culminates with the discussion and assessment of the students' projects in Research project, leading up to the registration of the thesis.
Doctoral Course
| | | | |
| --- | --- | --- | --- |
| | Lead scientific field | ECTS | Semester |
| Agriculture and Food Security for Development | Agronomy | 3 | 1 |
| Integrated Resources Management | Environment | 3 | 1 |
| Tropical Farming Systems Optimization | Agronomy | 3 | 1 |
| Agribusiness for Rural Development | International Economy and Development Economy, Strategic Management and Marketing | 3 | 1 |
| Research Project | All | 18 | 1 |
Interface and Thesis
| | | | |
| --- | --- | --- | --- |
| | Lead scientific field | ECTS | Semester |
| Webinars I, II, III | All | 2+2+2 | 2, 4, 6 |
| Thesis | All | 204 | 44965 |
According to their specific research topic, in the remaining semesters, students can implement their thesis experimental work in any of the associated institutions.