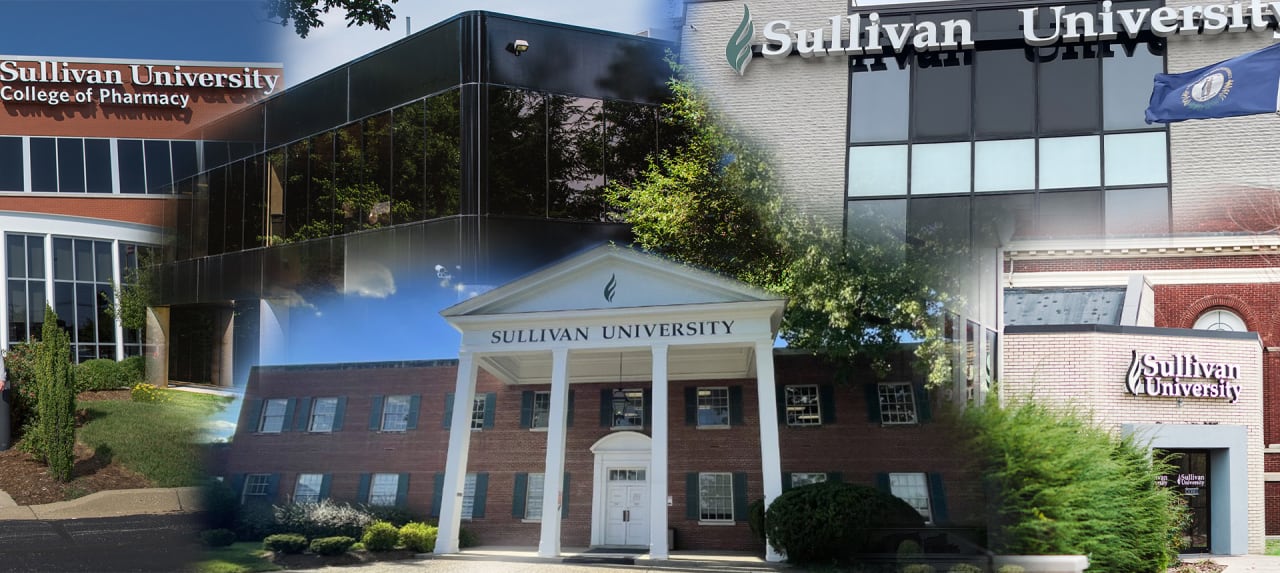 PhD in
Doctor of Philosophy in Management (Ph.D.)
Sullivan University

Key Information
---
Campus location
Louisville, USA
Study format
Distance Learning, On-Campus
Tuition fees
USD 780 / per credit
Application deadline
Request info
Earliest start date
Sep 2023
Introduction
Discover the Ph.D. in Management
Exceed Your Limits with Sullivan's Online Ph.D. in Management Program.
Thank you for your interest in Sullivan University's Ph.D. in Management program! Our mission is to develop research and application skills thereby preparing individuals to serve as leaders and scholars in their organizations. We also offer options for you, if you wish to enhance your career through teaching or training.
Why Our Students Chose Sullivan:
Strategic Management
Conflict management
Human Resource Leadership
Information technology
Sullivan University's Ph.D. in Management embraces the scholar-practitioner model
Sullivan University prepares practitioners to develop research and application skills that enable them to serve as leaders and scholars in their organizations
Students have opportunities to conduct quantitative and qualitative pilot studies that prepare them for dissertation research
We Believe in Developing the Leader in You
Thank you for your interest in Sullivan University's Ph.D. in Management program. Our mission is to provide opportunities for students to become practitioners, develop research and application skills, and prepare individuals to serve as leaders and scholars in their organizations. We also offer options for you, if you wish to enhance your career through teaching or training.
Our program draws on the strengths of dedicated, talented faculty members who guide and mentor students through coursework and research projects. In fact, numerous students have partnered with faculty to research and co-author scholarly articles and present at professional conferences. In addition, we encourage a cohort model with an emphasis on developing and maintaining relationships with both faculty and fellow students.
The curriculum is designed to teach you how to conduct research and develop research professionals. No doubt, you will work hard and make sacrifices to earn this degree. However, through perseverance and dedication, you can succeed and realize your dreams.
Program Highlights and Locations
Benefits
Our engaged faculty teaches through practical work experience
No GRE/GMAT testing is required
We utilize a practice-based curriculum
Online Format with Both Flexibility & Credibility
This is the accredited online Doctorate program that you've been seeking! Unlike other schools, we do not require residence or full-time participation, so you can complete coursework and dissertation entirely online from anywhere in the world. And, since Sullivan University is accredited by the Southern Association of Colleges and Schools Commission on Colleges to award Doctorates, this degree equips you with the expertise to meet and exceed your career ambitions.
Research-intensive. Student-focused.
It's crucial to a field's advancement that new and compelling ideas are presented. This is especially evident in the pursuit of any Doctoral Degree. Our mission is to help you master quantitative and qualitative research methods and analysis that will subsequently lead to subject expertise through your dissertation research.
Built-in Support Network
Students entering the program at the same time also take many classes alongside each other, creating a "cohort" of like-minded individuals to lean on throughout the rigor and reward of the Ph.D. program.
Culture of Collaboration
At Sullivan, distance education never means compromising opportunities for student-faculty collaboration. In fact, you will work closely with your instructors from start to finish. This begins with your individual faculty mentor who is your constant resource throughout your first quarter of study. It then continues through to your dissertation committee that will guide you through the process of becoming a doctor of management. In addition, it is very common for our Doctoral students and faculty to engage in research together, often co-authoring scholarly articles and presenting at professional conferences.
Emphasis on Advancement
A Ph.D. in Management is all about reaching new heights--intellectually, personally, and professionally. If you're interested in pursuing a career in management education, training, or research, our paid teaching assistant and research assistant positions provide invaluable experience to fit your specific professional aspirations.
Locations:
Louisville Campus
Fort Knox Extension Campus
Learning Center - Louisa
Online
Curriculum
Cornerstone Requirements
Sixteen credit hours may be transferred into the Ph.D. program from a Master's-level program into the Ph.D. in Management. Cornerstone courses must be from:
Two courses closely aligned with the macro and micro-level courses required in the management core;
A research course equivalent to Sullivan University's QNT 550 or CSC 550;
A course in the student's concentration area or a root discipline of the concentration area;
Cornerstone courses or their equivalents are determined at the discretion of the Ph.D. Admissions Committee and the Dean of the Graduate School.
Management Core
Twenty credit hours are required to provide foundational knowledge of theory-based courses and content for all students in the Ph.D. programs. Generally, these courses provide students with baseline knowledge expected from all Ph.D. students in Management. The management core courses cover the following: organizational theory, organizational behavior, human capital management, strategic management, and a course that integrates both organizational theory and organizational behavior in the study of innovation and change in organizations.
Research Core
Twenty-four credits are required as a research core. The Ph.D. is a research certification, and the research core courses are designed to provide students with knowledge and experience to function as high-level researchers in academic, business, and government organizations. All Ph.D. students take requisite coursework in research methods, research design, quantitative and qualitative research and analysis, proposal development, and mixed methods.
Concentration Area
Sixteen hours are required for a primary concentration or area of study. Students may choose one of the four concentration areas below:
Strategic Management (Strategy)
Conflict Management
Human Resource Leadership
Information Technology Management (IT Management)
The student's primary concentration area includes four courses common to all students who choose a particular concentration area.
Comprehensive Exam
Two credit hours are awarded for successful completion of the comprehensive exam. The comprehensive exam is offered in the term immediately following the student's successful completion of Ph.D. courses. Credits are awarded on a pass/fail basis, and no letter grade or quality points will be assigned for completion of the comprehensive exam.
Dissertation
A minimum of 12 credit hours are awarded for dissertation research. Credits are awarded after a student successfully defends a Ph.D. dissertation, and it's accepted by the Dean of the Graduate School as "completion of requirements" for the Ph.D. Degree.
Residencies
Residencies are required for each of the first two years of students' enrollment in Ph.D. studies; however, no credit hours are awarded.
Program Outcome
Objectives
To prepare students to conduct scholarly research relevant to the management of organizations in public and private sectors;
To prepare students for responsible positions in private and public sectors;
To prepare management practitioners to develop research and application skills that will enable them to serve as leaders and scholars in their organizations;
To help public and private sector organizations solve critical problems, make better decisions, and create fast-paced environments built on performance excellence.
Student Learning Outcomes
The ability to:
Apply principles and theories of organizational management to a variety of work settings;
Analyze and review research critically;
Identify research topics in one of four concentration areas;
Conduct searches of scholarly and practitioner literature;
Select appropriate research designs and statistics;
Design quantitative and qualitative based research studies;
Develop expertise in a topic by conducting a major research project.
Program Admission Requirements
Demonstrate your commitment and readiness to succeed in business school by taking the GMAT exam – the most widely used exam for admissions that measures your critical thinking and reasoning skills.
Download the GMAT mini quiz to get a flavour of the questions you'll find in the exam.