Hong Kong Baptist University - Faculty of Social Sciences
Home ›
Hong Kong Baptist University - Faculty of Social Sciences
Read more on the institution's website
About Us
The Faculty of Social Sciences, Hong Kong Baptist University comprises seven departments: Education Studies, Geography, Government & International Studies, History, Sport, Physical Education & Health, Social Work, and Sociology. Our Faculty is the largest faculty in the Hong Kong Baptist University in terms of a number of departments, teaching staff, undergraduate and postgraduate students. Upholding the whole person educational philosophy of the University, the Faculty is committed to nurturing student personal, intellectual and professional development with a liberal arts education. We emphasize global social science knowledge for whole person development. We also share a passion to inspire students to be creative and fulfilled builders of a fair global society and a strong University for the region.
The Faculty nurtures academic development through a number of centres, they are the Advanced Institute for Contemporary China Studies, Centre for Child Development, Centre for China Urban and Regional Studies, Centre for Geo-Computation Studies, Centre for Global Sport and Recreation Studies, Centre for the Advancement of Social Sciences Research, Centre for Trauma Treatment and Well-being, Centre for Youth Research and Practice, Wellness Promotion Centre, Comparative Governance and Policy Research Centre, Dr. Stephen Hui Research Centre for Physical Recreation and Wellness, European Documentation Centre, Asian Energy Studies Centre, Modern History Research Centre,Centre for Learning Sciences, and Social Work Practice and Mental Health Centre.
Our staff are funded and fully engaged in cutting-edge research, often with students. Some of our recent and notable inquiries have addressed social and political (including accents on comparative analyses of China, gender, Christianity); urban and mobile China; social justice and equality; environmental change and health; youth and wellbeing; social and sports psychology. In addition to a range of popular undergraduate honours, degrees offered our innovative professional degrees attract and serve educators, public administrators, social workers, urban planners, community organisers, and many others from across China and overseas.
Vision
Engaged social science which inspires success in students and builds a better society.
Mission
Academic excellence through harmonising social science research and teaching and engaging with society.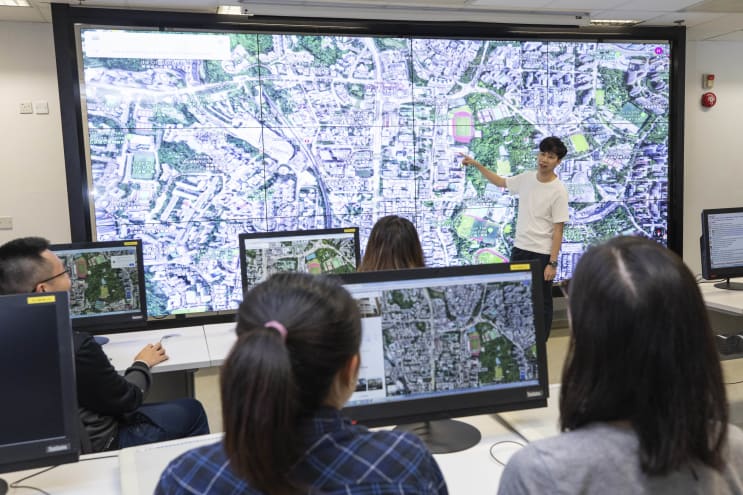 Values and Principles
We are a distinctive academic body where individuals with diverse skills and talents come together for academic excellence.
We value shared commitments to Relentless pursuit of truth; Respect for academic difference and social diversity; and Professionalism.
A set of cross-cultural principles guides how we do things and include: Synergy, Collaboration, Mutuality, Innovation, and Prioritisation.
Strategic Priorities
World Class Research
Best Student Experience
Sustained Academic Excellence through Synergy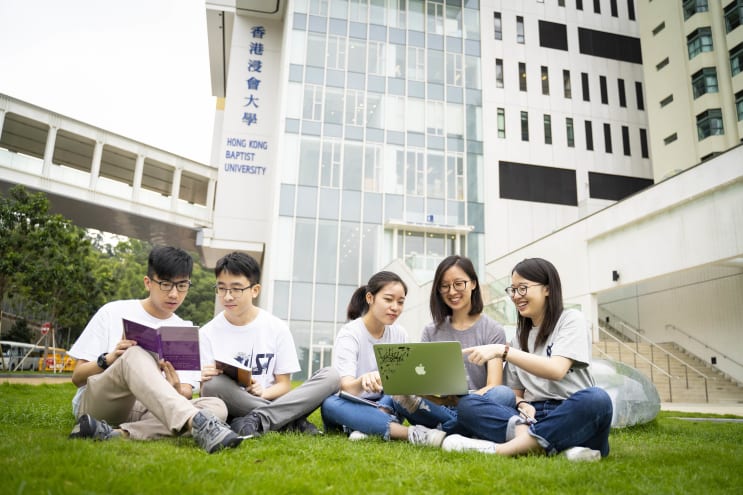 Features
| | | | |
| --- | --- | --- | --- |
| Field and Case Study Pedagogy | Community and Professional Ties | Small Group Learning | Caring Culture |

Social Sciences Common Core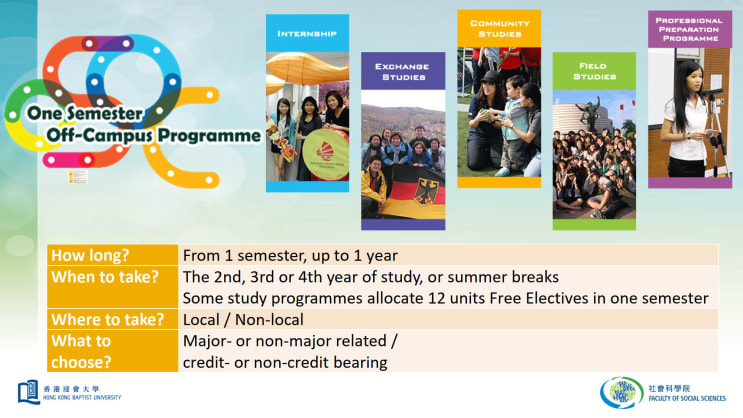 One Semester Off-Campus Programme
Reasons for Choosing Hong Kong as a Study Destination
1.Be part of the "Chinese Adventure" with a Western heritage
2.Learning Chinese language and culture
3.Exciting and vibrant city with lots to do
4.Many multinational corporations based in Hong Kong
5.Window to China
6.Gateway to Southeast Asia
Locations
Hong Kong
Address
Room 1325, 13/F Academic and Administration Building, Baptist University Road Campus, Hong Kong Baptist University, Kowloon Tong, Hong Kong
Hong Kong
,
Hong Kong