Our Vision
To be a leading World-class Christian Mission University committed to raising a new generation of leaders in all fields of Human endeavour.
Covenant University is a part of the Liberation Commission that God gave to the Presiding Bishop of the Living Faith Church Bishop David Oyedepo, (PhD) some years ago. The appropriate forms of intent to establish a private university was submitted to the National Universities Commission (NUC) in March 2000 and by July 15th, 2001, the verification team of the National Universities Commission came for the inspection of facilities and programmes. On 12th February 2002, the Federal Government officially presented the certificate, which granted Covenant University the license to operate as a private University in Nigeria.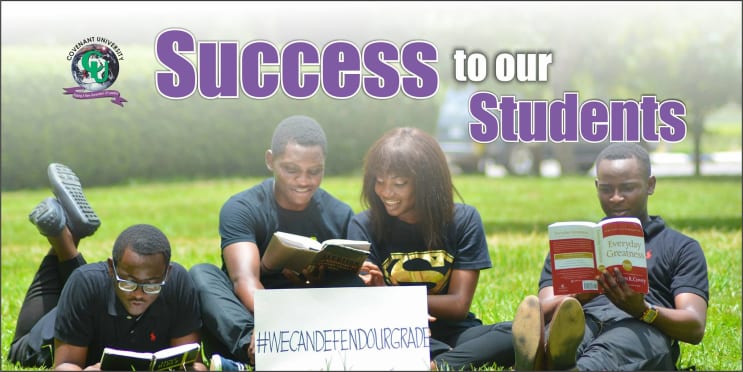 University is a growing, dynamic vision-birthed, vision-driven University, founded on a Christian mission ethos and committed to pioneering excellence at the cutting edge of learning. We are driven by the compelling vision of raising a new generation of Leaders for the African Continent on the platform of a Holistic, Human Development and integrated learning curriculum, in order to raise Total Men who will go out to develop their world. Our Core-Values of Spirituality, Possibility Mentality, Capacity Building, Integrity, Responsibility, Diligence and Sacrifice are what defines our commitment to excellence.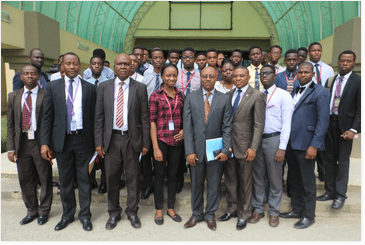 Our experiences over the last few years strongly indicate the great potential we have as a University in instituting a learning context that is rich in educational opportunities, research and scholarship. Our aim is to build a world-class university that will be a pride of Africa as well as take its place among the Ivy league Universities on the global platform.
Our mandate as a University is to revolutionize the educational landscape of Africa. Ours is indeed a rescue mission in education, driven on the platform of Christian ethos and life-transforming values. The integration of the fundamental requirements stipulated by academic and professional quality assurance bodies, a global-outlook and impact-driven learning emphasis, provides a powerful synergy for empowerment in enabling the inculcation of intellectual and creative abilities via a platform of a solid commitment to self-discovery.
Our Mission
To create knowledge and restore the dignity of the black man via a Human Development and Total Man Concept driven curriculum employing innovative, leading edge, teaching and learning methods, research and professional services that promote integrated, life-applicable, life-transforming education relevant to the context of Science, Technology and Human Capacity Building.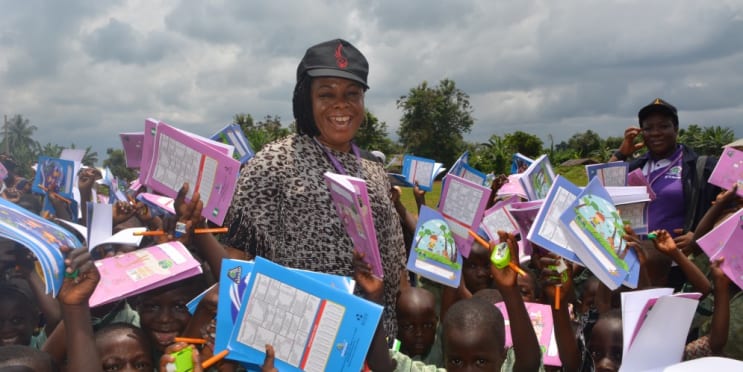 Our Core Values
Our leadership thrust is built on covenant values which we refer to as our core values.
1. Spirituality
This refers to instilling the fear of God into the life of men and women in the university particularly our core product; the students. It is an understanding that no one can have a genuine feeling for men without the fear of God. This is why the fear of God is a fundamental requirement for effective leadership.
Most of the greatest leaders of all time in Bible history were men who lived by the fear of God. Joseph said "but I fear God", Job the greatest business leader of his time was reported to be "a man that feareth God and escheweth evil", Daniel, the great, we were told will not defy himself. We believe the fear of God is fundamental to a successful career in leadership and since our vision and mission is to raise a new generation of leaders, which is considered the greatest need of this generation, particularly in our part of the world. The fear of God remains the non-negotiable factor in the pursuit of our mandate. God delivered the criteria for leadership to Moses through Jethro his father-in-law as recorded in Exo. 18:21-24. The criteria as listed in above scripture among others are as follows:
Able men, which talked about capacity, that is men equipped to deliver.
Such as fear God, men of truth. This means that capacity is not enough, therefore the fear of God is what makes capacity to deliver. There is no doubt there are too many able men in this country, why are we still a victim of poor leadership as a people - it is the lack of the fear of God.
Possibility Mentality
We at Covenant University believe that the mental picture of a man is what defines his actual future. Our mission is to stimulate the dream of royalty and dream of dignity into our students so that they can begin to develop a royal attitude, cultivate royal habits and form royal character so as to fulfil the Covenant University dream of raising a new generation of leaders.
James Allen once said, "a man is literarily what he thinks". It was Manley Snergy that said, "sow a thought, reap an act, sow an act reap a habit, sow a habit reap a character and sow a character reap a destiny".
This fully validates the scripture that says, as a man thinketh in his heart, so is he (Prov. 23:7).
3) Capacity Building
Capacity Building here centres around skill development and we believe that lack of skill can kill any dream. While spirituality and mentality positions man for leadership, it is capacity that enables him to deliver.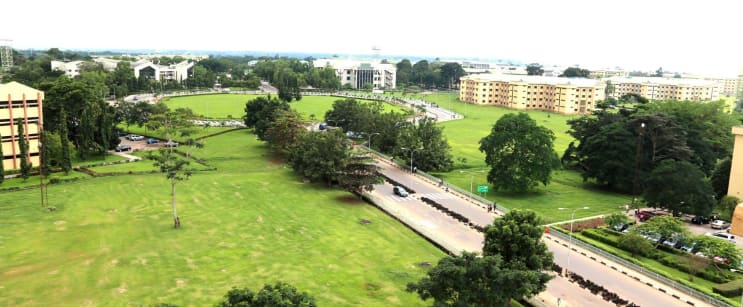 Capacity Building in this context can be defined as possessing the ability to deliver a given task. This is why Covenant University will remain committed to academic excellence and continue to drive our students through the crucible of personal development in pursuit of their individual dreams. It is a skill that turns trash into treasure. Our mission is to inculcate an untiring quest for capacity building, enhancement of professional capabilities and personal development into our students. We saw in scriptures how a team of nonentities as reported in 1 Sam. 22:3 turned out to become mighty men of valour by 2 Sam. 23:8 through the "magic" of skill development and capacity building.
4. Integrity
Lack of accountability in our view is the bane of leadership in our nation. When the truth is off the street, destinies are trampled under feet. There is need to recapture the virtue of integrity in our society today.
Someone has said, "people hear what you say, but they will only end up doing what you do". Leadership by example, therefore, is the greatest need of our time. Until you can boldly say "follow me" you are not qualified to lead. This takes hard work, not of flesh and blood, not of strength and vigour, but of heart and conscience. It is working on oneself to be worthy of one vocation.
5. Responsibility
It was Malcom Forbes that said "a man who enjoys responsibility usually gets it. A man who usually likes exercising authority usually loses it. We are committed to inculcating a sense of responsibility to our students. We expect them to respond to issues as demanded not as convenient. We believe in the place of discipline for effective leadership. It was George Washington that said, "Discipline is the soul of an army, it makes number formidable, it procures success to the weak and esteem to all". Here at Covenant University, our students are not permitted to do what they like but they are compelled to do what is right at all times.
6. Diligence
Nothing enhances worth like work. Every high flyer is known to be a hard worker. You cannot eat your cake and have it. You cannot make omelette without breaking eggs. Every leader is a worker and every committed worker is a potential leader.
Here at Covenant University, we believe in the dignity of labour. We extol the servant-leadership philosophy. We believe that commitment is the greatest qualifier for attainment. We believe that no one is committed to lead without taking the lead. And we believe that taking the lead demands that one goes the extra mile. This is why hard work is one of our celebrated core values. We expect all our students to be hard workers, tireless workers and creative workers. Sees thou a man that is diligent in his business he shall stand before kings he shall not stand before mean men (Prov. 22:29).
Where you find yourself tomorrow is a function of your diligence today. Nothing works like hard work.
7. Sacrifice
Every great leader of all time has a story rooted in sacrifice. Sacrifice is the ultimate price for outstanding leadership. It is a quality sacrifice that defines great leadership. No one can get out of life more than what he is willing to put into it. Jesus Christ paid the ultimate price for the cross, gave his life a ramson. Today, about 2/3 of the world population still subscribe to his leadership, 2,000 years after he departed the planet earth.
You cannot lead a course indeed for which you are not willing to give all you've got. Sacrifice in our view is going the extra mile, paying the extra price and giving it all it takes within and even beyond your powers to deliver the goods. Our students are being trained to raise altar of sacrifice in the pursuit of their dreams and vision. You cannot impact the world without paying a global price. It is a sacrifice that makes stars. Every star carries a scar of sacrifice (Luke 12:49-50).
Locations
Nigeria Online
Covenant University
Address
KM. 10 Idiroko Road, Canaan Land,
Ota, Ogun State, Nigeria
Nigeria Online
,
Nigeria
Programs
This school also offers: