A leading Business School
ENAE Business School is an International Institution focused on postgraduate and executive training. Interaction with companies is considered central in inspiring and delivering ENAE Business School performance We believe that managerial and business training must rely on a selective admission process, experienced and qualified faculty together with interaction between students and businessmen, all this make possible the direct communication among business participants, students and professors in order to create the learning environment required for improving managerial capacities.
ENAE has been the leading business school in the southeast of Spain and our leadership has made us growing internationally and counting with an international faculty and student community. ENAE is in a continuous improvement process leading to becoming an international reference.
We have been training leaders for 25 years to be capable of reaching the height of excellence in the management and administration of companies and of facing their professional future with confidence and security; using our knowledge to provide the best post-graduate training we can.
ENAE belongs to the Fundación Universidad Empresa de la Región de Murcia (FUERM), an organization which was founded in 1988 as a way of bridging the gap between the university and business world. Thanks to our foundation, at ENAE we can count on the support of more than 300 partner companies and we maintain relations and agreement with more than 50 universities internationally. This network allows us to perform within a very satisfactory framework with the other national and international companies and institutions that work with us.
Mission
ENAE Business School prepares professional graduate students primarily from Spain and Latin-America to lead in the global economic and business environment. Students learn proven applied knowledge and managerial skills grounded in humanistic and entrepreneurial values from professors and business people. Interaction with companies is considered central in inspiring and delivering ENAE Business School performance.
Continuous improvement of student learning is central and ENAE has embedded learning assurance methodology into the curriculum. ENAE students form close relationships with executives, professors, consultants, and corporate recruiters. These relationships instill a critical analytical capacity and forecasting ability in the face of a globalized and changing market. Likewise, the direct communication among business participants, students and professors extend to the creation of knowledge focused on applied research on entrepreneurship and business planning aligned with the economic environment, cultural and social context in which our companies operate.
Values
Responsibility. ENAE believes in the importance of fulfill our duties right but as well as doing the right according to our social and market responsibility. ENAE considers responsibility as a virtue to be instill in executives and professionals in order to achieve personal and socially sustainable development. The social and individual responsibility leads to personal integrity for those who fulfill diligently their duties.
Openness and Respect for Diversity. The acceptance and understanding of cultural and personal diversity is a very positive feature and strength, furthermore in this growing integrated world with its increasing interconnectivity among people, countries, and cultures.
Excellence. Requirement and rigor in our education are not opposed to openness and flexibility to new methodological approach. Those interacting at ENAE Business School also connect the excellence in education delivery to the respect for the intellectual property and the responsible use of information.
Entrepreneurial Spirit. ENAE strongly supports and promotes the entrepreneurial spirit. This spirit is at the core of innovation, alternative thinking, and decision-making looking for value creation. This search for value creation and risk acceptance is in the fabric of our Business School.
Exemplariness. Leading through exemplarity. ENAE believes in coherence and we do not teach what does not work on what we do not believe in. Personal integrity and exemplarity is the best way of teaching and leading. The exemplarity implies honesty and commitment with the duty.
International Presence
At ENAE, we are proud of the international opportunities we offer our students. We currently have more than 450 teachers who teach Master's programs, tailored training programs, courses and seminars in Spain, Mexico, Guatemala, Panama, Ecuador, Dominican Republic, Costa Rica, Colombia, Venezuela, and the US.
We have been certified by CLADEA (the Latin American administration school) and for ISO-EN-UNE 9001:2000, and we are members of the AACSB (Association to Advance Collegiate Schools of Business).
Our campus
The modern facilities at ENAE Business School are located within the confines of Murcia University's campus, in a four-storey building that contains 2,200 square metres of learning space, 10 classrooms with a capacity for between 18 and 45 students, 3 workrooms, 1 IT room with 31 advanced computer workstations, wi-fi connection and 1 library and documentation room.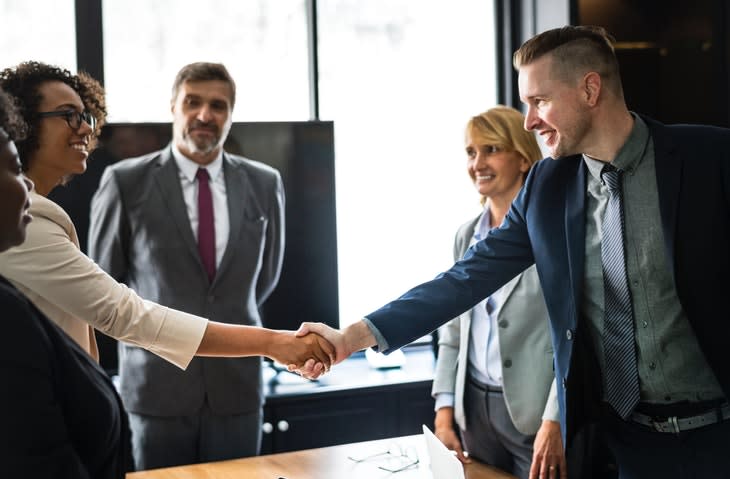 Why does ENAE make the difference?
Because ENAE Business School is a leading educational private institution which promotes business development internationally.
International Scope, our faculty, and students comes from all over the world especially from the USA, Europe, and Latin America.
250 Professors teaches at ENAE annually, more than 45 of them PhDs, 15 international visiting professors as well a Prestigious Executives
Our student profile is conformed of 80% executives and professionals
350 Affiliated Companies 500 Corporate recruiters rely on us.
We prepare Recruitment in Campus Fairs with over 1.200 Students attending to these events.
2200 m2 Facilities and services (classrooms, library, ballroom offices, and computer labs)
Because we guarantee our students quality, dynamic, innovative post-graduate education based on the case-study method and business simulator, our innovative enterprise simulator which encourages teamwork and familiarizes participants with the difficult challenges they will face in the business world.
Because we help our students achieve excellence in the creation, administration, and management of companies, with the help of academic and professional experts with a proven national and international track record.
Because we maintain direct links with an important network of Universities and Business Schools that contribute to the standards of excellence we set ourselves for our postgraduate education.
Because we work alongside more than 300 companies and other relevant institutions (both national and international), whose experience helps us to develop the innovative spirit which characterizes us and which we apply to the projects and educational activities we offer.
Because we have our Career Development office to follow up with and encourage each of our students, not only during their time at the school but also for the rest of their career.
Because at ENAE we guarantee internships and work experience for our students.
Because our students go on to enjoy a well-earned prestige and recognition in the business world.
Because ENAE's programs have one of the best price-quality relationships in Spain.
Because of the high rate of employment, we can offer: 98% of our students have found work 12 months after graduating.
Locations
Murcia
Address
Edificio Enae Nº 13. Campus Universitario de Espinardo, Murcia, Spain
30100
Murcia
,
Region of Murcia
,
Spain
Accreditations
Programs
This school also offers: