About Us
Georgia Southern University is the state's largest and most comprehensive center of higher education south of Atlanta. With 141 degree programs at the bachelor's, master's and doctoral levels, Georgia Southern has been designated a public Carnegie Doctoral/R2 institution and serves over 26,400 students from all 50 states, Washington D.C., and Puerto Rico as well as 102 nations. With three vibrant campuses — the Statesboro Campus, the Armstrong Campus in Savannah and the Liberty Campus in Hinesville — Georgia Southern offers an attractive campus environment that encourages learning, discovery, and personal growth. Georgia Southern's nationally accredited academic programs prepare diverse scholars for leadership and service as world citizens. A unit of the University System of Georgia, the University boasts 200-plus student organizations, outstanding Division I athletics, and state-of-the-art residence halls and campus facilities.
Since 1906, the University's hallmark has been a culture of engagement that bridges theory with practice, extends the learning environment beyond the classroom, and promotes student growth and life success. Central to the University's mission is the faculty's dedication to excellence in teaching and the development of a fertile learning environment exemplified by a free exchange of ideas, high academic expectations, and individual responsibility for academic achievement. Faculty, staff, and students embrace core values expressed through integrity, civility, kindness, collaboration, and a commitment to lifelong learning, wellness, and social responsibility.
Traditions
Georgia Southern is a university rich in history. Since its humble beginnings as First District A&M School in 1906 through its 2018 consolidation with Armstrong State University, the school has established a wide range of traditions that serve to distinguish it from its peers and deepen the bond with its own students as each year passes. The Eagle Nation is built on these bonds, soaring on the cheers of students, alumni and loyal fans who shout "Georgia…" and know with confidence the answer they'll receive.
One University. Three Campuses.
Georgia Southern has grown to three distinct campuses, serving the needs of one dynamic institution. The Statesboro Campus is 900 acres of Georgian-style, red-brick historic buildings and modern contemporary buildings set amid pines and oaks and home to more than 20,000 students; the Armstrong Campus in Savannah is a 268-acre arboretum campus just minutes away from historic downtown Savannah and home to some 6,500 students; and a modern, state-of-the-art facility in Hinesville is geared for local and military-affiliated students.
Military Friendly
Military service and support is a time-honored tradition for Georgia Southern. With two major military installations in the region, the University has always been a welcome home to soldiers, veterans and student cadets. As a result, G.I. Jobs magazine has named Georgia Southern a Military Friendly institution for seven years in a row. In addition, Eagle Battalion, our ROTC program has long been a source of national recognition, winning the prestigious MacArthur Award four times, and leading the nation in the production of Army Nurses.
Our History
When First District Agricultural & Mechanical School's inaugural academic year began in 1908, few could have foreseen a major American university growing out of four faculty members and 15 students in just a little more than one lifetime.
Now in its second century of service, Georgia Southern close to 27,000 students, more than 2,000 faculty and staff, 141 programs of study at the bachelor's, master's and doctoral levels, and three vibrant campuses in Statesboro, Savannah, and Hinesville.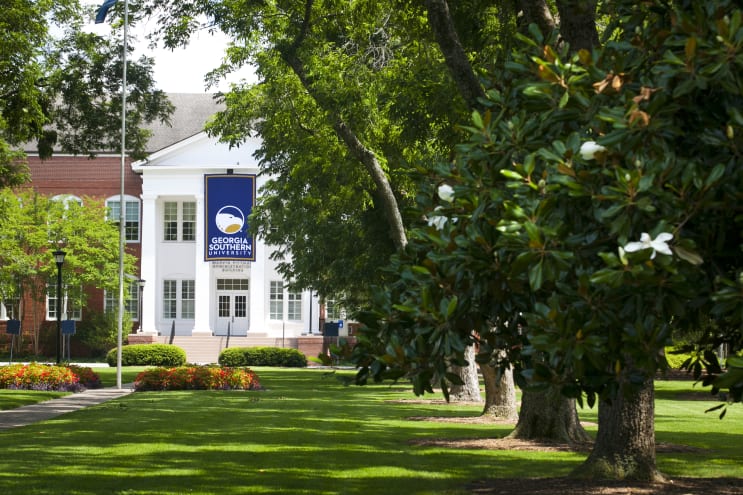 Statesboro Campus
The Statesboro Campus was founded in 1906 as a school for teaching modern agricultural production techniques and homemaking skills to rural school children. The First District A&M School began within two decades to shift its emphasis to meet the growing need for teachers within the state. Its name and mission were changed in 1924 to Georgia Normal School as a training ground for educators, though it continued to accept "preparatory" or high school students. Five years later in 1929, full-fledged senior college status was granted as South Georgia Teachers College.
Ensuing decades saw the additional name and mission changes: to Georgia Teachers College in 1939 and Georgia Southern College in 1959. Continued program and physical expansion, including one seven-year stretch, 1984-91 in which enrollment doubled from just over 6,000 to more than 12,000 students, led to a final transformation in 1990 – to Georgia Southern University.
Armstrong Campus and Liberty Campus
In 1935, Savannah Mayor Thomas Gamble founded the Armstrong Campus — then known as Armstrong Junior College — in order to help stimulate Savannah's economy and advance opportunities for local youth who could not afford to attend college away from home. The school began with 175 students and was located in the historic Armstrong House on Bull Street at the northern end of Forsyth Park. In 1966, after receiving four-year status and a 250-acre donation from The Mills B. Lane Foundation and Donald Livingston, Armstrong State College moved to its current location on Abercorn Extension in Savannah's southside.
Throughout the next 30 years of growth, Armstrong added graduate programs in business and education and became a Regional Health Professions Education Center. The institution's growth culminated in 1996 with university status and a new name: Armstrong Atlantic State University. Just two years later, Armstrong collaborated with Georgia Southern and other USG institutions to create the Liberty Center in Hinesville in order to offer degree programs to the active duty and veteran military and their families in the area. Liberty County is the home of Fort Stewart, the largest military base east of the Mississippi.
Athletic Excellence
Georgia Southern's athletics programs have a long and storied history, rich with tradition born of success. The University has not only produced conference and national champions but has parlayed private support into significantly enhanced facilities — crucial to the recruitment and retention of top athletes.
Intercollegiate athletic success — including six FCS (I-AA) National Championships in football — has had a powerfully positive effect on the University's public persona and pride of faculty, staff and students. All sports compete at the NCAA's highest level with football, formerly FCS, joining the FBS ranks in fall 2014.
A Regional Powerhouse
Georgia Southern is now the state's largest and most comprehensive university south of Atlanta and is classified as a Doctoral/Research University by the Carnegie Foundation for the Advancement of Teaching. Emphasis on serving returning veterans has earned the University a "military-friendly" designation for the seventh year in a row by Victory Media, publisher of G.I. Jobs, STEM Jobs, and Military Spouse magazines. Kiplinger has named Georgia Southern a "Top 100 Best Value," and Forbes magazine named the University among America's Best Midsize Employers for 2018.
It is an exciting time to be a part of Eagle Nation! We are forging our institution on the foundation of two dynamic, historic schools of higher learning. We are focused on student success. We are focused on hands-on learning. We are focused on close connections with faculty and students, and we are here because we want to make an impact on our communities, our region, and our state.
Locations
Statesboro
Address
1332 Southern Drive
Statesboro
,
Georgia
,
USA
Savannah
Address
11935 Abercorn Street
Savannah
,
Georgia
,
USA
Hinesville
Address
175 West Memorial Drive
Hinesville
,
Georgia
,
USA